The worlds Christians are ignoring the fact that there is a Christian genocide going on in the Mideast and Assad is basically the only middle east leader protecting Christians. The silence of Christians is DEAFENING.
This pope is a worthless shiite:
Christianity will never recover from the damage that this South-American subversive inflicts on the church. More on this below the fold.
Pope Francis and Europe's far right have "extremely different visions of Christendom."
.
In this pathetic piece of Islamoprop  WaPo scribbler Ishaan Tharoor throws everything he can get hold of, including the kitchen sink, at the brave "right-wing" Hungarian Prime Minister Viktor Orban.  Orban is a patriot, a man who protects his country from the Mohammedan hordes & from  George Soros, the master manipulator behind the white genocide project. Opposition to Soros, a self-declared Nazi supporter, is now being sold as "anti-Semitism".  Read it and weep.
.
Never one to miss an opportunity to take a side against the God of Abraham, Isaac and Jacob — YHWH — the Pope has once again weighed in on a political hot button topic.
Just one day after President Trump boldly declared the United States would recognize Jerusalem as the capital city of Israel, the Pope jumped into the debate to say he was "worried" about Trump's plan:
 Way to go Pontiff, at least you are consistent. You have never once taken a position backing Judeo-Christian values, only the Mohammedans. At least we know where you stand!
If you didn't know that Israel had struck *an airbase used to stage chemical attacks*, from this AP hed and photo you would conclude that the Jewish state had gassed the kids.
The most Orwellian image of 2018: Hamas terror leader Haniyeh speaking in front of poster of Gandhi, Mandela, MLK:
Assume Assad used chlorine gas. Is it worth starting a war? Overthrowing Assad results in chaos. Thousands die. We might see genocide of one of the last Christian communities in the Mideast. Does it make us safer? Region more stable? How'd regime change in Iraq & Libya end up?
Why are we sleepwalking into yet another Middle Eastern quagmire based on unproven claims about weapons of mass destruction? This is absurd.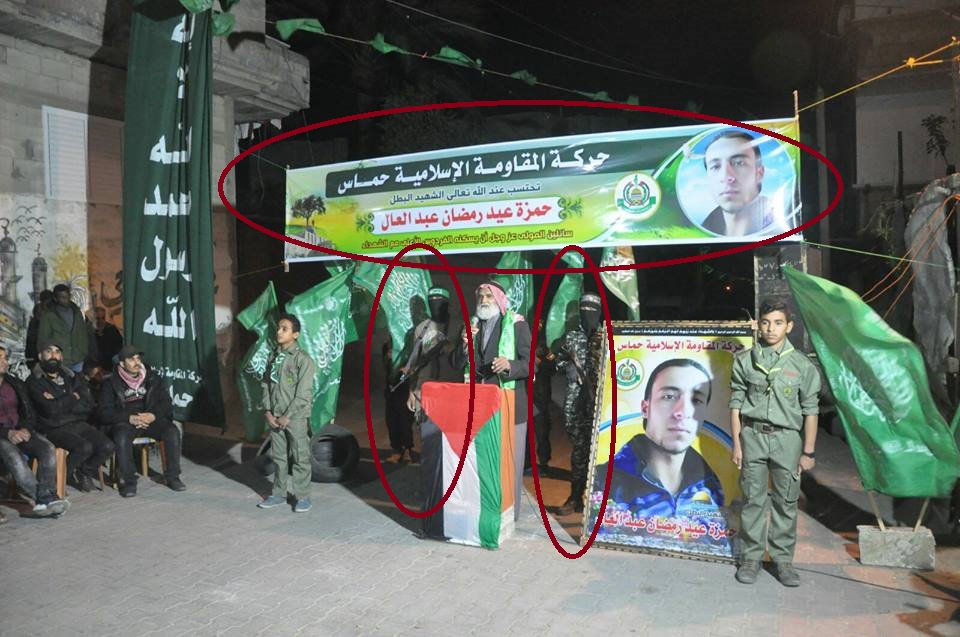 The truth comes out: Hamza Abd Al-'All , killed last Friday when he tried to storm the #Gaza border fence & infiltrate Israel, was a member of the Hamas terror org. Note the armed #Hamas terrorists and his name as a "heroic martyr" on a Hamas poster at his memorial service.
More from the Religion of Peace:
Pope insists accepting migrants should be a primary issue for Christians
Instead of misleading the flock, the Pope should lead by example: welcome any and everyone into his quarters in the Vatican and give up his security guards, in a full sacrificial welcoming of all of humanity. He will never do those things, for reasons of security and self preservation, but he attempts to deny other Westerners the same right of self-protection.
The issue has never been about being unwelcoming to the stranger, but vetting the stranger.
The Islamic State, which has infiltrated the refugee stream, has already released an image of a beheaded Pope Francis, yet the Pope is still pressuring Christians to welcome any and everyone in. Christ never requested that his followers "welcome our brother and sister migrants and refugees with arms wide open," as the Pope has called for. He instead warned his flock to be careful where they "cast pearls," lest the recipients "turn and trample you." That is not to call migrants "swine," but to note that Christ counseled prudence and warned that some people can be threatening.
The Pope needs to show more compassion for the Christians who have faced genocide at the hands of Muslims in the Middle East, and for the victims (and their families) of Muslim migrant sex assaults, violent attacks and jihad murder.
US Cardinal Raymond Burke has shown far more wisdom than the Pope. Burke has "accused Westerners of being too weak to acknowledge the incompatibility of Christianity and Islam." He has rightly warned that "Islam, through sharia, their law, will rule the world and permit violence against infidels, such as Christians. But we find it hard to recognise this reality and to respond by defending the Christian faith."
"Pope Francis Insists Immigration Is Not a 'Secondary Issue' for Christians", by Thomas D. Williams, Breitbart, April 10, 2018:
Immigration and the care of migrants should be put on the front burner and not considered a second-tier issue, Pope Francis has insisted in a new teaching letter released Monday morning in the Vatican.
In his 44-page apostolic exhortation bearing the Latin title Gaudete et Exsultate ("Rejoice and Be Glad"), the pope said that Christians have no right to treat the plight of migrants as a minor moral issue because Jesus commanded his followers to welcome the stranger.
"We often hear it said that, with respect to relativism and the flaws of our present world, the situation of migrants, for example, is a lesser issue," Francis wrote. "Some Catholics consider it a secondary issue compared to the 'grave' bioethical questions."
"That a politician looking for votes might say such a thing is understandable, but not a Christian, for whom the only proper attitude is to stand in the shoes of those brothers and sisters of ours who risk their lives to offer a future to their children," he continued.
"Can we not realize that this is exactly what Jesus demands of us, when he tells us that in welcoming the stranger we welcome him?" he asked.
The pontiff defended his continual insistence on the issue of migration by saying it was not just his pet cause but a central teaching of the bible.
"This is not a notion invented by some Pope, or a momentary fad. In today's world too, we are called to follow the path of spiritual wisdom proposed by the prophet Isaiah to show what is pleasing to God," he said.
Quoting from the Old Testament books of Exodus and Leviticus, Francis said that oppressing strangers is contrary to God's will.
In his letter, the pope does not descend to the level of practical public policy concerning immigration, and elsewhere in the text criticizes groups of Christians who "give excessive importance to certain rules, customs or ways of acting," as if only one viewpoint were acceptable. In this regard he allows for a plurality of possible solutions under the virtue of prudence…..