Germany releases Turkish man in rape case as suspect flees to northern Iraq
German police are hunting Iraqi asylum-seeker Ali Basar, who is believed to have escaped to Iraq after raping and murdering the 14-year-old
German officials on June 7 said an Iraqi man suspected of raping and killing a 14-year-old girl had likely fled the country and returned to Iraq, in a case that has fuelled concerns about slow deportations of failed asylum seekers, as another suspect, a Turk, was released after "new evidence" emerged that exonerated him.
The victim, Susanna Feldman, was Jewish, although the Central Council of Jews in Germany cautioned against attributing an anti-Semitic motive to the crime.
The suspected involvement of a failed asylum seeker could add to a backlash against Chancellor Angela Merkel's decision to open the doors to over a million migrants in 2015.
Update:
It appears the fella's been caught in Iraq. It is highly unlikely, however, that he will be punished for his crime.
Update II:
The raped and murdered body of 14 year old Susanna was found near a rail line ditch today, she had gone missing a week ago. A 20 year old iraqi immigrant and 35 year old Turkish asylum seeker apparently did this to poor beautiful Susanna. The turk is in custody, the Iraki fled with his entire family, 8 in all, on tickets paid for with my tax money back to Iraq…Chances he`ll be found are 0%.
On a good note though, all the cheques for over a million migrants and asylum seekers went out this month without a glitsch.
In other news:
This years Ramadan body count is very moderate indeed. 500 is very low,  by their standards: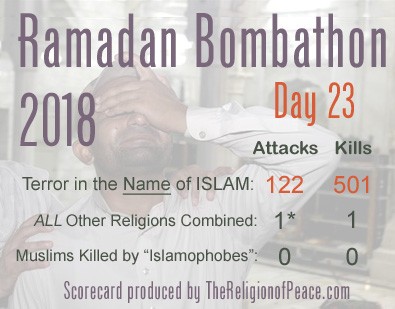 Australia:
JUST A LITTLE GIRL INNOCENTLY CHECKING SECURITY LEVELS
Those bollards weren't very helpful
Tim Blair
.
Except…..
"We all want more and more migration" United Nations
Today I present two videos (both only 50 seconds long) with ever so slightly contrasting views on mass migration.
First: the United Nations' wonderfully moving and convincing promotion of the massive benefits of Third-World migration into the once civilised West:
I guess this is the kind of rubbish that is being promoted by our mainstream media (the Guardian, BBC and C4 News), being spouted by holier-than-thou, virtue-signalling multimillionaire celebs (Lily Allen, JK Rowling, Gary Lineker, Bono, Saint Bob Geldorf and others of their ilk) and is being shoved down the throats of our schoolchildren by their lefty, progressive, libtard teachers.
Second: some naughty people seem to have created their own version of the United Nations' video:
I leave it up to readers to decide which film represents the views of the privileged, internationalist, well-protected, anti-democratic elites and which film represents the views of downtrodden, increasingly harassed, increasingly threatened ordinary people.
I did note that, while comments were allowed on the second video, they were disabled by YouTube on the United Nations video. I wonder why?????