Unfortunately, some of our cultural enrichers haven't got the memo yet:
"I will continue to take Renzi's money," and Renzi will continue to offer it, because Renzi and his ilk see this young gentleman as a vote for their parties, and that, for them, is all that matters.

"Salvini, do you think you can stop our invasion? You think we're gonna stop raping your women? You're wrong."
"WATCH: Migrant threatens new Italian minister Salvini," Searchlight Germany, June 4, 2018:
He says, "Salvini, do you think you can stop our invasion? You think we're gonna stop raping your women? Do you think so? You're wrong, you're wrong. I will continue to take Renzi's money[Matteo Renzi is the President of the Council of Ministers of Italy, belonging to the left]. That way I can buy my stuff. I can buy myself this. That costs a lot. I can afford to buy this. Thanks to Renzi, not you. And thanks to Boldrini who thinks of us, of us migrants. You don't have to work anymore. We're the ones who have to have room! So we can afford this with our work."
Italy: "The Party is Over" for Illegal Migrants
Gatestone Institute
An estimated 700,000 migrants have arrived in Italy during the past five years. — International Organization for Migration (IOM).
"There are not enough homes or jobs for Italians, let alone for half the African continent." — Matteo Salvini, Interior Minister, Italy.
This law [Article 19 of the EU Charter of Fundamental Rights] effectively prevents Italy and other EU members from deporting migrants to most countries in the Muslim world.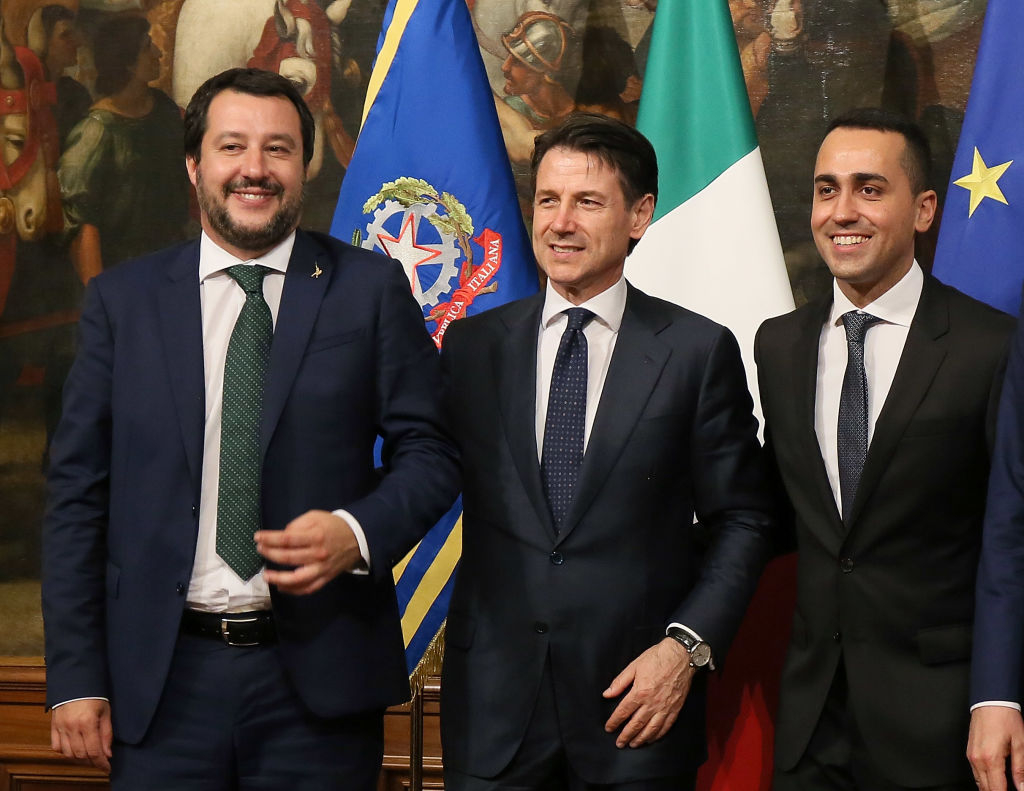 From left to right: Italy's Interior Minister Matteo Salvini, Prime Minister Giuseppe Conte and Labor and Industry and Deputy PM Luigi Di Maio on June 1, 2018 in Rome. (Photo by Elisabetta Villa/Getty Images)
.
Italy's new interior minister, Matteo Salvini, has vowed to cut aid money for migrants and to deport those who illegally are in the country.
"Open doors in Italy for the right people and a one-way ticket out for those who come here to make trouble and think that we will provide for them," Salvini said in the Lombardy region, home to a quarter of the total foreign population in Italy. "One of our top priorities will be deportation."
Salvini, leader of the nationalist League (Lega) party, formed a new coalition government with the populist Five Star Movement (M5S) on June 1. The government's program, outlined in a 39-page action plan, promises to crack down on illegal immigration and to deport up to 500,000 undocumented migrants.
Continue Reading Article