Italian Interior Minister Matteo Salvini has caused more controversy by refusing to allow a migrant "rescue" ship to unload its cargo at the port of Trapani. Meanwhile, Mr. Salvini said that at the current rate of 10,000 per year, it will take fifty years to expel the half-million migrants he promised to deport.
In other news, President Trump said that British Prime Minister Theresa May's decision on a "soft Brexit" may have killed his proposed trade deal between the USA and the UK.
It takes twelve Germans to work and pay taxes in order to fund the cost of just one migrant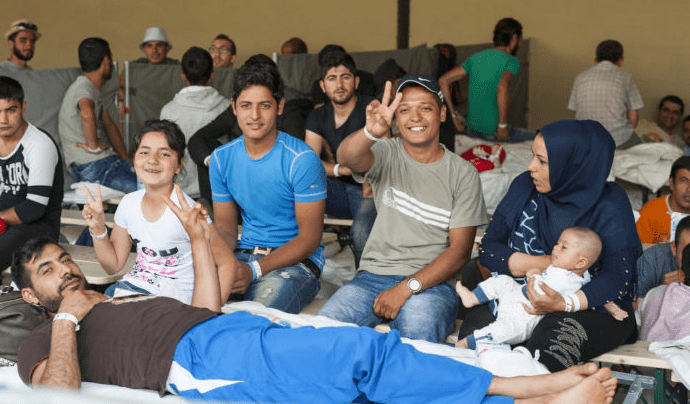 One million refugees cost the German government, states and municipalities around 30 billion euros a year.
That's only the cost for recent arrivals. There are already 5 million unassimilable Mohammedans embedded behind enemy lines, waiting for the right time to strike.
Hungary: Soros seems to have people everywhere who insist on flooding Europe with migrants
Soros "donated" 18 billion dollars of his ill gotten wealth towards the NWO. That causes huge damage.
Migration and Brussels' "pro-migration policy" continue to be a threat to member states, despite the growing number of states, heads of government and citizens voicing objections to them, the ruling Fidesz party's parliamentary spokesman told a press conference on Sunday. Another pro-government lawmaker was accusing the European Parliament of serving George Soros's interests.
Halasz said EU organisations "under the influence of George Soros" kept forcing pro-migration policies. The statement shows clearly that Mijatovic "dances to Soros's tune as did her predecessor," he said. "Soros really seems to have his people everywhere … who insist on flooding Europe with migrants, the European public opinion notwithstanding," he added.
Hungary's ruling parties believe that "the Soros network is still pulling the strings in the European Parliament," the parliamentary spokesman of the Fidesz-Christian Democrat alliance said on Saturday.
European politicians and senior Catholic officials have been bought and paid for by George Soros, according to Vatican Bishop Athanasius Schneider, who confessed to an Italian newspaper that the migrant crisis was orchestrated with the goal of "radically altering the Christian and national identity of the peoples of Europe."
Bishop Schneider, a resident of the Vatican, made the bombshell revelation during an interviewwith Italian daily Il Giornale. According to Schneider, the Vatican has been infiltrated by globalist operatives and an organized campaign is being rolled out to radically alter European culture.
Speaking to the newspaper last week, Bishop Schneider said:"The migrant crisis represents a plan orchestrated and prepared for a long time by international powers to radically alter the Christian and national identity of the peoples of Europe."
According to Bishop Schneider, the globalists operatives are determined to eradicate Christianity in Europe and the West. One of their key tactics involves flooding European countries with migrants in order to dilute the Christian base and radically change national culture and identity.
Pope Francis has been raising eyebrows for a long time over his continued support for globalist talking points. Last month the pontiff called for open borders in the United States, urging authorities to take in as many refugees as they can, and provided the examples of Germany and Sweden as models for the US to follow.
"Each country must do this with the virtue of government, which is prudence, and take in as many refugees as it can, as many as it can integrate, educate, give jobs to," the Pope told reporters aboard his papal plane after a trip to Geneva, Switzerland.
These inflammatory statements are merely the latest in a lengthy series of disturbing announcements by the jesuit Pope and have renewed fears that he is the false prophet warned about in holy scripture and prophecy.
In July Pope Francis told the Italian newspaper La Repubblica that the United States of America has "a distorted vision of the world" and Americans must be ruled by a world government, as soon as possible, "for their own good."
There is little doubt Pope Francis is one of the Vatican figures Bishop Schneider suggested are on George Soros's payroll.
Bishop Schneider's words were especially poignant given his background, having been born in the Soviet Union in 1961, the child of ethnic German Catholics whom Joseph Stalin sent to gulags after the Second World War.
Breitbart report: The criticisms leveled by Bishop Schneider echoed similar concerns voiced by Hungarian Prime Minister Viktor Orbán, who has also fought to retain the "Christian" identity of Europe as well as his country's national sovereignty.
Orbán has called out left-wing billionaire George Soros for his scheme to flood Europe with millions of migrants in an attempt to blur national borders, saying that the European Union is following "Soros migrant plans" with its forced immigration quotas.
The Hungarian prime minister said in 2017 that Soros and the EU seek to bring in the one million migrants annually to create an EU immigration force to undermine the national sovereignty of member states.
In 2016, Orbán used another analogy adopted by Schneider, urging Europeans to stand up against the "Sovietization" of Europe at an event commemorating the anti-communist uprising of 1956.