"Garden-variety Islamophobia" discovered:
Trump's Loudest Anti-Muslim Twitter Troll Is A Shady Vegan
The PuffHo paints a bullseye on twittering truth teller Amy Mek: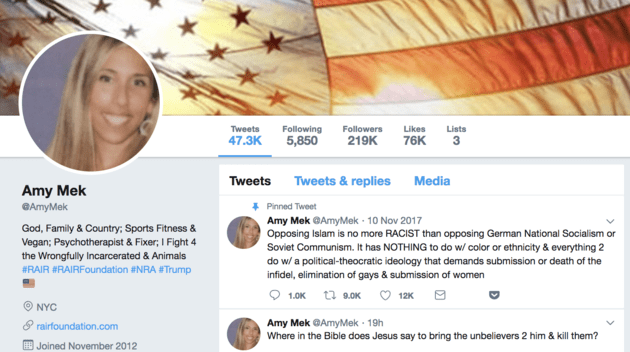 ….memes about Sharia executions and child rape, genital mutilation and Muslims torturing and butchering various life forms while dusky columns of Saracens, every one of them a potential jihadist, march into Western lands bent on pillage. What made special was her industriousness. She never took a break.
In 2014, she also started using neo-Nazi terms like "cultural Marxism"…..
"She's a major cog in the Islamophobia machine," said Ibrahim Hooper, spokesturd for CAIR…
'Muslim UN' Highlights San Diego Lawsuit Against Islamophobia Curriculum
"…unfairly favoring Muslim students" is how it should be. Not favouring Muslim students is "bullying and discrimination."
Islamophobic graffiti should trigger hate-crime probe, Muslim group says
In the past, pillars of the establishment would pay to be whipped in the privacy of dark rooms.