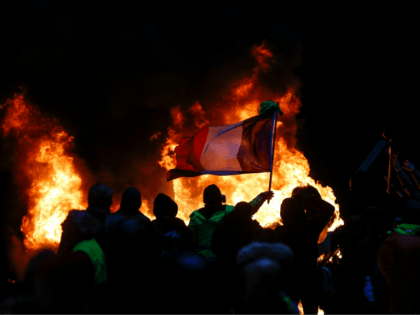 Worst Riots in 50 Years…
France State of Emergency?
Macron says he will impose a #StateofEmergency against the #gilletJaunes. The firefighters turned their backs. Now the police remove their helmets to show solidarity with the French people AGAINST Macron. Vive la révolution. Macron démission.
"Rioters ran amok across central #Paris on Saturday, torching cars and buildings, looting shops, smashing windows and clashing with police in the worst unrest in more than a decade." Doesn't look good for @EmmanuelMacron.
French President Emmanuel Macron is considering imposing a state of emergency in France after violent protests in Paris Saturday saw the Arc de Triomphe vandalised and hundreds of arrests.
President Macron was met with jeers and calls for his resignation by bystanders as he toured the damage along the Champs-Élysée on Sunday morning after his return from G20 in Buenos Aires.
Macron visited the Arc de Triomphe which was vandalised with graffiti that read "Macron resign" and "Yellow Vests will triumph" after the capital experienced its third straight weekend of civil unrest over rising taxes linked to the progressive president's climate change programme.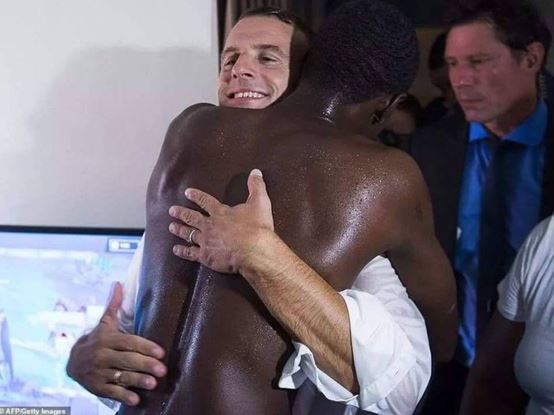 Macron, his attempts to form his own private police force, his arrogant indifference to the suffering of the French people, his murky relations with Morocco and the Moroccans who protect him and his wife…..
Reuters reports that after surveying the damage, the 40-year-old premier met with security officers, Minister of the Interior Christophe Castaner, and Prime Minister Édouard Philippe.
Government spokesman Benjamin Griveaux confirmed a state of emergency was on the table, saying: "It is out of the question that each weekend becomes a meeting or ritual for violence."
Mr Griveaux added that the president was ready for dialogue with the Yellow Vest protesters — but will not back down from his green agenda.
"We won't change course. It's the right direction. We are certain of that," he said.
The populist right-wing leader of the National Rally Marine Le Pen and far-leftist Jean-Luc Mélenchon, the leader of the Unsubmissive France party, have called for Parliament to be dissolved and fresh elections to be held.
However, despite Macron having public support hovering at around 25 per cent, he is only one and a half years into his five-year mandate and has considerable support in the French legislative assembly.
According to interior ministry figures, 3,000 people took part in the action on Saturday in Paris, where police made 412 arrests and used over 10,000 tear gas canisters and stun grenades in an attempt to defuse protesters. In addition, 133 people were injured, including 23 police officers.
A sculpture of Marianne, a symbol of the French Republic which is housed in the gallery inside the monument, was also severely damaged during the demonstration Saturday.
Aside from the damage inflicted on the Arc, rioters also attacked the neighbourhood's luxury homes, high-end boutiques, and set cars on fire.
Officials estimated that 75,000 people took part in action across the country, with a local prosecutor confirming that one driver died on Sunday in Arles, in the south of France, after an accident at a roadblock set up by protesters on Saturday.
Hitherto, Macron has painted all protesters as violent. However, French politicians and the government have recently been keen to draw a distinction between Yellow Jacket protesters — who are experiencing a high amount of support from the French public — and extremists on the left and right who have infiltrated the protests. Authorities have confirmed that anarchists and "thugs" from the Parisian suburbs have also hijacked demonstrations, turning them violent.
The Yellow Jackets/Vests or Gilets Jaunes movement began three weeks ago as a protest against Macron's climate change inspired fuel tax hikes, with protesters saying Macron is a "president of the rich" and does not care about the concerns of everyday citizens. Similar action has sprung up in Brussels in Belgium, and the Hague in the Netherlands.
The violence has been dubbed the worst in 50 years, when in May 1968 occupations, riots, and strikes were so severe French politicians feared civil war and revolution.