Yellow Vests Protest Merkel-Macron Treaty on Integrating Defence, Foreign Policy
Yellow Vest protesters from Germany gathered, with one, Henrik, telling Sky News, "We are here to protest against Macron and Merkel because of the way they are changing Europe.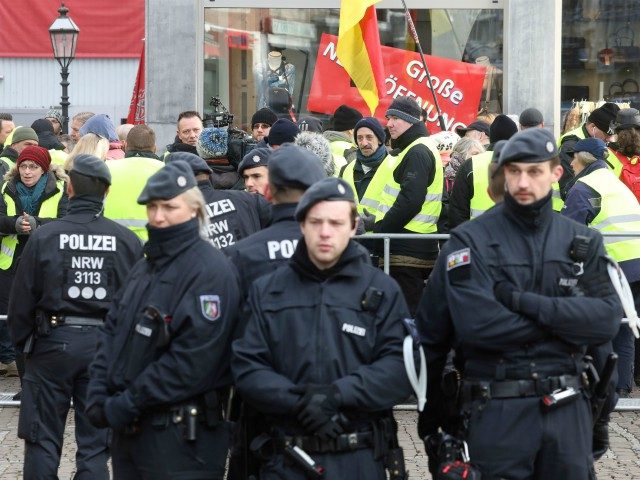 German Yellow Vest activists protested Emmanuel Macron and Angela Merkel signing a treaty which aims to bring together the economic and defence policies of France and Germany in a prototype "Sovereign Europe".
Germany's Angela Merkel and France's Emmanuel Macron signed the expansion of the 1963 French-German reconciliation Élysée treaty in Aachen, Germany, on Tuesday.
The treaty proposes to integrate aspects of France and Germany, including merging public transport networks and utilities in border regions, creating a common economic area, and developing shared social and political fields, according to Euractiv.
Most controversially, the treaty also includes plans for shared defence and foreign policy, building on Merkel's earlier pledges of support for Macron's call for an EU army.
"…some people benefit from mass immigration," Salvini said. "For example, before I arrived, there was an immigration budget of six billion euros. How many people ate out of this trough?"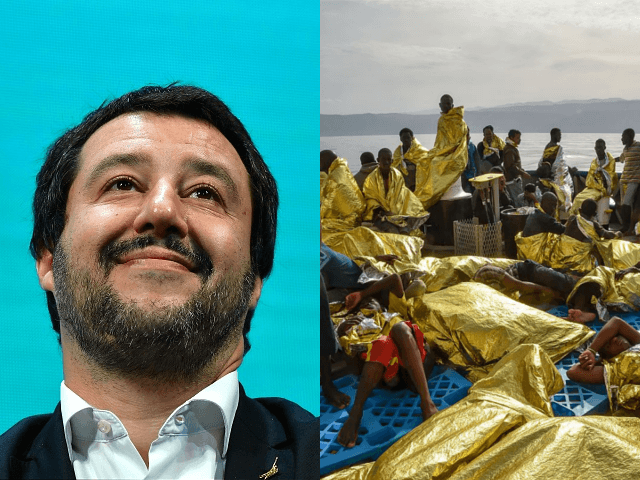 Italy's indomitable interior minister Matteo Salvini said Tuesday he is "proud" to have put an end to illegal immigration in Italy.
"You enter Italy by saying 'May I come in' and 'Please,'" Mr. Salvini said in a Tweet to his followers, explaining that by combatting illegal immigration he was also fighting human trafficking and the drug trade.
Decrying smugglers and human traffickers, Salvini said he had evidence that "with the money they make—around 3,000 euro for every person they put on the boat—they buy arms and drugs. So stopping the trafficking of human beings does not just mean stopping immigration, but it also means blocking weapon and drug trafficking."
140 rescued migrants taken returned to Libya: UN
Some 200 people have drowned in January and 4,507 reached Europe by sea despite 'great danger'.
Sea arrivals to Europe in the first 16 days of 2019 totalled 4,216 people
More than 140 refugees and migrants rescued at sea by a cargo ship landed in Libya and were taken to a detention centre, the United Nations said on Tuesday.
"In Libya's current context, where outbreaks of violence and widespread human rights violations prevail, no rescued refugees and migrants should be returned there," Charlie Yaxley, spokesman for the UN refugee agency UNHCR, told a briefing.
More than 200 people have already drowned in January and 4,507 have reached Europe by sea despite "bitter cold and great danger", Yaxley said.
UNHCR also denounced "politicking around sea rescues" by European states that have restricted aid groups from conducting missions.
But Italian Interior Minister Matteo Salvini disagreed.
"You save them, as the Libyan coastguard did, and take them back," Salvini told Mediaset television on Tuesday.
"In that way, people will stop paying human traffickers for a trip that has no future, because it ends in death or with an existence on Italy's streets."
In other news:
Nairobi  suicide bomber has been on the police list of the most wanted terror suspects since 2014.
File image of Mahir Khalid Riziki, the terrorist who blew himself up before the attack on the 14 Riverside complex in Nairobi.
The terrorist who blew himself up before the attack on the 14 Riverside complex in Nairobi has been on the police list of the most wanted terror suspects since 2014.
Despite his photos having been advertised and strategically placed in Mombasa, Mahir Khalid Riziki managed to sneak out of the country in 2014 and back in 2019 to participate in an attack in the country's capital Nairobi.