Never let a good crisis go to waste!
One of our readers:
Look at the others in the pics with him, They are laughing at him, they think he's a fool, they know he will bow down to Islam. I'm sickened by this Malcolm Turnbull groomed Prime Minister who is nothing but a puppet of Halal Mal. Stomach churning and will be remembered as an 'impotent' and insignificant' Party voted leader with no support of the people. His fairweather friends will pretend to like and support him, but they know, we know and he will know they were lying, will laugh at him but will pretend otherwise. Vale Scott Morrison, you had the making of a giant in Australian and world politics but chose to lie with the snakes.

And the Oscar goes to….. drum roll please….. the Islamic community! A stellar performance knowing when to cry ? to gain sympathy votes… but when killings all in the name of Allah happen, not a peep,not a tear shed for the thousands and thousands of innocent lives lost.
…and this dumb cow wants to disarm all New Zealanders because of what?
The New Zealand Prime Minister is one out of the box, a leader for her times, ideally suited to guide her country through this catastrophe, writes Peter FitzSimons.

Red bandana  Fitz is a degenerate just like her. Submission rejected.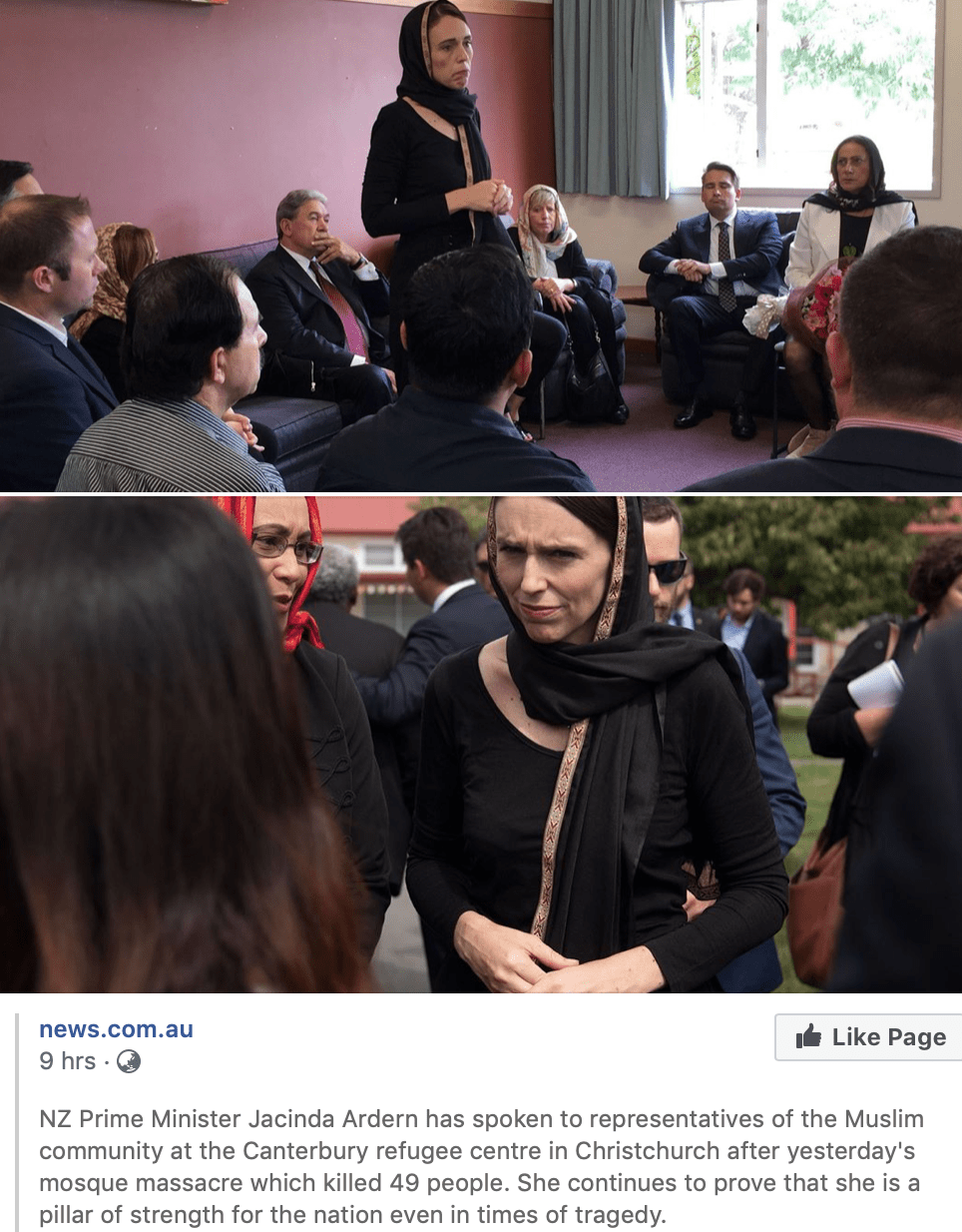 Centrelink must be closed. These fools are supporting Islam.
ScoMo vs Fraser Anning
"Worldwide, Muslims are killing people in the name of their faith on an industrial scale," he said.
Twitter has banned me from posting for allegedly breaching their "community standards".
So here's this morning's Tweet regarding the PM.
Morrison's sanctimonious attack on me over the NZ mosque killings is breathtaking hypocrisy, given his aid to the Palestinian Territories and Pakistan whose governments sponsor similar killings of innocent Israelis and Indians.
Morrison also states "there is no place in parliament" for someone who disagrees with him.
Referring to me, obviously.
When last I looked, the Australian people and not Scott Morrison decide who should and should not be in parliament.
Does anyone still think he's a Liberal?
From an ex Moslem:
No, as an ex-Moslem, I'm not offering my condolences to the victims of the attacks in two mosques in New Zealand. No I'm not one of those fake politicians shedding crocodile tears, telling that their hearts and minds are with the bereaved.
.
This is an attack the fake politicians, MSM and Moslems have been waiting for. I strongly condemn violence like this but all these mentioned fakes will double down now on promoting this fake religion, telling us that islam is a religion of peace. They will show us a never ending support to Moslems fallen victim to the ugly non-Moslem world.
Halal:
The Halal tax on our food is a national disgrace.
The Senate Inquiry into Halal Certification released its report in 2015. Over three years later we are still waiting for the recommendations to be implemented by the Liberals, Labor, Nationals and the Greens.
We cannot afford to wait any more.
Vote 1 for the Conservatives in the upcoming NSW and Federal Elections for decisive action on the halal industry.
Here is a segment from a recent forum organised by the Australian Jewish Association where I discuss the need for reform.
To see the Senate recommendations and sign our petition go to https://www.conservatives.org.au/halal_brown_cow
Thousands gather for anti-Fascist rally in Melbourne after Australian white supremacist shooter kills 49 in New Zealand
Thousands of rallygoers have gathered outside State Library in Melbourne, calling for a stop to Islamophobia 
The rally is calling for an end to racist government rhetoric and policies that lead to vilification and attacks
The event's organisers said it was wonderful to see people of all ages, backgrounds and nationalities turn up 
Nobody rallies for murdered Christians, and none of these dolts finds that strange:
Thousands of people have joined an anti-Fascist rally in Melbourne calling for a stop to Islamophobia in the wake of the New Zealand massacre
Turks! They push their disgusting ideology with aggression and murder, deny the genocide of millions and then have the audacity to wave their filthy flags in their host country:
Prayers were read and tears shed for the victims during Saturday's event outside Victoria's State Library (pictured) to stand in solidarity with the Islamic community
A young man (pictured) at Saturday's rally, which was calling for a stop to Islamophobia, was captured carrying a 'Muslim Lives Matter' sign
Ms Ali said it was wonderful to see people of all ages, backgrounds and nationalities stand shoulder to shoulder on the streets and show their support for change.
'The turnout reflects the broad sentiment felt by people,' she said.
She said Stand Together Against Racism is calling for an end to racist government rhetoric and policies that have led to vilification and violent attacks.
The rally was one of many protests of its kind held across the globe ahead of next week's International Day for the Elimination of Discrimination
Waleed Aly made a poignant statement Wally lectures us about the Christchurch mosque shootings on Friday, in a clip that has been viewed over a million times.
More sanctimonious, pious lies and waffle from Wally. Normally all they do is laugh and giggle on this show, playing down terrorism – now suddenly it's all a serious staged set piece with his deep words of "wisdom". We need to remember this is the "man" who downplayed terrorism, even scoffed at it and has been a long time apologist for Islamic terrorism and spruiker of Islamism.
What did people really expect? You have an ideology that sets itself apart and as being superior t…