Some thoughts for today:
"The easiest way to gain control of a population is to carry out acts of terror." ~ Josef Stalin, Marxist-Socialist, USSR.
Indigenous tribal leaders sold tribal lands to white men, often against the wishes of their tribes. This is considered unjust and immoral. Some say it should be reversed, even hundreds of years later. Modern politicians sell mass citizenships without consulting their people…
Shocking video from France:
In France, you would be arrested if you, a "citizen journaliste" posted this video on the internet. According to the law, you have to hand it over to police to censor it first:
France now seems similar to Argentina under the military junta of the 1980s, except that the political violence by state officials is taking place in broad daylight.https://t.co/n6vc4IdvWS

— Dancing Palace Guard (@DancerGuard) May 4, 2019
Some links from the Gates of Vienna:
Forget Facebook, They Want to Revoke Your Access to Banking
The biggest threat that social media censorship poses is not you being unable to access Facebook or Twitter, it's you not being able to get a mortgage or have a bank account.
The end result of Big Tech silencing conservative voices is banks and corporations removing your access to the marketplace and severely restricting your basic right to buy and sell.
Young imams are being trained in a network of Islamic schools across the UK that have been accused of promoting intolerance and misogyny, a secret Government report has warned.
MADRID — Spain's maritime rescue service says that it has saved hundreds of migrants during the last three days trying to make the perilous crossing of the Mediterranean Sea.
The service says on Monday that it pulled 416 people from 10 different boats its rescue craft intercepted starting on Saturday.
In just two years, Mozambique's most northerly province transformed from an idyllic, remote, tropical paradise, bursting with economic potential, to a battleground held hostage by an Islamist insurgency.
Morocco's Ministry of Awqaf and Islamic Affairs is sending 422 imams to Europe for religious guidance during Ramadan.
In an effort to ensure the unity of their community and the preservation of their mosques abroad, scholars will be sent to France, Belgium, Italy, Spain, the Netherlands, Germany, Denmark, Sweden, among other countries the ministry explained.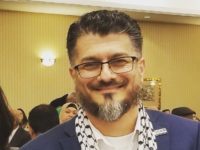 Mohammedans say anything to smear and defame Israel.