Obama FBI had spies in @RealDonaldTrump campaign, his business AND in the Trump White House.
President Trump humiliates the PM of the Islamist Republic of Pakistan to his face for their support of terrorism. 
https://twitter.com/Imamofpeace/status/1153514546331447296
Indian political leadership needs to stop calling Kashmir a bilateral issue between India & Pakistan. It is not. The only issue is Pakistan's cross-border terrorism since it has lost 4 wars to invade Kashmir. Must tell @realDonaldTrump Pak has no legitimate right over Kashmir.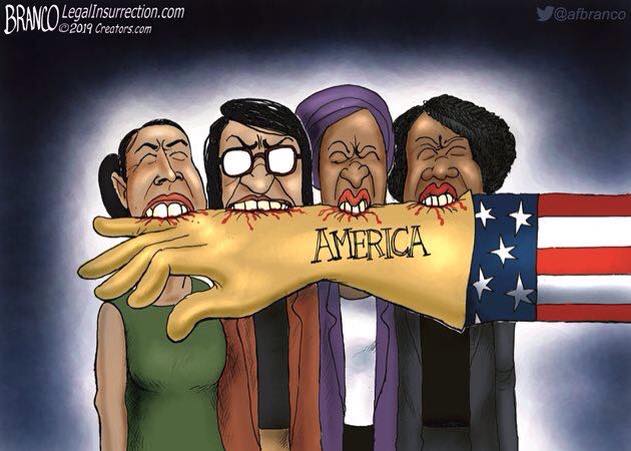 Rep. Ilhan Omar (D-MN) explodes at an audience member who asked her if she could condemn female genital mutilation

Omar responds by saying the question is "appalling" and she is "disgusted" to be asked if she condemns "al-Qaeda," "FGM," and "Hamas," saying it's a "waste" of time pic.twitter.com/9Ipl55wig9

— Molly Prince 🌱 (@mollyfprince) July 23, 2019
Of course, Omar doesn't condemn FGM, which is "divinely ordained". And her loyalties to al-Qaeda & Hamas must not be questioned.
Trashida's civility:
BREAKING: @JudicialWatch Files House Ethics Complaint against Rep. Ilhan Omar Over Potential Immigration, Marriage, Tax, and Student Loan Fraud https://t.co/72HKtMpq0Q

— Tom Fitton (@TomFitton) July 23, 2019
Mueller will bring Aaron Zebley as his lawyer for his testimony Reminder: Zebley defended Justin Cooper, Bill Clinton's longtime aide who set up Crooked H's private server Oh, and Cooper also destroyed Hillary's BlackBerry's with a hammer
https://twitter.com/ZionistGirl18/status/1153732541259669504