Sikhs in Delhi, India, held a large protest rally outside the Pakistani embassy on Monday to protest the forced conversion of minorities to Islam.
The angry demonstrators overwhelmed police barricades and burned effigies of Pakistani Prime Minister Imran Khan.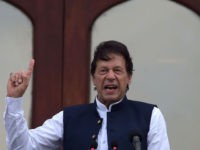 The demonstrators carried banners denouncing the "forced conversion of minorities to Islam" and demanding protection for the rights of all religious minorities in Pakistan. The incidents that incited the demonstration involved two young girls who were allegedly forcibly converted to Islam so they could be married to Muslim men.
All U.S. aid to Pakistan should be cut off immediately. This actually should have been done many years ago. "Imran Khan's provocative statements include a call for jihad, violence in India: MEA," India Today.
Update:
Reality check:
Muhammad said: "I have been made victorious through terror" (Bukhari 4:52.220).
Germany:

"

We are proud of terrorism"
"Poem Recited in a Münster, Germany Shiite Mosque: We Have Pledged Allegiance to Khamenei; We Are Accused of Terrorism and Are Proud of It (Archival), MEMRI, December 25, 2018:
MANDATORY TEACHER TRAINING DENIGRATES CHRISTIANITY, EXALTS ISLAM
Christian scriptures described as "corrupted" while the Koran contains the "pure" word of God.
The teachers were subjected to two days of Islamic propaganda, where Islam was glorified, Christianity disparaged, and America bashed—all funded by Novi taxpayers,"– do read on…
What is al Walaa wal Baraa?
Here's an ultra-easy explanation. In the West, many children play "I'm the king of the castle. You're the dirty rascal." The game is usually fun. Sometimes one child is on top. Sometimes another. There's pushing and shoving, but no child is inherently better than another.
Not with al Walaa wal Baraa. According to al Walaa wal Baraa, Islamics are always the king of the castle. Everyone else is a dirty rascal – a kafir (very negative term) – and will be a kafir forever unless they convert to Islam. Kafirs are to be hated, ridiculed, humiliated forever. According to the Quran (Surah 9:5): Slay the idolaters wherever you find them.
Second explanation, more for adults, but just as easy to understand. Al Walaa wal Baraa is the doctrine of Islamic apartheid. Islamics are to have their separate socializing, free from the contamination of kafirs who tend to weaken the faith of Islamics and make them adopt the lifestyle of disbelievers. In other words, Islamics are to have a separate, parallel society.
If it were only separation, it would be one thing. But it is not enough for Islamics just to hate kafirs, they must – according to this core aspect of Islam – show disdain, and humiliate kafirs. This is established in the Quran, Hadiths, Sira, and the Tafsirs (Islamic 'canonical commentaries').
It is important to note that al Walaa wal Baraa is an essential doctrine – literally "essential of the faith" (usul ud-deen). This means that Islamics who do not believe and practice it cannot go to paradise. They are called hypocrites (murtad) in the Quran.
Third explanation. Al Walaa wal Baraa is Kafirophobia. It's an obligatory doctrine of hatred directed towards kafirs and our way of life. Abdul-Latif ibn Abdur-Rahman Rahimullah, an authority in Sharia law, said, "It is not possible for someone to realize Tawheed [monotheism – the doctrine that Allah is the only God] and act upon it, and yet not be hostile against the mushrikeen . So anyone who isn't hostile against the mushrikeen, then it cannot be said that he acts upon Tawheed nor that he realizes it" (ad-Durar as-Saniyyah 8/167).
By the way, ad-Durar as-Saniyyah is an authoritative Salafist collection. It establishes that al Walaa wal Baraa is official Islamic teaching beyond a shadow of a doubt, and that hostility against the kafir is normative Islam, rather than some strange aberration.
In other words, al Walaa wal Baraa, an essential doctrine of Islam, is the opposite of the Golden Rule.
It's Kafirophobia, the reverse of what Islamophobia is said to be.
Al Walaa wal Baraa is also the reverse of the modern Western concepts of tolerance, and of celebration of diversity.
In other words, Islam is inherently intolerant of any ideology other than its own. Islam celebrates uniformity and compliance.

Why doesn't everyone know the term, al Walaa wal Baraa?
After all, millions of people in the West know the words, Quran, jihad, hijab, burka, niqab, caliphate, allahu akbar. Since al Walaa wal Baraa is an essential doctrine of Islam, wouldn't it make sense that we all know it too? Millions of non-Islamics in the West know that devout Islamics pray 5 times a day. But what do Islamics believe, beyond Allahu Akbar (Allah is greater)?
For instance, shouldn't we all know about the essential Islamic doctrine, al Walaa wal Baraa?
It might benefit us.
But I don't see that it would benefit Islam if, in the West, Islamics broadcast this essential doctrine. It would go against the best-known narrative about Islam in the West: that the big threat comes from horrible Islamophobes who do not let Islamics live in peace.
There's another word many people in the West are learning: taqiyya – deception to benefit Islam. It's "pious lying," according to one definition. Taqiyya is only, according to some sources, an official doctrine in one branch of Islam (Shia). But it has been noted over and over that many Islamic scholars and imams say one thing to a non-Islamic audience (for instance, "There is not violence in Islam") and something utterly different to an Islamic audience (for instance, "Slay the idolaters wherever you find them").
It may greatly benefit Islam that non-Islamics in the West are unaware of al Walaa wal Baraa.
But for non-Islamics, ignorance isn't bliss. We need to be aware of what could be dangerous to us.
Could al Walaa wal Baraa be dangerous to non-Islamics? It certainly intends to be: we are to be hated, denigrated and humiliated. It makes sense that we look and explore.
We've all heard the many many allegations about Israeli apartheid – which is non-existent.
It's time we knew of, acknowledged, and spread awareness of the Islamic doctrine of apartheid. This is evidence of the ideological origin of what has long been experienced: the non-integration of Islam and a major percentage of Islamic people into non-Islamic cultures.
This has been a very simple explanation of al Walaa wal Baraa.
HERE ARE 3 MORE RESOURCES
1) For an even easier explanation of al Walaa wal Baraa, see this 9-minute video – fun, simple, clear, and TRUTHFUL. ISLAM – WHO, WHAT, AND HOW:
2) For a clear, easy presentation of the 3 essential doctrines of Islam (followed by many scholarly references), you can download ISLAM – 1,2,3:

3)For al Walaa wal Baraa contrasted with Islamophobia, you can download here.

For even more, go to:
http://elsasblog.com/170219-al-walaa-wal-baraa-and-islamo-catatonia.html#wb
– scholarly Islamic definitions of al Walaa wal Baraa;
– scholarly Islamic sources from across the centuries;
– plus, the 3 essential concepts of Islam.
(Yes, there are only 3 – all very easy to understand.)
Our ignorance does not protect us. For example, not recognizing that smoking is dangerous does not protect people from lung cancer 
While we're unaware of dangers, or deny their dangerous nature, the dangers can spread.

NEXT: ARE THESE 2 ESSENTIAL QUESTIONS? OR, CAN NON-ISLAMICS USE THIS DOCTRINE AS THE BASIS FOR AT LEAST ONE AND PERHAPS TWO ESSENTIAL QUESTIONS? CLICK HERE.
AND LAST THING: A popular saying is that a picture is worth a thousand words. So here is a picture:
Here is the link to post on Facebook, Twitter, Pinterest:
http://WestInDanger.com/wb/walaa-baraa.html
To download the poster below
LARGE

AS BELOW


To download with a PC,
right-click and select "Save As".
To download with a Mac,
control-click and select
"Download" or "Save Link As".
You're welcome to post the poster on Facebook, etc
Help spread the word about

al Walaa wal Baraa – Islamic Apartheid.


Pass on the message:


http://WestInDanger.com/wb/WalaaBaraa.html



About the website, West in Danger
About Elsa, its creator and developer
Terms of Service          Privacy Policy
copyright © Elsa Schieder, WestInDanger.com, 2016-2019 – all rights reserved
All content of this website is copyrighted.
To republish, you must include the link to the webpage.
For any further information, please contact.