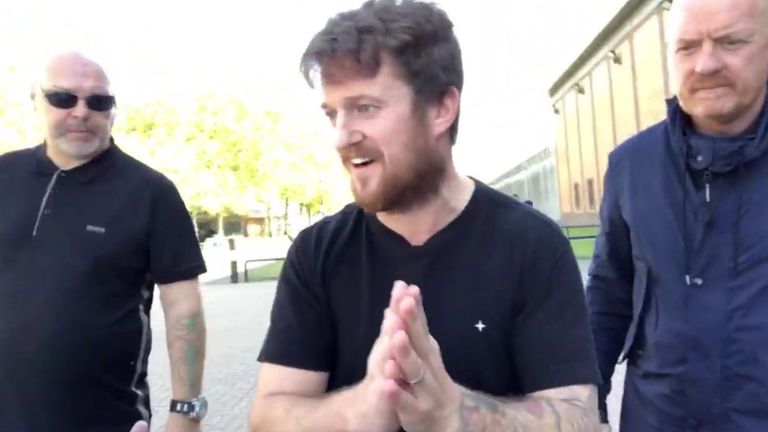 Tommy Robinson was released from Belmarsh prison on Friday
Tommy Robinson has been released prison nine weeks after he wasjailed for contempt of court.
The English Defence League founder, was pictured with a beard and long hair as he left HMP Belmarsh in south-east London on Friday.
In a video posted online following his release, Robinson said: "First stop, hairdressers."
The 36-year-old, real nameStephen Yaxley-Lennon, waved at hundreds of his supporters gathered outside the jail and smiled as he walked free.
He said he had been sent 14 sacks of mail from supporters while in prison.
Robinson was locked up in July for live-streaming on Facebook a video which featured defendants in a sexual exploitation trial and put the case at risk of collapse.
Police officers clash with the supporters of Stephen Yaxley-Lennon aka Tommy Robinson during the rally in London. Supporters gathered outside BBC to demand the freedom of their jailed right-wing leader Stephen Yaxley-Lennon aka Tommy Robinson. During the rally, police had to intervene and raise their batons when a Police van was attacked by the Tommy Robinson supporters. A person was arrested after the confrontation. 
As he was jailed in July, Robinson reportedly flashed a V for Victory sign to the public gallery and winked as the judge's decision was handed down.
Dame Victoria Sharp and Mr Justice Warby found him in contempt in three respects.
They concluded that he was in contempt by breaching the reporting restriction imposed on the trial, by live-streaming the video from outside the public entrance to the court, and by "aggressively confronting and filming" some of the defendants.
His incarceration sparked violent protests in London which saw his supporters clash with police.
Anti-fascist groups also staged counter-protests at the same time which led to a large police operation to keep the factions separate.
Before being jailed, Robinson stood as an independent MEP candidate in the North West but suffered a humiliating defeat with just 2.2 per cent of the vote.