MEDIA LEFT EXCUSES "MOSTLY PEACEFUL" VIOLENCE
'Mostly Peaceful' Destruction
CNN is getting roasted for describing protests in the US state of Wisconsin as "fiery but mostly peaceful" during a live broadcast – while a building behind the reporter was engulfed in flames.
 CNN, your Comedy News Network, finds an entertaining way to describe violent riots that incinerated a massive amount of private property.
The media Left is complicit in the rioting and looting we now see in Democrat-run cities. Deranged with hatred for Donald Trump, journalists repeatedly minimise the violence, excuse it or pretend you cannot see the violence on your TV screen. CNN even denies the violence in the strap underneath the vision of another city burning.
IF TRUMP FANS ACTED LIKE THESE LEFTIST FASCISTS, WOULD THE MEDIA STAY QUIET?
The Left has become fascist. Watch this footage of shocking violence by protests of the Left, and of mobs threatening white diners and also politicians leaving the Republican convention. And ask: if Trump supporters were torching cities and physically confronting Democrat supporters, would the mainstream media be this silent? This complicit?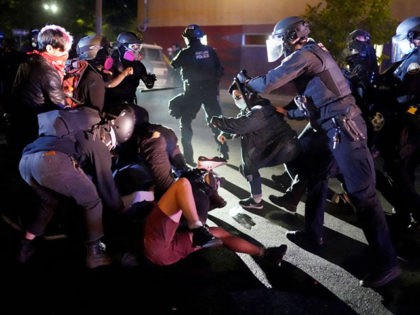 https://twitter.com/TimMc777/status/1299219828864032768