Chris Wray and Gina Haspel are deliberately ignoring direct orders from their boss, Commander-In-Chief, & President of the United States in fully releasing unredacted declassified documents!
FIRE THEM!
Senate Republicans Crank Up The Heat on CIA Director
Two Republican "all-stars" in the Senate are "fed up with the CIA dragging its feet." They're anxious to start grilling Obama officials over recent revelations which made their way out of the Central Intelligence Agency in recent days. Ron Johnson and Chuck Grassley, the chairmen of two separate but equally powerful Senate committees, sent a letter to agency Director Gina Haspel on Wednesday which they copied the public in on. They want records and they want them by Friday. They turned up the heat like they're ready to go after her with a blowtorch.
More below the fold.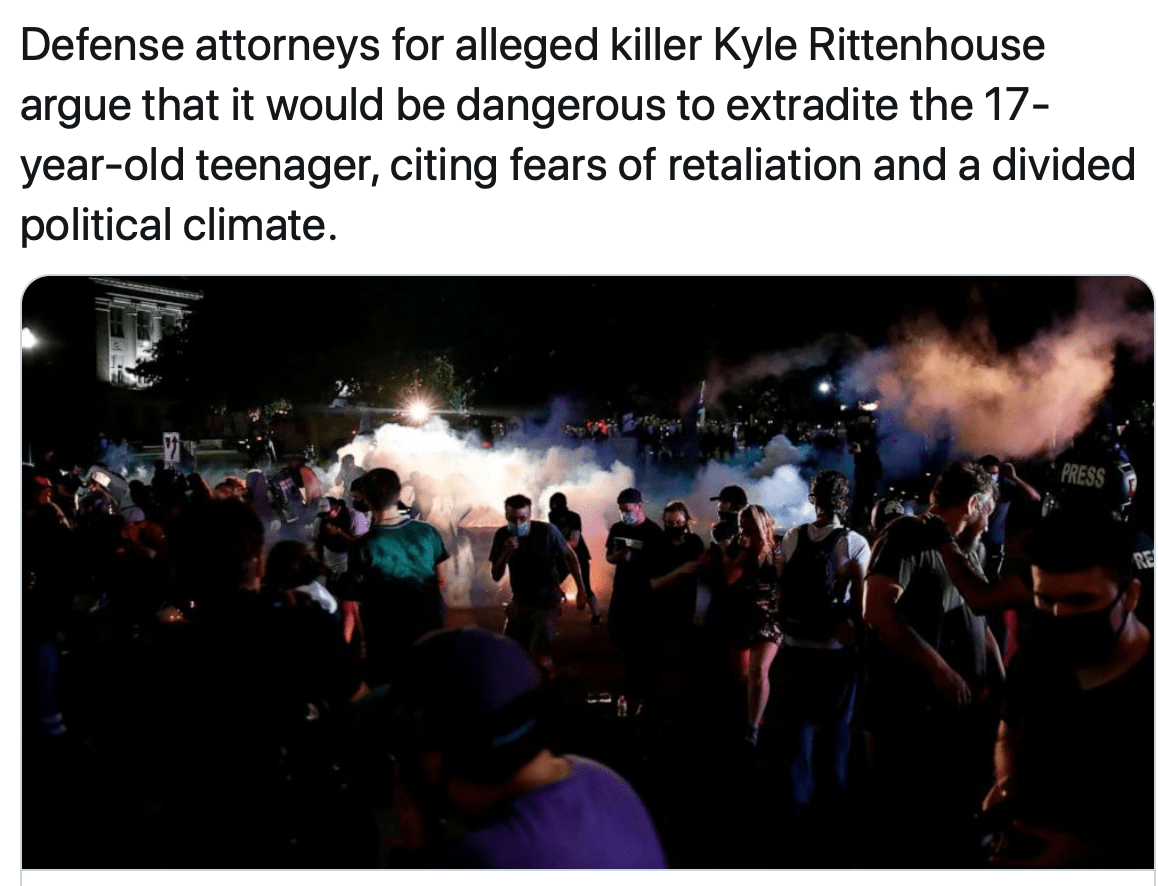 Defense attorneys for alleged killer Kyle Rittenhouse argued on Friday that it would be dangerous to extradite the 17-year-old teenager, citing fears of retaliation and a divided political climate.
Note the language. If the killer was black or a libturd, the ABC would turn itself into a pretzel to claim the shooter was a "teenager" or some such, & they would never call him "alleged Killer" or "black supremacist".
https://twitter.com/littllemel/status/1314748977057857536
I hope Tucker doesn't go off the deep end with flying saucer  stories. This stuff might be more interesting to those who watch the Discovery Channel.
The Senators are demanding to know what the CIA has been sitting on for four years. "The information that has already been made public reveals what might be the most outrageous abuse of power in U.S. history against a presidential candidate and sitting president. Unfortunately, many of the puzzle pieces remain hidden, and some of that information rests within your agency." Johnson and Grassley are furious. "We are concerned that your agency has thus far failed to respond in full to our oversight requests." It's like they have to start pulling teeth. Since Gina seems to like it that way, they're thinking about attacking her with a pair of pliers to get the records.
On Wednesday, Director of National intelligence handed the senators on the joint investigation around "1,000 pages of documents to assist U.S. Attorney John Durham with his criminal inquiry into misconduct by law enforcement and intelligence officials." They asked Haspel nicely, back on July 28, for "a list of outstanding oversight requests pertaining to our review of Crossfire Hurricane." Yesterday, they made a point to Director Haspel that "more than two months later, we still have not received any of the requested records that we detailed."
They have Brennan's notes but not from Haspel
The things they asked the CIA to produce were "all of the CIA's records on British ex-spy Christopher Steele, as well as details on whether foreign governments such as Australia, Israel, or the United Kingdom provided any assistance during the Trump-Russia investigation." Apparently, they did. Back in July, the senators requested "records tied to former CIA Director John Brennan's involvement during the investigation." They got his notes already, but not from Haspel. They prove the agency knew Hillary Clinton was trying to rig the election, that Brennan personally briefed Barack Obama about it and that they asked the FBI to start a criminal investigation. The FBI refused to investigate because they were part of the crime.
The CIA won't reveal whether or not any of their agents had "contacts with Perkins Coie lawyers Michael Sussman or Marc Elias." They haven't sent over the documents they have "on Cambridge professor and FBI informant Stefan Halper, former Trump campaign associate Carter Page, former Trump foreign policy adviser George Papadopoulos, or mysterious Maltese professor Joseph Mifsud." We know there are boxes full.
The thing they're expecting to find in the treasure trove of agency records is "access to the then-Republican-led House Intelligence Committee's investigative referral" to the overseas secret gathering arm based on its review of Russian interference in the 2016 election." When she was confirmed, Haspel promised to cooperate. She lied. Johnson and Grassley emphasized that Haspel's "apparent unwillingness to speak with us on this matter contradicts your testimony." She's been stonewalling. Her "staff met only once with our staff to discuss these requests, and CIA has not produced a single document in response." Not only that, "your agency has ignored multiple requests to schedule a phone call to discuss our oversight letter."
The senators have had enough. "This cannot continue – the American public has a right to know about the rampant mistakes and biased decisions that occurred during the Obama administration that undermined a peaceful transition of power." They expect "full compliance" from the CIA by Friday. "if the material is classified, it can be produced in an appropriate setting but further delay is unacceptable."