"Myanmar security forces fired on pro-democracy demonstrators on Monday, witnesses said, a day after dozens of protesters were killed and attackers torched several Chinese-financed factories in the city of Yangon." — Reuters
'I cannot shoot my people or beat those who have not committed crimes.'

A number of #Myanmar police officers have fled to India after being "ordered to shoot protesters", "ordered to use sling-shots on them" and "beat them".#Mar14Coup #Myanmar #Burmahttps://t.co/S1EjONQFrW

— Tibeto Burman (@TibetoBurman) March 14, 2021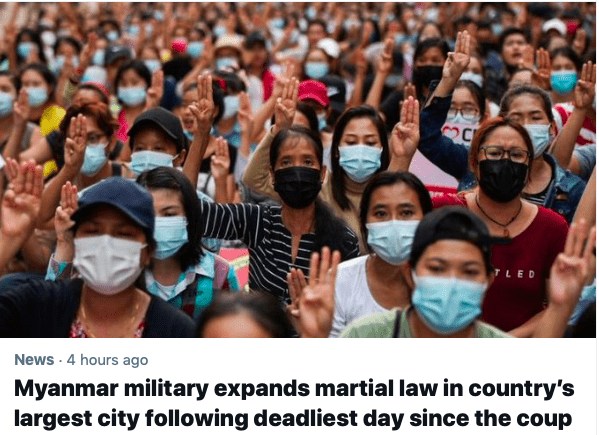 Martial law had been imposed in Hlaingthaya and several other districts of Yangon, and in several parts of the second city of Mandalay, according to multiple media reports. Dozens of protesters were killed on Sunday on the bloodiest day since the February 1 coup.
At least 39 people have been killed in one of the deadliest days since Myanmar was thrust back under military rule, as a group of ousted MPs urged citizens to defend themselves during the nation's "darkest moment". https://t.co/S6hvotQZJM

— Kyaw Hsan Hlaing (@kyawhsanhlaing1) March 15, 2021
The Guardianhttps://t.co/gSEo9ZV9yO

— Bright News (@bright_news1) March 15, 2021
Myanmar court delays Suu Kyi's hearing as more protesters killed
Move comes as security forces open fire on protesters again, a day after killing at least 44 in a bloody crackdown.