Arab citizens of Israel went on a rampage against their Jewish neighbors in the cities of Lod (or Lydda) and Ramle on Tuesday night, setting synagogues on fire, attacking stores, and forcing authorities to evacuate Jewish residents.
The attack, which is being called a "pogrom" (mob violence against Jews) is one of the worst experienced in the region since the 1930s, in the days before Israeli statehood, when Palestinian Arab leader incited locals to attack Jewish communities.
Hamas tacitly admits that Israel is only hitting military targets
IDF: Pali Children Killed by Errant Hamas Rocket
Arabs Stockpiled 'Slabs, Stones, and Fireworks' at Al-Aqsa Mosque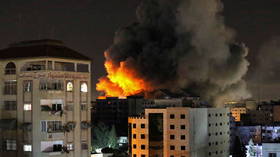 ANOTHER Gaza tower reportedly goes down, Israeli Iron Dome intercepts dozens of missiles in night of tit-for-tat strikes (VIDEOS)
An Israeli airstrike has reportedly leveled another major high-rise in Gaza – the second in the span of 24 hours – as a barrage of Palestinian rocket fire continues to rain down on Tel Aviv and other Israeli cities.