Belarus accused of helping refugees and migrants cross into the bloc as a retaliation against EU sanctions.
The European Union is divided on how to respond to a migration crisis in the Baltics.
Belarus is accused of giving tourist visas to refugees and migrants from Afghanistan, Iraq and Syria and then helping them cross the border into the bloc.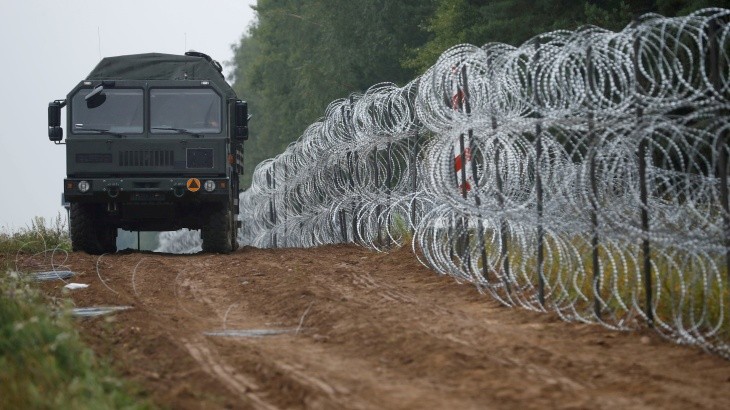 Lunatic Asylum Policies
Posted on November 2, 2021 by Baron Bodissey
"Refugees" from the Middle East have been swarming the border between Belarus and Poland for several months now, causing chaos and generating alarm in Poland. However, the ultimate destination of the migrants is not Poland, but Germany, the Promised Land for culture-enrichers.
Hellequin GB has translated two articles about the new wave of migrants into Germany. The first piece is from Epoch Times:
Greens want to enable migrants full medical services immediately after entry

In the coalition negotiations among the SPD, the Greens and the FDP, according to a report by Bild (Tuesday edition), a dispute about benefits for asylum seekers has broken out.

Accordingly, in the talks the Greens urge, among other things, the abolition of the Asylum Seekers Benefits Act and at the same time want to significantly improve the conditions for asylum seekers. For example, migrants should be entitled to full medical benefits immediately upon entering Germany.

As Bild continues to write, the FDP rejects these demands. There should be no additional incentives for asylum seekers. Bild refers to people who are familiar with the processes.

The deputy chairman of the CDU / CSU parliamentary group, Thorsten Frei (CDU), warns the traffic light parties of additional benefits for asylum seekers. At Bild TV Frei said: "It would be desirable if the social benefits for asylum seekers and migrants within Europe did not diverge so widely."
The second article is from Nordkurier:
Border villages complain — "We can't do it without help"

The route across the German-Polish border has been used by refugees for weeks. This is not just a problem for the federal police. Residents also feel overwhelmed.

BLANKENSEE — The increasing flow of refugees who come via the Belarus route and Poland and cross the border to Western Pomerania is of great concern to the communities in the border area. "The citizens of these communities report, among other things, increased police presence, reconnaissance flights and increased amounts of waste due to the belongings of refugees being thrown away," says District Administrator Michael Sack (CDU). But in terms of border security, the district administration is not entitled to any wishes or even demands.

Residents feel scared

You see things a little differently on site. "We have an infinite number of problems and feel pretty much abandoned by the country," says Sack's party colleague Stefan Müller (CDU), head of the district of Löcknitz-Penkun and mayor of the Blankensee community right on the German-Polish border. "We have a State Secretary for Western Pomerania, but he hasn't been seen here. There is so much to talk about now. The refugee problem here is a challenge for society as a whole. We can't do it without the state and federal government," says Müller. The Penkun-Blankensee area, along with Frankfurt (Oder) / Eisenhüttenstadt, is one of the two particularly frequented escape routes. In the towns, many residents felt uncomfortable or even scared when the helicopters circled overhead at night or when unfamiliar groups of people suddenly passed by, says Müller. "In the past, people used to talk about children, vacations or jobs at family celebrations, but today there is only one topic: the refugees."