Hungary's Viktor Orban Does Not Want to Participate in Western Effort to Escalate War Against Russia…
… and because of that, he's now a bigger target than ever.
Hungarian Prime Minister Viktor Orban is not willing to join the NATO alliance in pushing further escalation of war against Russia.
Now, we begin to connect the dots, see the bigger picture and understand exactly why Samantha Power is running an operation inside Hungary with the unspoken intent of destabilizing the Hungarian population against the government.
(Via Daily Mail) – Hungary's far-right Prime Minister Viktor Orban snubbed Wednesday's meeting in Warsaw with President Joe Biden and the other Bucharest Nine leaders after insisting Donald Trump was the only person who could broker peace with Vladimir Putin.
Orban has been an outlier on the war in Ukraine, chiding the European Union for prolonging the conflict and saying in October that only former U.S. President Donald Trump could negotiate a deal between the Ukrainians and Russians to end the conflict.
'This is going to sound brutal, but hope for peace goes by the name of Donald Trump,' Orban said at the time, arguing Biden wasn't the man for the job because he has 'gone too far' in calling Russian President Vladimir Putin a 'war criminal.' (read more)
Follow the bouncing ball of consequence….  TWO WEEKS AGO:
A Hungarian conservative political daily called the EU an inhuman tyranny and said the NATO is a threat to Hungary and to Europe as a whole.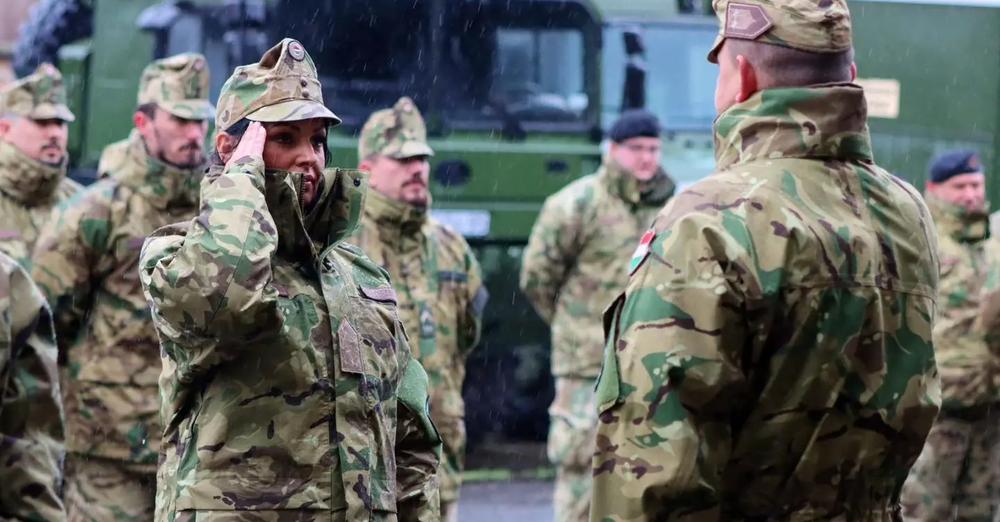 Magyar Nemzet is a Hungarian, right-wing conservative political daily, declaredly pro-government. The portal has called the EU "the most inhuman tyranny" before, now it declared that NATO does not guarantee Hungary's safety but straight up is a threat to the country. EU is an inhuman tyranny, NATO is a threat to Hungary and Europe On Thursday, the portal called the European Union the most inhuman tyranny and evil empire in history. Today, as 444.hu noticed, this sentence appeared in one of their articles:
.
According to 444.hu, this is a trend that has been observed for some time in the case of Magyar Nemzet. Read also: Budapest made huge savings in January: but how? What might be the explanation behind these bold statements? According to the news portal, there are several possible explanations for the statement. One explanation could be that this is just a distraction. There are important things going on in the country, corruption, huge inflation, rising prices, falling living standards. Statements like this are a distraction to public opinion, whether they agree with it or not. 444.hu says another possible explanation could be that the anti-US article is in response to the visit to Budapest a week ago of Samantha Power, an influential figure in US foreign policy. She met with NGO leaders, high school students and independent journalists. A third possible explanation is perhaps the most frightening: maybe ps the possibility of a Moscow-led Commonwealth of Independent States really does exist, and is now being tested by public opinion. According to the author of the Magyar Nemzet article, Ukraine has become an open dictatorship, where opposition parties and critical media have been banned. What is more,
Russia has been provoked into US subversion until Russian President Vladimir Putin was forced to launch the war.
More than 10,000 refugees arrive to Hungary from Ukraine Fully 5,278 refugees entered Hungary at the Ukraine-Hungary border on Thursday, while 4,940 came to the country via Romania, according to the national police headquarters (Országos Rendőrfőkapitányság, ORFK). Police issued temporary residence permits valid for 30 days to 108 people, ORFK said on Friday.