With thanks to Andrew Bolt – Monday, January 29, 07
'The Wrong Girl' is a taxpayer-funded film that will argue something strange about the notorious pack rape of a teenage Sydney girl by 14 Lebanese Muslim youths, led by Bilal Skaf. (pictured)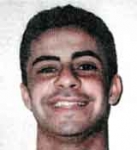 Let writer Nicholas Hammond explain:
Mr Hammond said he hoped that the film would be "provocative'' and highlight "the misunderstandings between Muslims and non-Muslims.
Its aim was to "stimulate active debate about social issues,'' he added. "We're trying to make something that has more global ramifications – particularly between the Muslim and non-Muslim world – and explore the fact there's a lack of understanding there, which creates conflict,'' Mr Hammond said.
A teenage girl is brutally pack raped over six hours due to a "lack of understanding"? What part of the word "no" did these animals not understand?
I very much hope the film has message different to the one Hammond suggests, but given that it's been handed $51,000 of government grants makes me fear it's exactly as advertised.
*
To pretend that rape has 'nothing to do with Islam' while trying to present rape as some kind of cultural 'misunderstanding' is just absurd; making a movie projecting this kind of idiocy makes matters only worse, much worse.

Muhammad himself had forced sex (rape) with several of his slave girls/concubines. This is perfectly allowed, both in the sunna and in the Koran. If you postulate that many of the Muslims in Europe view themselves as a conquering army and that European women are simply war booty, it all makes perfect sense and is in full accordance with Islamic law. And Muslims do follow their medieval religious laws, even today:…"
The number of rapes committed by Muslim immigrants in Western nations are so extremely high that it is difficult to view them only as random acts of individuals. It resembles warfare. This happens in most Western European countries, as well as in other infidels countries such as India. In Bradford, England, Channel 4 pulled a documentary about Pakistani and other Muslim men sexually abusing white English girls, some as young as 11. Writer Theodore Dalrymple thinks that "thanks to their cultural inheritance, (Muslim) abuse of women is systematic rather than unsystematic as it is with the whites and blacks." In France, grotesque reports about systematic gang rapes of French or "too Western" Muslim girls keep coming in. At the same time, European jails are getting filled up with Muslims imprisoned for robberies and all kinds of violent crimes, and Muslims bomb European civilians. You can see the mainstream media are struggling to make sense of all of this. That's because they can't, or don't want to, see the obvious: This is exactly how an invading army would behave. Rape, pillage and bomb.
http://photos1.blogger.com/blogger/1949/552/1600/NYHETER-17s09-09valdtakt-512.jpg