Update: Far worse than I previously thought: This article from Daniel Pipes goes back to November 2003:
*
Is Prince Charles a Convert to Islam?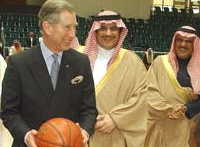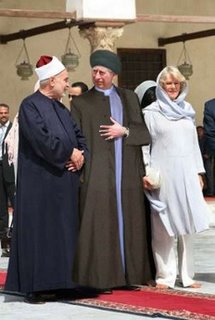 * In Pictures: Charles and Camilla in the Gulf
* I don't care whether McDonald's flies or dies. Do you?
*
Prince Charles says ban McDonald's food
What I care about is falsehood, hypocrisy and BS that is fed to the 'masses'-
another term I despise.
I really do.
The 'masses'- that is the lingo and a remnant of the failed beliefsystem of the socialist movement. Who wants to be 'masses'?' You?
We all wanna be individuals. We wanna be respected.
My goodness: What is sold as 'news'- is hardly worth reporting. The only thing worthwhile reporting here is that this big kid who wears suits is now some kind of man who is getting old: Prince Charles, future king of England.
Nobody can deny that he is a sucker for Islam & Arabs. He talks about Islam as if it was his own faith. Apart from that he still behaves like a spoilt brat who is completely out of touch with reality. He probably never had a hamburger in his life. He never had to eat junk-food either. That's why he comes out with blurbs like 'McDonald's should be banned'…
Charlie can eat all the 7-course lunches and 3-cork dinners the world has to offer, and he should!
Trouble is, he can't keep his mouth shut. And because he can't just gorge himself and make sure that Camilla gets enough, he has to diss the poor bastards who are stuck with eating burgers and fries at McDonald's and get fat because of it.
Charlie has a long history of being a real sucker for the Islamic 'religion'- he is even on record stating that he wants to be known as 'the protector of faiths'– rather than 'The Protector of the Faith'. Is Prince Charles a Muslim?
Winston Churchill, Lord Mountbatten and many worthy and respectable Englishmen would turn in their graves if they knew.
And because Prince Charles & Camilla (who wears the veil voluntarily, why?) are such disgraceful fools, they are hereby elevated to 'Assholes of the month'- on the double!
Let me know where you stand on that one!