Turkish Minister Warns Against U.S. Genocide Resolution
Gul (left) meeting with U.S. Secretary of State Condoleezza Rice on February 6
(epa)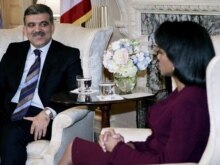 February 7, 2007 — Turkey's foreign minister has warned the U.S. Congress that passing a resolution condemning as "genocide" the mass killing of Armenians early in the last century would harm relations.
Abdullah Gul, speaking after meeting top U.S. officials in Washington on February 6, said the proposed resolution would be an irritant to otherwise close cooperation with the United States on issues such as Iraq.
"I see this as a real threat to our relationship," he said. "While we are having cooperation in these difficult fields, while we are fighting shoulder to shoulder in these fields, while we are supporting each other and facing these challenges, this resolution, if it is accepted, I believe that if that happens, it will be a real shock."
U.S. officials have said they will try to block the resolution.
"In terms of the discussions within the U.S. Congress, look, we understand very clearly that this is a sensitive issue not only for the Turkish people but for the Armenian people," U.S. State Department spokesman Sean McCormick said. "We have made our views known on the potential for a resolution or for a bill."
Turkey denies the World War 1-era deaths of around 1.5 million Armenians amounted to genocide.
(AP)
The last time we saw the Turks fight 'shoulder to shoulder' was when they raped and ransacked northern Cyprus 1974, killed about 8000 Greek Cypriots and drove 200.000 from their homes. The entire populations of several Turkish Cypriot villages were massacred in reprisal for the landings by Greek Cypriot paramilitaries. As of today, there are still thousands of Greek Cypriots and Turkish Cypriots unaccounted for. The events of the summer of 1974 have dominated Cypriot politics ever since and have been a major point of contention between Greek and Turkish Cypriots, as well as Greece and Turkey.
The most violent and systematic attack has been on churches, which are the most obvious and easily recognized symbols of the areas cultural identity. In all, of the 275 churches in occupied Cyprus, 75 have been converted into mosques, 141 have been desecrated, 13 have been converted into storage spaces or stockyards, 3 into icon museums, and 4 for propaganda purposes into cultural centres, whilst a further 20 are used by the occupying regime as military depots, barracks, restaurants and military hospitals. Churches throughout occupied Cyprus have been stripped of their contents and converted into mosques.
(Source: Wikipedia)
Update: Read it and weep how the West aids and abets the enemy:
Turkey's New Threat to Peace
By Gene Rossides       

February 6, 2007
The government of Cyprus recently signed an agreement with Lebanon and Egypt for joint exploration of oil and natural gas in an area 125 miles wide between Cyprus and the Mediterranean's southern coast.
The Turkish government has threatened to block exploration asserting, incredibly, that is has rights in the area. In early February the Greek Cypriot media headlined that there was unexpected movement of Turkish warships along the southern coast of Cyprus. They accused Turkey of "muscle flexing" regarding the oil and gas exploration agreement among Cyprus, Lebanon and Egypt.
The Turkish television channel NTV reported that the Turkish warships had been sent to warn that Turkey "would safeguard its rights in the area." Turkey, which is forty miles from the coast of northern Cyprus, has no rights in the continental shelf of Cyprus or in the area.
The Cyprus, Lebanon, Egypt consortium has engaged a Norwegian energy-consulting company to begin a survey of the area. The potential energy wealth has been estimated as high as $400 billion.
The Turkish government has stated that the government of Cyprus "does not represent the whole of the island" and that "its agreement with other interested parties have no validity for us."
Then you had Turkey's puppet, the Turkish Cypriot leader Mehmet Ali Talat say that Turkey and the Turkish Cypriots "hold rights" regarding all natural resources on Cyprus and its area.
The Turkish and Turkish Cypriot statements were characterized by a government of Cyprus spokesman as "unacceptable provocation" and a threat to peace in the area. "Turkey is openly threatening" was the banner headlines of the Greek Cypriot daily Alithia.