*Â Italian party seeks to block new mosques

* Northern Italian town (Varese) identified as hotbed of Al Qaida activity
Pali police arrest 10 in Hamas mosque raids in Judea and Samaria
* Surely your church or synagogue also has a large weapons storage underneath, no?
HEBRON, West Bank – Kaleej Times Palestinian police raided two mosques linked to the Islamist Hamas movement in the West Bank, seizing weapons caches and arresting more than 10 people, an official said on Saturday.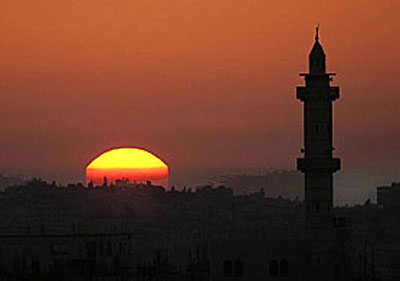 Security forces loyal to president Mahmud Abbas raided the two village mosques overnight, seizing Hamas pamphlets and weapons, Nidal Abu Sneini, the director of intelligence services in the nearby town of Hebron, told reporters.
He said more than 10 people had been arrested but would not give the exact number.
Palestinians have been deeply divided since the Islamist movement seized control of the Gaza Strip in June 2007 after routing Abbas's forces in a week of bloody street clashes.
In recent weeks, Hamas-run security forces in Gaza have detained scores of members of Abbas's Fatah party while security forces in the West Bank have carried out tit-for-tat arrests and raids on Hamas-linked organisations.