* Â A sign of things to come. And of course they're not 'immigrants', they're invaders:
By Francisco Bonilla/ Al Reuters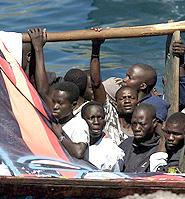 Immigrants went on a rampage in a southern Spanish town overnight, setting fire to homes and cars and throwing stones at police, after a Senegalese man was stabbed to death, police said on Sunday.
* A Culture of Insults: a Moroccan neighborhood in Amsterdam 
Police said the killing of the 28-year-old man in the town of Roquetas de Mar, in the province of Almeria, led to "a numerous concentration of Africans, which degenerated into violence and public disorder."
"For reasons which the police are investigating, (the man) was attacked by a person from the neighborhood who police are looking for," a police statement said.
A witness said the man was killed as he tried to intervene in a dispute between Senegalese and gypsy families in the area.
After the man was pronounced dead at the scene immigrants began vandalizing property, burning rubbish bins and throwing stones and bottles at officers, said police.
Rioters also set fire to two homes belonging to family members of the man they believed killed the Senegalese man, said police. They also burned various parked cars.
A policeman who went to the scene told national radio station RNE that rioters attacked firefighters with stones.
"They began to throw stones at the cars…They ended up destroyed, with broken windows, dents in the doors, at the front. The only thing there wasn't was injuries," policeman Carlos Manuel Ruiz said.
The authorities sent 20 police cars to the neighborhood to restore order. Three police officers were slightly injured.
Officers arrested a 33-year-old and a 30-year-old, both originally from Guinea-Bissau, a 31-year-old Nigerian and a 19-year-old Sudanese suspect for public order offences.
Police say they expect further arrests.
"It looks as if there was a dispute over some kind of debt — that's the hypothesis which the police are finding strongest," Miguel Corpas, Spanish government representative in Almeria, told radio station RNE.
"The police is going to be working all day today to make sure there is no new incident."
An African resident told Spanish state television channel TVE that the community was against violence and racism, but he added: "We want justice." ('justice' for Muhammedans means sharia/ed)
More than a quarter of the residents in Roquetas de Mar, in the province of Almeria, are immigrants, many of whom work in the region's thriving agricultural sector.
(Additional reporting by Sarah Morris and Inmaculada Sanz)