Indoctrinating Muslims with hate: why is this Haarlem shyster not arrested yet?
[youtube]http://www.youtube.com/watch?v=auLHndzBl4g[/youtube]
"Missionaries spread the AIDS virus in Africa – that's the truth"
H/T Atlas Shrugs
Check out Khalid Yasin talking about the AIDS virus, and how it was made in America and spread by Christians through various means.

This is a leader in the ummah who often speaks at US mosques.

Khalid Yasin (also known as 'Abu Muhammad' [1], 'Abu Muhammad Khalid Yasin' [2]) and 'Abu Muhammad, Khalid Yasin' [3], born in the 1950s [4] in Brooklyn, New York, is a teacher and lecturer of Islam.

Yasin lives and operates a "Da'wah" organization in Sheffield, England. He founded, directs and runs the Islamic Broadcasting Corporation and The Purpose of Life Centre on Shirecliffe Lane, Sheffield that have been accused of fraud[5]. The organization was formerly known as the Islamic Teaching Institute (ITI) and the Islamic Information Network Ltd.

The Khalid Yasin Scandal: The Fall of the Criminal Imams
By now almost everyone is caught up in the buzz swirling around recent revelations of "Sheikh" Khalid Yasin's longhistory of fraud and deceit. I applaud the courageous blog Salafi Burnout for attempting to protect the Muslims from what can only be described as a criminal enterprise, and to make us all aware of the tremendous damage it has caused to the community . As Yasin's criminal house of cards appears to finally be falling, we are left with many unanswered questions as to why this kind of thing has been allowed to go on for so long.
Let there be no mistake, other shoes will drop, not only on Khalid Yasin but a whole host of other "du' aat" and Imams who have with impunity betrayed the trust of the Muslims, and have left us wondering how individuals with such shady and dubious backgrounds were allowed to attain such stature, influence, and respectability in the first place. It is no exaggeration to say, as we shall soon learn, that our community is top heavy with these types of scoundrels, and yet the larger question remains; why did so many responsible and affluent Muslims fork over huge sums of money to a man who spouts the kind of absurd, preposterous, indeed psychotic things that he does?
Take for example this gem,
SHEIK KHALID YASIN, DVD EXCERPT: An AIDS virus, that is a classic disease that was created in Fort McKinley, United States. Fort McKinley, the AIDS virus, 63,000 gallons.
What did Khalid Yasin claim the creators of the AIDS virus did after they manufactured 63,000 gallons of it?
SHEIK KHALID YASIN, DVD EXCERPT: Missionaries from the World Health Organisation and Christian groups went into Africa and inoculated people for diphtheria, malaria, yellow fever and they put in the medicine the AIDS virus.
And what was his response to questions of who exactly did this fiendish thing?
SARAH FERGUSON: And what do you believe? Do you believe AIDS was devised by the US Government to limit population growth?

SHEIK KHALID YASIN: I don't say by the US Government. I say there were at least five governments that acted in complicity.
After listening to this man speak, it is no mystery why Muslims have lost all moral authority in the world for promoting these crackpots, lunatics, and demagogues as "respectable spokesman and leaders". 63,000 GALLONS OF AIDS?! Is he sure it wasn't, let's say, 68,000 gallons, or maybe it was 100,000 gallons?  Did he miss two or three countries involved in this global genocide? Maybe it was seven instead of five. And why Fort McKinley and not Fort Dix? We hope we've made the point, the man is psychotic, and would be a laughing stock and an embarrassment were it not for the fact that he belonged to the Muslim community, who eat up this type of conspiratorial garbage every day!
When pressed to produce evidence substantiating these flights into delusion, he retreats behind some twisted notion of "theory",
SARAH FERGUSON: You said in Purpose of Life television at the end of each program you're going to have a moral statement. So in a sense, Purpose of Life, let's be clear — Purpose of Life will endorse that theory of AIDS.

SHEIK KHALID YASIN: No, we won't necessarily, because we can't endorse that theory because that theory is not necessarily fact. What our job is is to bring another view.
It is precisely this "job" of "bringing another view" which allows Khalid Yasin to move through the Muslims unhindered and unencumbered, smooth as butter as they say, collecting up bags of money  as he goes along. Why? How? Because like all professional swindlers, especially those who exploit religion in their hustle, HE KNOWS EXACTLY WHAT HIS VICTIMS WANT TO HEAR , and serves it up like no one else can. As I have written else where, the Muslims have developed over a long period of time a nasty addiction to conspiracy theory, demagoguery, antisemitism, and most debilitating of all, a profound sense of victim-hood. All of these rotten ingredients can be found in the noxioius rhetorical brew of Khalid Yasin, a poisonous elixir he's been offering our youth for years. If all he did was call people to God and help them understand their "purpose for life", the angels in heaven would praise him, but that's not the business Khalid Yasin's in. He's in the business of selling victim-hood, hate, fear, grievance, and blame, and does it so incredibly well that Muslims impliedly trust and love him, even to the point of making deals with him involving tens of thousands of dollars WITHOUT THE BENEFIT OF PAPERWORK!
It is because of people like Khalid Yasin that a whole generation of Muslim youth are growing up feeling like the world is against them, and lay all the blame for the stagnancy and utter backwardness of Muslim society at the doorstep of the "West". And he preaches this message in countries where Muslim youth have a better chance of making it than anywhere, the U.S, Britain, and Australia. From whatever angle you approach it, this is a bad guy.
A short story will illustrate perfectly what kind of ice water flows through the veins of Khalid Yasin. Just this past spring he was invited, along with another famous Imam who failed to show up (already a bad sign), to be the "fundraiser" for a humble, relatively poor Somali community in the Northern Virginia area. They were working hard to raise money for a Muslim school and a great deal of time and energy was expended in its preparation. When the other speaker didn't show the people panicked but brother Khalid told them not to worry, he would both deliver the address (initially assigned to the no-show speaker) as well as "raise the funds". The organizers never discussed augmenting their original agreement with him which promised him 10% of whatever was collected.
He took the stage sporting his thousand dollar suit, but not before sufficiently "working the crowd" by kissing babies and laying on the charm. From those who related this story to me, Khalid had a good night. The money really started pouring in after he related the tale of the "Jew man", the one that sat right next to him on the plane over to the event. That "Jew man" told Khalid that he himself, one man, had raised hundreds of millions of dollars for the State of Israel so that they could continue killing Muslims. This blatant antisemitism, Yasin's stock and trade, got the crowd really excited and of course they gave even more. The speaker got angry and stridently declared he wasn't leaving the stage, and no one was going home, until they raised two hundred thousand dollars FOR THAT SCHOOL. The strong arm tactics worked and the event raised roughly that precise amount, half in cash and the rest pledges. The Somali community was over joyed and viewed the program as a huge success….that is until they had to settle up with Khalid.
He and the brother who lead the community met behind closed doors in order to determine what Khalid Yasin's cut of the proceeds should be, the initial agreement of 10% having been abrogated by his having performed the functions of both speakers. So when the soft spoken, naive Somali brother asked Khalid what he thought was a fair remuneration, just like the Grinch that stole Christmas the cold-hearted criminal looked the brother in the face and said, "I normally get half"
Update:
Moderate, Integrated Finnish Muslims Invite Hardcore Headbanger Khalid Yasin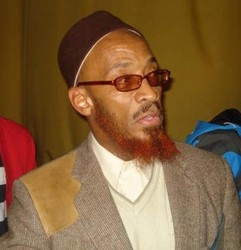 Harlem shyster  Khalid Yasin, ex-inmate & con-job, is a poster boy  for jihad and Islamization.
Discover the Network has this to say: 
"[I]f you don't have a people that is governed by Sharia [Islamic Law], then you have a lawless people."
A secular Islamic state absolutely "cannot work."
Sharia should become the law of the land in all nations because Allah "is the best lawgiver."
"There's no such thing as a Muslim having a non-Muslim friend."
"There has been no evidence that has surfaced, no bona fide irrevocable, irrefutable evidence that had been surfaced that showed that there is a group called al-Qaeda that did the September 11 bombings." (He said this in July 2005.)
9/11 was "an operation that took place with the complicity of some very sophisticated entities other than some Middle Eastern guys on an airplane, or [something] being orchestrated by someone in a cave in Iraq."
"We now know" that the World Trade Center fell not as a result of the planes that crashed into the Twin Towers, but rather "from internal explosive charges, the same way it's done in a construction site."
Homosexuals should be killed because the Koran mandates it — "We don't make any excuses about that; it's not our law, it's the Koran."
AIDS was invented at a U.S. government lab and spread by Western governments through United Nations agencies and Christian missionaries.
"An AIDS virus, that is a classic disease that was created in Fort McKinley, United States. Fort McKinley, the AIDS virus, 63,000 gallons."
"Missionaries from the World Health Organization and Christian groups went into Africa and inoculated people for diphtheria, malaria, yellow fever, and they put in the medicine the AIDS virus, which is a conspiracy." (Yasin's emphasis)
The 2002 and 2005 terrorist bombings in Bali were justifiable responses to years of Western oppression.
"This whole delusion about the equality of women is a bunch of foolishness, there's no such thing."
The Koran permits wife-beating.
"We don't need to go to the Christians, or the Jews, debating with them about the filth which they believe … We Muslims have been ordered to do 'brainwashing' because the kuffaar [unbelievers] … they are doing 'brain-defiling.'"
H/T: Kumitonttu
Khalid Yasin event has now finally been confirmed. The challenge was to find a suitable time and place. Ticket price is 40 euros We publish an event, organization costs and lunch provided both days.
Lecturer: Sheikh Khalid Yasin (USA)
Event location: Jan-Magnus Jansson's Square in Helsinki 100 550
Event Time: 21-22.1.2012 at 13.45-19:00
ticket price: 40 euros, including two days of lectures / lunch