Over 100 complaints over BBC's Muslim head of religious shows
'Vast majority' of complaints were about BBC head of religion and ethics Aaqil Ahmed not being a Christian.
* Dhimmitude and appeasement sux. But the effeminate, Â progressive serial-wankers at Al BeBeeCeera suck and swallow, and can't get enough of prostrating themselves to their Moslem overlords.
* Here's what happens if you appoint Muhammedan's to rule over you. but that's only the beginning:
Shahid Malik: Muslim M.P's And Muslim Prime Minister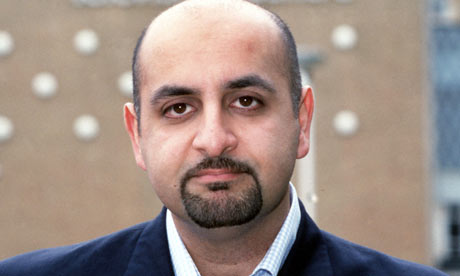 The BBC has received 115 complaints over its appointment of the first Muslim to the role of head of religion and ethics.
Channel 4 executive Aaqil Ahmed was confirmed in the post on Monday, becoming only the second non-Christian – after agnostic Alan Bookbinder in 2001 – in the BBC's 87-year history to be appointed to the role.

It is understood the "vast majority" of the complaints are about Ahmed not being a Christian.

In a statement, the BBC said: "We have received complaints from our audience regarding our decision to appoint a non-Christian as the new head of religion and ethics.
Continued below…
The Queen has told Gordon Brown she is worried that the scandalous revelations about MPs' expenses could damage Parliament
"The BBC's commitment to religious broadcasting and to Christian broadcasting as the dominant part of that, is entirely secure. Aaqil Ahmed was appointed as he was the best candidate for this new role. It is BBC policy to recruit on the basis of experience and suitability to the post, not on the basis of faith or any other criteria.

"Aaqil has almost 10 years' experience in religious broadcasting – first at the BBC, where he was deputy editor for documentaries at BBC religion and more recently as head of religion and multicultural at Channel 4 where he was responsible for commissioning (among many other programmes) Christianity: A History, Rowan Williams Meets … and the Bafta-winning Saving Africa's Witch Children.

"As the majority faith in the UK, Christians are and will remain the key audience for the BBC's religious television output."

Senior figures in the Church of England have previously raised concern about religious programming at the BBC, with the Archbishop of Canterbury, Dr Rowan Williams, last month reported to have told the director general, Mark Thompson, that the "Christian voice" was being sidelined.

The Bishop of Manchester, the Right Rev Nigel McCulloch, told the Guardian earlier this week: "Aaqil Ahmed comes to the post with a good reputation. At a time when the BBC's coverage of religion caused some disquiet, the Church of England will be watching how the future of religion and ethics develops."

Ahmed, who is commissioning editor for religion and multicultural programmes at Channel 4, will take up the new role of BBC head of religion and ethics and commissioning editor for TV religion.

The BBC has also appointed Christine Morgan as a new separate head of religion radio.
• To contact the MediaGuardian news desk email editor@mediaguardian.co.uk or phone 020 3353 3857. For all other inquiries please call the main Guardian switchboard on 020 3353 2000.
• If you are writing a comment for publication, please mark clearly "for publication".
Muslims Have Conquered Europe Without Firing A Shot
America Will Be Next, Unless We Wake Up
BY HERB DENENBERG, THE BULLETIN
Take a little quiz to see if you fully understand the state of the world:

Question 1
True or False: In Brussels, Belgium, the capital of the European Union and Belgium, the Socialist mayor presides over a caucus that has a majority made up of Muslims.
Question 2
True or False: In a few years, Amsterdam, Antwerp, Rotterdam and many other European cities will reach majority Muslim status.
Question 3
True or False: The Muslim population of the United Kingdom is increasing 10 times faster than the general population.
Question 4
True or False: British banks have abolished piggy banks, as they might offend Muslims and police in Brussels are enjoined from eating doughnuts during Ramadan.
Question 5
True or False: Ken Livingstone, the former mayor of London, believes it is perfectly acceptable to blow up buses in Tel Aviv, but objects to those blowing up buses in England.
Question 6
True or False: The British lean over backward to grant freedom of speech to Muslim groups, even as they slander returning war heroes; but they also lean over backward to silence any critics of Islam.
If you answered true to all six questions, you're tuned into what is going on in Europe. All six are true. This quiz is based on an article by Mark Steyn in Commentary Magazine (May 2009) titled "Israel Today, The West Tomorrow: Acquiescence to extremist Islam's assault on Jewry and Israel will not save the nations of Europe from a Muslim Fate."
Mr. Steyn's thesis is that the Muslims may now be targeting Israel, but their basic objective, for the moment, is to take over Europe … and they are well along in that process, as the six-question quiz suggests.
He wrote a classic book, America Alone: The End of the World As We Know It, in which he found that Europe is virtually finished as a Western, Christian continent and will soon be under Muslim control. But here is his bottom line, to make sure resolving the Israeli-Palestinian conflict isn't viewed as the magic bullet for peace: "In the end, this isn't about Gaza, this isn't about the Middle East; it's about them [the Europeans]. It may be some consolation to an ever lonelier Israel that, in one of history's bleaker jests, in the coming Europe the Europeans will be the new Jews."
Europe thinks when the canary in the mine dies, the miners are safe. In this case, the Europeans are the miners, and if the present trend continues, they will be as dead as the canary in short order.
Mr. Steyn's book was frightening on two counts. First, it is shocking to understand that Europe is about to become Eurabia, a continent subject to Muslim domination. Second, it is even more shocking that when you study what is going on in Europe, you get the feeling that America is starting down the same path to the destruction of Western civilization. Mr. Steyn's book came out in 2006, and it painted a grim picture. Now, just three years later, Mr. Steyn's predictions are proving to be right on target, and the collapse of Europe is continuing at a steady and rapid pace.
Mr. Steyn's conclusions are backed in another recent article found in Townhall Magazine (May 2009) by Tim Montgomerie titled "Far From United: The United Kingdom's Government Has Decided To Appease Muslim Extremists and Act Embarrassed About Western Culture. Can Britain Survive?"
The picture he paints is just as grim and bleak as that of Mr. Steyn's. Just consider his opening salvo. When British troops returned from a tour of duty in Iraq, they were given a homecoming parade by the southern English town of Luton. The people of Luton enthusiastically greeted the soldiers with cheers, smiles and flowers.
But then came what some might be considered to be unexpected if not the incredible:
"But a day of thanksgiving was overshadowed by the loud protests of a group of Islamic extremists. Holding up placards, they accused Britain's heroic soldiers of being 'butchers,' 'war criminals,' 'murderers' and 'baby killers.' By granting the Muslim protestors a right to insult the soldiers, the police were risking a breach of the peace — and a breach of the peace did occur. But Britain's police service always appears eager to bend over backwards for a militant minority within the Muslim population."
The British give every consideration and every doubt to the Muslim population, including freedom of speech to insult war heroes. But when it comes to critics of Islam, the British are willing to abolish free speech to silence them, if that's what it takes to appease the Muslims.
They did that by banning the appearance before Parliament of Dutch parliamentarian Geert Wilders. The ban came after Islamic Web sites threatened to mobilize a mob protest if Mr. Wilders was granted a right to deliver his warning that Islam is an intrinsically violent religion.
More recently, after the Townhall article went to the printer, the British government banned talk show host Michael Savage from entry as his views were apparently considered too inflammatory. This all shows how far along the British and the rest of Europe are to surrendering to the oncoming Islamic tide. Mr. Steyn and others who forecast the end of Europe as we know it were right on course.
For other excellent books documenting the same trend, see Melanie Phillips, Londonistan; Bat Ye'Or, Eurabia: The European Arab Axis; and Bruce Bawer, While Europe Slept.
Ms. Phillips, who is right on target in her writings, says the British have an unwritten agreement that they would turn a blind eye to Muslim terrorists as long as they did not target Britain. You would think that would have all changed after the London subway bombing of July 7, 2005 killed 50 Londoners. Instead, Britain answered by more appeasement, according to Mr. Montgomerie. This is the kind of hopelessly stupid and irrational reaction that leads people like Mr. Steyn and Ms. Phillips to write the Europeans off as lost to Islam.
You can't preserve your own culture and values and fight off those who would subjugate you if you don't believe in yourself. America, England and much of Europe have become self-loathing apologists for their own culture, and can hardly expect it to be preserved against those who believe in their culture and values and who are determined to see it win.
Even in America, we have important centers of America-hating self-loathing in our academic centers, in much of our mainstream media and in the White House. That does not bode well in an ideological war between two cultures and value systems pitting self-loathing apologists of the West against fanatical enthusiast on the other side.
You also can't preserve your culture and values if you aren't forming enough families and having enough children to preserve your nation and its power. Europe is ideologically doomed, but it is also demographically doomed. Its population is shrinking slowly, while the Muslim population is exploding. This is classic conquest by demography on the part of the Muslims and death by demography on the part of the Europeans.
You also won't preserve your culture and values when one of the bastions of our way of life, the churches, are being weakened and are even disappearing in Europe. That continent seems to have surrendered to secularism and religion has gone out of style. In England, for example, the Church of England is in retreat and is in the appeasement mode. The bishop in charge of the Church's urban ministry opposed the idea of the Church having a duty to convert Muslims to Christianity. The bishops of the Church seem more interested in accommodating Islamic opinion than in bringing their religion to others. The leader of the Anglican Church has spoken with approval of the introduction of aspects of Shariah law (Muslim law) into Britain.
There's another deadly trend obvious in England but making headway elsewhere in the West — the union of the left and radical Islam in the hate America campaign. The Townhall magazine article explains the seemingly strange but solid alliance between the left (including major segments of the Democratic Party) and radical Islam. To make the point the article quotes Michael Gove, a leading Conservative member of Parliament:
"The Left's enemies are no longer primarily a system, capitalism and its agents such as big business. Instead the principal enemy is now the oppressive West and, in particular, The Great Satan, America and the Little Satan, Israel. The Crusaders and the Zionists … Antipathy towards America, like opposition to Israel, has become the touchstone of radical Left credibility."
So America has to face the music and fight, as no matter what happens to Israel and other obstacles in the path to Muslim world domination, the final target has to be America. Like it or not, we are marked for subjugation and/or destruction.
If we are to win that war against radical Islam, we have to recognize we're in a battle, which will not be won by retreat and appeasement. And we will not win if we do not believe in our own values and culture and if we do not try to end the hate-America, blame-America streak that is becoming all too common in our national life. Again, Mr. Gove struck a cord, also sounded by Mr. Steyn. He was speaking of the challenge facing Britain, but America and the rest of the West face the same challenge:
"Unless we retain the moral clarity to know that Western society, its freedoms and traditions, are worth celebrating, deserve to be emulated, and will benefit others by being adopted, then we will find them increasingly difficult to defend at a time of trial."
Those in the process of appeasing the Muslim onslaught should heed the wisdom of Mr. Churchill, one of the great statesmen of history who understood the folly of appeasement: "An appeaser is one who feeds a crocodile — hoping it will eat him last."
And then for those who won't stand up to a bully, an aggressor, or a homicidal maniac until it's too late, they should heed the words of the  German theologian, Martin Neimoller:
First they came for the Communists, and I didn't speak up, because I wasn't a Communist.
Then they came for the Social Democrats, and I didn't speak up, because I wasn't a Social Democrat.
Then they came for the Trade Unionists, and I didn't speak up, because I wasn't a Trade Unionist.
Then they came for the Jews,   and I didn't speak up, because I wasn't a Jew,
Then they came for me, and by that time there was no one left to speak up for me.
Rev. Neimoller almost learned his own lesson too late. He supported the Nazis until he finally realized what they were up to. He was sent to the Dachau concentration camp, and was one of the lucky ones to survive and be freed at the end of the war.
Most aren't that lucky. The sooner you speak up, the more likely you are to escape without catastrophic consequences. Don't count on being one of the lucky ones.
Herb Denenberg is a former Pennsylvania Insurance Commissioner, Pennsylvania Public Utility Commissioner, and professor at the Wharton School. He is a longtime Philadelphia journalist and  consumer advocate. He is also a member of the Institute of Medicine of the National Academy of the Sciences. His column appears daily in The Bulletin. You can reach him atadvocate@thebulletin.us.
The BBC must be held to account. The BBC itself should be made a campaign issue: its coverage of Islam and of subjects related, clearly, to its Defense and Protection of Islam (as its grotesque and incessant coverage of Israel and Israel's attempts to defend itself against a Jihad that the BBC has been in the forefront of those refusing to recognize) have weakened the natural defenses of those in the Western world who listen to it. Its personnel — start with John Simpson (google "John Simpson" and "Hugh" and "Jihad Watch" for more), then go to Frank Gardner, or nasty-voiced Lyse Doucet, or Orla Guerin, the PLO sympathizer (and why not? she married one), and Barbara Plett, who wept uncontrollably while reporting on the death of Yassir Arafat, and so many more — need to be discharged, and replaced by those who are not Defenders and Protectors of Islam, nor antisemites (antisemitism is always and everywhere to be deplored, but there are times in history when the antisemite is not merely disgusting but constitutes a national or civilisational security risk, as in the late 1930s), but have a clear sense of Great Britain, of the West, and of the threat not only to the West, but to All the (Non-Islamic) Rest, of Islam.
The BBBC requires a complete change of personnel and policies. This has to be done. It doesn't matter what the Gulf Arabs think, how they will be outraged, nor does their money matter now. Everything is at stake. The Gulf Arabs should be ignored or told to go to hell.
"Money can buy everything, except civilisation."
And, furthermore, why should opposition to, worry about, fear of, the growing Muslim presence in Western Europe, with the Daw'a that is so appealling to the psychically and economically marginal, and the attempts to change the laws and customs of the free and advanced Western world, be "right-wing"? Before there was Geert Wilders, there was Pim Fortuyn, murdered by a weak-minded "animal rights" activist who had been persuaded that Pim Fortuyn's opposition to Muslims could be seen as oppression of the "weak" and assimilated to the "oppression by men of helpless animals." Van de Graaf, the murderer of Pim Fortuyn, was mentally manipulated by Muslims who used him as the instrument for their own cause.
What about Theo van Gogh? "Right-wing" was he? The threatened-with-death Ayaan Hirsi Ali? Is she "the right-wing Ayaan Hirsi Ali"?
How about that famous life-long leftist, whose Greek lover Panagoulis was a real victim of the far-right, murdered by the gang of Greek colonels (see Papadopoulos), Oriana Fallaci who came from a long line of anti-clericl republican Tuscan patriots, who in her youth, at the age of 14, was risking her life to help the Resistance in Florence — did she become, after a life in which she saw, up close, Khomeini and Arafat and Khaddafy, saw what they and those who worshipped or followed them were all about, realized the terrible threat to Western Europe from Muslims, did she, Oriana Fallaci, become "the right-wing Oriana Fallaci" in the eyes of the disgusting, the sickening, the intolerable speakers and writers of the BBC?