Godhra train fire verdict prompts tight security measures
"Its your fault. You made us do it."
Officials in Gujarat fear inter-communal violence after 31 Muslims convicted of the deaths of 60 Hindus in 2002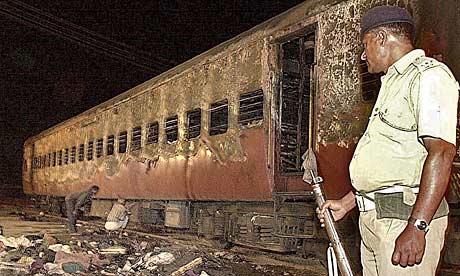 India has imposed tight security measures across much of the western state of Gujarat following the conviction of 31 Muslim men for setting fire to a train in which 60 Hindu pilgrims and activists died nine years ago.
Jihad causes 'backlash:'
The incident, which took place in the town of Godhra in February 2002, triggered some of the worst inter-communal violence in India for decades. More than 1,200 people, mainly from the minority Muslim community, were killed as groups of Hindus rioted in Muslim neighbourhoods and towns across the state.
Gujurat security officials fear a repeat of the violence following the verdict.
Public gatherings of more than four people in areas seen as prone to violence have been prohibited, local media have been asked not to broadcast images of the clashes that followed the attack on the train, and around 15,000 extra police have been deployed.
The families of the more than 60 people acquitted of taking part in the train attack have been given police protection.
Those convicted are to be sentenced later in the week. Many have been in jail for years, arrested soon after the violence.
Special public prosecutor JM Panchal said he was satisfied with the verdict.
The case has become highly politicised, reflecting deep divides in India.
The chief minister of Gujarat, Narendra Modi – a rising star in the rightwing Hindu nationalist Bharatiya Janata party (BJP) – has been repeatedly accused of failing to stop Hindu revenge attacks.
Modi has always denied such claims, but they have tarnished his image and that of the state, one of India's most successful in economic terms.
A BJP spokesman said after the verdict that "law and justice has prevailed", adding: "There were elements who were trying to belittle [the case]. There have been politicians who tried to abuse it."
An investigation by a judge six years ago had concluded that the train fire had been an accident. However, a separate inquiry found it had been pre-planned and that the train, having been doused in petrol, was deliberately set alight by a mob.
Commentators say that inter-communal strife following the verdict is unlikely. Last year, calm followed a controversial court decision over the disputed religious site of Ayodhya in northern India which granted many of the demands of Hindu religious groups, leading many to conclude that the days when sectarian issues could explode into street violence are over.