Sick. Just sick.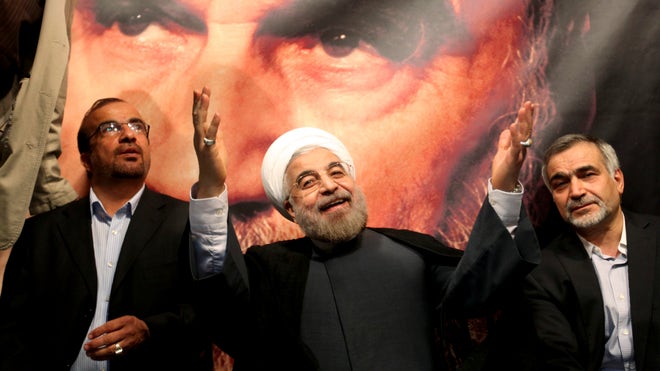 The U.S. may be hoping Iran's new president-elect, Hasan Rowhani, shown here in front of a portrait of the late Iranian revolutionary founder Ayatollah Khomeini, will be amenable to talks. (AP)Â (AP)
The U.S. State Department has quietly offered to enter into bilateral talks with Iran based on "mutual respect," according to an interview an American diplomat gave to the Islamic republic's state-run media.–Read more
Son's suicide is Rohani's dark secret
'I hate your government, lies, corruption, religion,' read note published in London by exiled pundit, while domestic press attributed tragedy to romantic misadventure
Behind the smiles and the mirth brought about by Hassan Rohani's triumph in the first round of the Iranian presidential election, there lurks a personal tragedy: his elder son took his own life in 1992 in protest of his father's close connection with Iran's Supreme Leader Ayatollah Ali Khamenei.
"I hate your government, your lies, your corruption, your religion, your double acts and your hypocrisy," wrote the future president's son in his suicide note, published in London by exiled Iranian political commentator Ali Reza Nouri.
Related stories:
"I am ashamed to live in such environment where I'm forced to lie to my friends each day, telling them that my father isn't part of all of this. Telling them my father loves this nation, whereas I believe this to be not true. It makes me sick seeing you, my father, kiss the hand of Khamenei," read the letter published in the London-based al-Sharq al-Awsat
Official Iranian press attributed the young man's suicide to unrequited love.
Rohani in first press conference as president (Photo: AFP)
Rohani had harsh words for his son who he said committed a great sin in putting an end to his life; however he still made sure he was buried in a select plot in the temple of the founder of the Islamic Republic Ayatollah Ruhollah Khomeini.
Iran's newly elected president pledged Monday, in his first press conference since being elected to presidency, to follow a "path of moderation" and promised greater openness over the country's nuclear program, emphasizing messages from Western leaders since his victory that have brought cautious hope of new openings with Tehran.
But he said he would not support halting Iran's uranium enrichment, which is a key stumbling block on talks between Iranand world powers.
Iran's president-elect said the United States must recognize Iran's nuclear rights and pledge not to interfere in its internal affairs before direct talks between the two countries can take place.
"The issue of relations between Iran and America is a complicated and difficult issue," Rohani said. "It is an old wound that needs to be … healed."