Ayatollah Tortured, Near Death, in Iran for Criticizing Political Islam
Ayatollah Boroujerdi's condition has reportedly worsened as of January 28, 2014, when he suffered severe body tremors and was motionless for hours in his cell. The authorities still refuse to transfer him to a medical facility and are denying him the most basic medical care. We ask for intervention to save his life.
Ayatollah Hossein-Kazamani Boroujerdi, a senior member of the Shiite Muslim clergy, is presently serving the eighth year of an 11-year sentence handed down to him by the Islamic Republic's courts for advocating the separation of state and religion inside Iran. He has also spoken against political Islam and its leaders. As a result, during his time in prison, he has been exposed to torture especially reserved for the Islamic Republic's dissident clergy and political prisoners. Boroujerdi has endured the rape of his spouse in front of other family members. He has been purposely exposed to toxic chemical agents while kept in a small solitary cell. As a result, he now suffers permanent neurological damage, further aggravated by group beatings. Urgent medical attention has been systematically withheld for his long list of ailments, which are mostly a direct result of years of torture and malnutrition.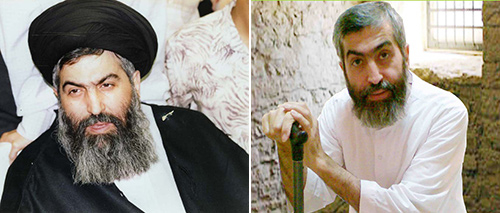 Ayatollah Hossein-Kazamani Boroujerdi, in better times (left) and in his prison cell (right).
On September 29, 2013, for example, Ayatollah Boroujerdi suffered a heart attack in prison for which he was refused medical intervention. His condition has reportedly worsened as of January 28, 2014, when he had severe body tremors and was motionless for hours in his cell, where he presently remains with no medical care. (More)