Hate preacher Abu Hamza directed terror attacks and kidnappings in Yemen, while imprisoned in the UK. NZ Dr Mary Quin lived through the ordeal.
Kiwi who terror king didn't see coming
By Andrew Stone/ NZ Herald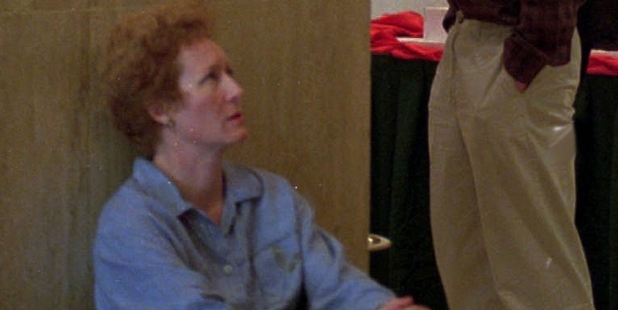 Freed hostage Dr Mary Quin chats with another hostage after their kidnap ordeal in southern Yemen. Photo / AP
The moment that Mary Quin thought she would die was in a gunfight with an AK-47 jammed into her spine.
Quin was a hostage, a human shield squeezed between an Islamist gang in Yemen, and trigger-happy security forces sent from Aden to overwhelm the kidnappers.
The New Zealander imagined her backbone splintering into a thousand pieces from a bullet fired by the captor she called "Purple Skirt" after the colour of his traditional clothes.
In her account of the ordeal, Kidnapped in Yemen, Quin wrote: "I willed him to move the gun, just a centimetre either side, so when the gun went off it would be a clean shot, an instant death."
But it wasn't Quin who was hit by gunfire. The gun barrel eased and she turned to face her kidnapper. Purple Skirt lay groaning on the stoney desert floor, his weapon beside him.
Quin reached for the barrel but the injured militant grabbed the stock.
"I want that gun you little bastard," the 45-year-old executive told Purple Skirt, before placing her infidel shoe on his head and tearing the automatic from his grasp. For a moment the Catholic woman from Manawatu considered opening fire.
"I suddenly knew I was capable of killing another human being and enjoying it," she realised, shocked that she "had met some new person, someone inside me that I never knew existed, someone capable of evil. One problem – this evil one didn't know how to use an AK-47."
Instead she turned to run towards the rescue force, pausing only to say goodbye to Purple Skirt: "Salaam alaikum, mother-f*****."
Four of the tourists in her party died from the gunbattle, executed by a murderous kidnapper or hit in the volley exchanged between the militants and Yemeni troops. Two captors and a soldier died but a dozen of the gang escaped.
In the years since the bloody exchange, Quin kept chipping away at the questions which nagged her about the hidden forces behind the kidnapping, all the while nurturing her stellar career in the United States.
The 60-year-old grew up in Palmerston North. One of nine children, her father was a detective while her mother was at home raising the family. After a first class honours science degree in physics from Canterbury University, she left for Chicago to study for an engineering PhD then jumped into the corporate world.
Armed with a Harvard MBA, she mixed with the big boys at Kodak and Xerox before heading to the wilds of Alaska to run a firm half-owned by a North American Indian tribe which serviced resource projects and generated income for native Alaskans.
Last year she returned to New Zealand for the hot seat as chief executive of the $250 million-a-year agency Callaghan Innovation, the high-tech taxpayer-funded vehicle which the Government hopes will act as a midwife to a whole swag of globally-tuned high-value NZ companies.
For the moment that task is on hold as Quin relives the Yemeni ordeal as a star witness in a high-profile terrorist trial in New York. In the dock is handless, one-eyed Muslim cleric Abu Hamza al-Masri.
Egyptian-born Hamza maintains he lost his hands when a landmine exploded as he helped rebuild roads in Afghanistan. US anti-terror investigators told Quin the injuries were more consistent with a chemical explosion, suggesting Hamza was hurt making a bomb.
Prosecutors in the Manhattan court believe evidence gathered by Quin after her ordeal will help put the imam behind bars for life. One crucial element is a tape-recording Quin made when she interviewed Hamza at his north London mosque nearly two years after the deadly kidnapping.
Months of dogged research led her to the mullah of Finsbury Park, who she believed was the mastermind behind the kidnapping. She spotted her quarry in the street as he tried to park a beaten-up blue Mercedes. Quin introduced herself and asked whether he got emails she had sent from America.
The preacher gestured to the stumps of his forearms and replied: "No. Emails are not easy for me."
He suggested his persistent visitor return in a week. The next time they met, Quin, her head and shoulders covered by a shawl, came straight to the point. "I have come to talk about Yemen," she told Hamza. "I was one of the tourists who was taken hostage by Abu Hassan."
She wrote that the mullah was briefly speechless but agreed to talk to the tape recorder Quin placed between them. The imam confirmed he had been in touch with Hassan, founder of the Aden Abyan Islamic Army and leader of the Yemeni kidnappers. It was Hassan who demanded to know which of his captives was American. Quin, who carried a US and an NZ passport, produced her home country document.
Contradicting reports that Hassan had been executed after a brief trial, Hamza told Quin the Islamic fighter was still alive.
Hamza closed the interview with a warning. "Do not go back to southern Yemen," he cautioned Quin, saying that rocket attacks on tourists would be next. "You will not see it coming."
As the woman he spilled his thoughts to takes the stand, Hamza might realise it was he who didn't see it coming.
Interview and lunch, with tryst
Tough, courageous and persistent, Mary Quin is no shrinking violet when it comes to revealing episodes of her private life.
In February 1999, a few weeks after she escaped with her life from the deadly Middle East hostage drama, Quin flew to New Zealand to see her family and attend a school reunion.
In Wellington, she had a "particularly eventful day", she relates in her bookKidnapped in Yemen. The morning started, Quin recalled, with a radio interview, before she went to lunch with a former boyfriend "followed by a tryst, for old times' sake, back in my hotel room".
There was time for afternoon tea with three nuns, before the day wrapped up with dinner put on by a lesbian couple. Before turning in, she wrote in her journal "Not a bad day's work!"
-Â NZ Herald
Kiwi Mary Quin gives compelling evidence at Abu Hamza's trial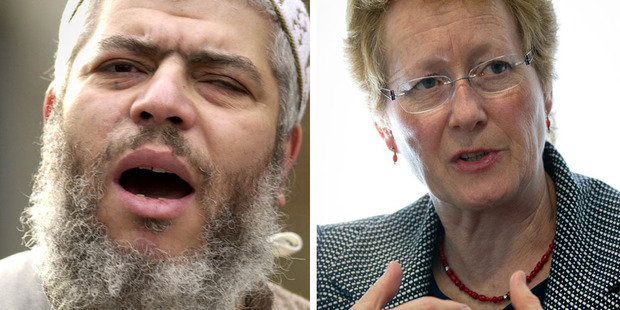 Mary Quin has given evidence at Abu Hamza's trial in Manhattan this morning. Photo / AP, NZ Herald
British hate preacher Abu Hamza admitted supplying advice and a satellite phone to the Islamist kidnappers of 16 Western tourists in Yemen in 1998, a Kiwi survivor told a court today.
Mary Quin, a dual NZ-US citizen, confronted Abu Hamza head-on in a Manhattan federal court, where he is on trial for 11 kidnapping and terror charges.
She spoke about the terrifying 24-hour kidnapping that ended with four hostages being killed and testified to meeting Abu Hamza in October 2000 while researching her published memoir Kidnapped in Yemen.
Read more of the Herald's coverage of Mary Quin's ordeal:
Kiwi who terror king didn't see coming
During that interview at Finsbury Park Mosque in London, Quin said Abu Hamza justified the kidnapping and killing of civilians in defence of Islam.
"Islamically it's a good thing to do," she quoted Abu Hamza as saying of the kidnapping of foreign tourists.
He told Quin that the chief kidnapper, Abu Hasan, called him during the kidnapping and that he advised him to stay back to avoid being killed during the Yemen army's rescue operation, she said.
When she asked how the kidnappers got their satellite phone, Abu Hamza said: "It came from outside."
"From you?" Quin asked.
"Yeah perhaps," he replied, according to her testimony and a transcript of the interview submitted as evidence.
The cleric said the motive was to exchange the Australian, British and US hostages for detainees in Yemen, but was vague on whether they included Britons.
Five British men and an Algerian were arrested in Yemen on December 23, five days before the kidnapping.
Three other British men were arrested on January 27, 1999. Among the eight Britons were a son and step-son of Abu Hamza.
At no point did he express regret to Quin for the four Westerners who died during the rescue operation, she said.
At one point, however, he even implied they got off lightly by saying it would have been "easy" to have fired a rocket and blown up a car of tourists.
The kidnapping was intended to undermine the Yemeni government and end the tourist industry, which was bankrolling "unIslamic behavior," Abu Hamza told her.
'Defendant was laughing'
Quin said Abu Hamza laughed after asking why none of the hostages had a cell phone.
"The defendant was laughing and said you should have a compass as well," Quin said.
Mustafa Kamel Mustafa, 56, better known in Britain as Abu Hamza al-Masri, has pleaded not guilty to all the charges but faces life in prison if convicted.
Blind in one eye and with both hands blown off in an explosion in Afghanistan, he sat quietly in tracksuit bottoms and a T-shirt, taking notes.
Quin said he claimed not to know the arrested Britons were going to Yemen, but if he had, would have advised them to travel under false identities.
He would also have told them to take bombs and "some James Bond things," she quoted Abu Hamza as saying.
She was the second of the two US former hostages to testify about their horrific ordeal and the more than two-hour gunfight that ended in their rescue.
The kidnappers lined up hostages on a berm and opened fire between their legs, she said.
"I could feel a bullet go so close to my face I felt the air move," she said. She described the "zinging sound of the bullets" as "just like in the movies."
At one point she grabbed a gun off a kidnapper nicknamed "Purple Skirt" because of his traditional attire, in her bid to run for safety.
He was shot and trying to hold onto his AK-47, as the two screamed at each other, she said.
"I put my foot down on his head and that gave me enough leverage to rip the gun out of his hand."
Abu Hamza was indicted in the United States in 2004 and served eight years in prison in Britain before losing his last appeal against extradition in 2012.
– AFP