Spare me the drivel! Spare me the bleeding hearts BS!
After the first few sentences of ridiculous article you will notice that it is a carbon copy of a hundred like it. The Muslim invaders are the victims and the Buddhists who protect their culture and civilisation are "violent mobs" or "Buddhist extremists". PuffHo turds are amongst the worst in the business of misinformation.
"This Group Faces Terrifying Persecution, And You May Have Never Heard About It"
The "Rohingya" are an invented people; they are illegal Bangladeshi invaders and the Buddhists of Burma have every right (and an obligation to their own people) to kick them out. 
But Eline Gordts from the PuffHo writes for the Mohammedan expansion project, so what you get is this:
In the past two years, more than 100,000 Muslims in Myanmar have left their homes in fear of rancorous mobs and angry assailants. Some have been forced into isolated makeshift camps, while others have made the dangerous trek across the border to Thailand, Malaysia and Bangladesh in search of safety and a source of income. Hundreds have been killed and many more detained.
These Muslims are Rohingyas, members of an ethnic group that the United Nations considers one of the most persecuted minorities in the world. There are about 1.3 million Rohingyas in Myanmar, most of whom live in the country's Rakhine State, also known under its colonial name Arakan. The group is named after the language it speaks.
Since the spring of 2012, Buddhist extremists have renewed a push to drive the Muslim group out of Myanmar, using ruthless tactics and brutal violence. Tomás Ojea Quintana, a former United Nations' special rapporteur on human rights for Myanmar, said recently that the systematic violence against the Royhingya may "amount to crimes against humanity."
Myanmar's rulers have gained international praise in recent years for democratizing the country and releasing hundreds of political prisoners after five decades of authoritarian rule. While the elected government of President Thein Sein has denounced the violence against the Rohingya and promised to take action against those seeking conflict, he has also said they are not citizens of Myanmar and should be placed in U.N. refugee camps or move to countries that are willing to accept them.
Although there are few groups around the world who have faced as much oppression as the Rohingya, you still may have never heard about this ethnic group. Here's what you need to know about their plight:
Rohingyas Lack Essential Rights.
In 1982, Myanmar approved a law that restricted citizenship to members of the country's "national races," a categorization that does not include Rohingya Muslims. They are therefore deprived of many essential rights, such as the right to work, travel, marry and bear children without permission. In this April 2, 2014, photo, a Muslim family looks out from their tents at Da Paing camp for Muslim refugees in Sittwe, the capital of Rakhine State. (AP Photo/Khin Maung Win)
A 2014 report by Fortify Rights, a nonprofit human rights organization, explains that Rohingya couples cannot live together unless they are married and need the authorities' permission to actually get married. Since 2005, a strict two-child policy has been enforced for members of the group, and childbirth out of wedlock is prohibited. Rohingyas can only travel between townships with permission from local authorities and are rarely allowed to leave the state.
They Are Accused Of Plotting To Take Over The Country.
While the Rohingya say that their origins lie in western Myanmar and that members of the group have lived in the area for hundreds of years, many Buddhists say that they immigrated illegally from Bangladesh with the British in colonial times.
As a result, the national government, local authorities in Rakhine State and Myanmar's 969 movement — a popular radical Buddhist organization that includes famous monks like Wirathu and Wimala — argue that the Rohingya have no right to reside in Myanmar. In addition, they say they feel threatened by the group's growing numbers and believe that Muslims are plotting to take over the Buddhist-majority country. The numbers "969," referring to an extreme Buddhist movement, are written on a shop door in Lashio, Myanmar. (AP Photo/Gemunu Amarasinghe)
Experts say that this is a widespread belief in the country even though it may seem unreasonable, given that 89 percent of Myanmar's approximately 55 million residents are Buddhist and only 4 percent are Muslim, The New York Times reports. The 969 movement has massive support and few moderate Buddhist leaders or national politicians have dared to speak out against its radical beliefs.
As the International Crisis Group aptly summarizes in an October 2013 report, people's hatred for the Rohingya stems from "considerable pent-up frustration and anger under years of authoritarianism that are now being directed towards Muslims by a populist political force that cloaks itself in religious respectability and moral authority."
They Are Violently Persecuted.
Anti-Muslim sentiment has a long history in Myanmar, dating back to the colonial period when large numbers of Indians followed the British into the country, as theCrisis Group details in its report. Many of them were Muslims, although Hindus and members of other religions moved in as well. Tensions between Buddhists and Rohingya Muslims in Rakhine State became violent for the first time during World War II, when the Rohingya supported the country's colonial rulers and the Buddhists sided with Japanese invaders.
Violence and repression flared in the decades that followed and intensified in earnest in the spring of 2012. The rape of a Buddhist girl by several Muslim menset off a wave of reprisal violence in Rakhine State, and members of both communities took part in attacks.
Months later, in October of 2012, a new wave of violence by ethnic Buddhists against Rohingya Muslims broke out, this time in a much more organized way. Local authorities and extremist Buddhist monks riled up Rakhine's Buddhist majority, releasing pamphlets that demonized the Rohingya and public statements that called for their expulsion. Buddhist mobs responded by razing and torching Muslim villages, forcing the inhabitants to flee for their lives.
More than 200 people were killed in the violence of 2012, and about a hundred thousand people — mostly Muslims — were forced to leave their homes. The majority ended up in segregated makeshift camps, where their movements became more restricted than ever before.
The following year, attacks spread to the center of the country and were no longer restricted to the Rohingya community, instead targeting Muslims as a whole. Dozens of people were killed and entire neighborhoods destroyed in two waves of riots in the spring and fall of 2013.
The Majority Are Stuck In Segregated Camps…
Since violence flared in 2012, some 140,000 people — the majority of them Rohingyas — live in confined camps in what the United Nations considersappalling conditions.
"In Rakhine, I witnessed a level of human suffering in (displacement) camps that I have personally never seen before, with men, women, and children living in appalling conditions with severe restrictions on their freedom of movement, both in camps and isolated villages," U.N. envoy Kyung-Wha Kang said in June 2014 after a visit to the region.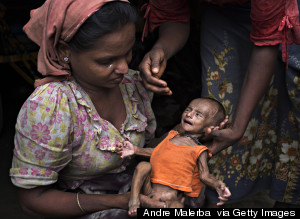 Rosheda, 20, holds her 2-month-old malnourished child in front of her hut. (Andre Malerba/Getty Images)
Rohingyas are rarely allowed to venture and work outside of the camps, making the community dependent on aid for survival. According to the U.N., the refugees lack adequate access to basic services like health care, education, water and sanitation. One of the camps visited by the U.N. envoy was severely isolated, had no schools and lacked effective latrines because it was so close to sea level. Waterborne illnesses and malnutrition arecommon in the camps outside Rakhine's State capital, Sittwe. On a recent trip to those same camps, a Time reporter found emaciated refugees and children succumbing to diseases like and tuberculosis and diarrhea.
… Amid A Terrifying Humanitarian Crisis.
The humanitarian crisis in the camps took a turn for the worse in March of this year, when local leaders forced international aid organizations out of the region,accusing them of favoring the Rohingya over Rakhine's Buddhist population. The provisions that so many of the camps' inhabitants relied on to survive — food rations, basic health care, prenatal care, vaccines, medicines — evaporated.
"It was not ideal before March," Liviu Vedrasco, a coordinator with the World Health Organization, told Reuters. "NGOs were not providing five-star medical care. But they were filling a gap."
Of the various organizations that provided medical and food aid to the camps, only the World Food Programme was eventually allowed to return. Authorities insist that government teams have taken over medical care from the expelled NGOs, but foreign aid groups told Reuters that the government doesn't provide the necessary care. Pharmacies are nearly empty and some of the camps haven't seen a doctor in weeks. In addition, many Rohingyas are too nervous to enter government hospitals.
"I'm scared that if I'm taken to hospital the Buddhists will attack me," a 20-year old woman recently told a BBC reporter.
They Have Ventured On Hazardous Trips Across The Border.
Due to a lack of opportunities and harsh repression, the Rohingya have fled in unprecedented numbers in recent years, often undertaking dangeours, illegal trips to Thailand, Malaysia, Indonesia and Bangladesh. Rohingya refugees sit in a boat as they are intercepted by Thai authorities off the sea in Phuket, southern Thailand, on Jan 1, 2013. (AP Photo)
The United Nations Refugee Agency estimates that more than86,000 Rohingyas have left on boats since June 2012, and that at least 1,345 of those have perished, although the actual number is likely much higher. The majority of the refugees pay human traffickers exuberant prices to leave Myanmar. Survivors have told the agency stories of boats that are overcrowded, lack food and water, and are plagued by abuse and killings.
Even after reaching land, the refugees' perils are rarely over.
In Bangladesh, for example, Rohingya refugees are not allowed to work or leave the refugee camps. Those who live outside the camps have little protection from arrest or abuse. In Malaysia, many Rohingya refugees are struggling to make ends meet. Without legal status, they lack access to employment and education.
A 2013 Reuters investigation revealed that in Thailand, smugglers were holding Rohingya migrants in camps near the border with Malaysia until the refugees' relatives paid money for their release. According to Reuters, hundreds of Rohingyas have suffered this fate.
They Face An Uncertain Future.
During a visit to Asia in April, President Barack Obama warned that Myanmar would not succeed in its historic shift to democracy if its Muslim minority remains oppressed.
As Myanmar aims to forge closer political and economic ties with the rest of the world, all eyes are on the Thein Sein government and its response to the violence in Rakhine State. The International Crisis Group warns: "At a moment of historic reform and opening, Myanmar cannot afford to become hostage to intolerance and bigotry."