Commandos clash with Hamas fighters in Gaza, during deadliest night of bombings that killed 18 members of same family.– Israeli troops launch first incursion in Gaza (al Jizz)
UN calls for Israeli- "Palestinian" cease-fire
This was predictable. The UN is controlled by the 57-government Organization of Islamic Cooperation (OIC), which is why it constantly condemns Israel while ignoring genuine human rights abusers around the world…. Continue Reading »
Gaza mosque containing weapons cache struck by Israeli military
A mosque containing weapons? The mainstream media and Western government officials will almost certainly discount this as Israeli propaganda, since they all know that Islam is a religion of peace. But in reality, there is nothing unbelievable about it. We have seen mosques used to stockpile weapons in other countries in the past, and Hamas [Robert Spencer] Continue Reading »
Surprising Support for Israel, not Hamas
The current Hamas assault on Israel has lured the predictable coven of Palestinian nationalists, Islamists, Leftists, and antisemites from the woodwork to bash the Jewish state. But, more surprisingly, Israel is getting support, or at least restraint and fairness, from unexpected sources:
In other news:
It knows it will lose militarily, but hopes to win at the bar of public opinion.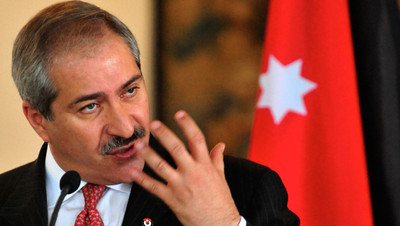 Jordan's Foreign Minister Nasser Judeh.
The media too is displaying an unwonted fairness to Israel.
The BBC published an article, "Are #GazaUnderAttack images accurate?" about pictures claiming to show the effects of Israeli airstrikes on Gaza and found that "Some of the images are of the current situation in Gaza, but a #BBCtrending analysis has found that some date as far back as 2009 and others are from conflicts in Syria and Iraq."
CNN's Jake Tapper asked former PLO legal advisor Diana Buttu about a tape of Hamas spokesmen encouraging civilians in Gaza to protect homes of Hamas' leaders with their bodies. When Buttu retorted by calling this a racist accusation, Tapper replied, "It's not racist, we have video … That's not racist, it's a fact."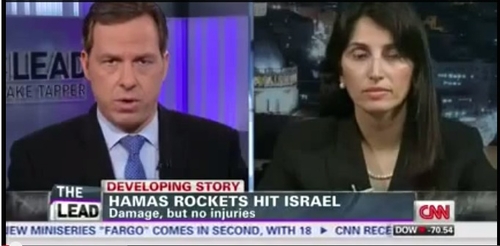 Tapper and Buttu on CNN.
Overshadowing all these indications, but less surprising, Rasmussen reports that likely American voters by a nearly 3-to-1 margin (42 to 15 percent) blame Palestinians more for the conflict in Gaza than they blame Israel (according to a survey conducted on July 7-8, just as hostilities began). This is perhaps the single most important statistic about the conflict from outside the Middle East, certainly more so than Security Council votes.
Comments: (1) In large part the coolness toward Hamas results from the belated realization that Islamists pose a greater threat than Zionists. But media sobriety suggests that, in part, it also follows from a weariness of Hamas' vile tactics and revulsion against its hideous goal of destroying Israel. (2) As Hamas' goal in this war is political, this lesser support is of supreme importance to it. (July 11, 2014)
*July 12, 2014 update: My information about Abbas attending the Ha'aretz conference came from the Al-Monitor article linked to above, where it says that "At the height of the Israeli bombardment of Gaza early July 8, Palestinian Authority President Mahmoud Abbas surprised the Palestinians by giving a speech at a peace conference organized by the Israeli newspaper Haaretz." But journalist Adi Schwartz has corrected this, writing me that Abbas did not appear at the event: "all Palestinian delegates who were supposed to attend, decided to boycott the conference. He wrote an op-ed for the paper."