An EU plan to reduce the number of migrants coming to Europe illegally – by giving them legal status before they even arrive – is being 'fast-tracked' by the European Commission, amid the growing exodus from north Africa by way of the Mediterranean.
The new system will establish migrant processing centres in countries like Niger, Egypt, Turkey, and the Lebanon, allowing paperwork to be rubber-stamped 'in the country of origin'. While the plan is being spun as a means to reduce the number of illegal migrants arriving in Europe, there is absolutely no indication it will reduce the total number.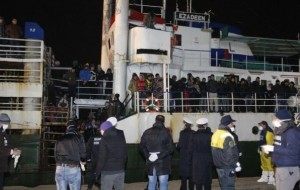 The plan to create forward outposts of the European Union is proving very popular in some national capitals, with some Eurocrats reacting to the news with excitement. The Guardian reports the comments of Elizabeth Collett, a director of the Migration Policy Institute, who said: "This is an enormous step. It means a common European asylum system is getting closer… But there will be lots of unintended consequences. It throws up lots of big questions, legally, technically and practically."
Of the 270,000 illegal migrants who slipped into Europe in 2014, a figure that continues to grow year-on-year, over eighty percent are from the the expanse of North Africa that stretches from Libya to the Western Sahara. Many of these "irregular migrants" come by boat on the Mediterranean, in passages organised by shady human traffickers making a fortune fleecing refugees willing to try to cross to Europe in unseaworthy boats.
Normalising the passage across Europe's internal sea by giving asylum seekers paperwork in their nations of origin before even getting sight of Europe is just part of the EU plan to aid migrants to the continent. The supra-national bloc is also part-funding the Italian Navy operation to rescue in-distress migrant boats from the sea as they attempt to tackle the crossing, often without fully watertight hulls, navigation equipment, or even crews. A number of scrap hulks have been set on a 'collision course' with Italy and then abandoned by their skeleton crews, safe in the knowledge the ships, and their human cargoes will be 'picked up' by the Navy.
In one recent case, after migrants were saved from a rickety trafficker boat by the Italian coastguard, the ship was approached by a speed-boat of heavily armed Libyans, who demanded the boat be returned to them so they could take it home and fill it with more refugees. Although Italy 'rescued' 1,000 migrants in just two days this week, this is nothing near approaching a record, having recovered over 2,100 in one weekend last month.
The United Kingdom contributed to the mission, which is sold as 'humanitarian', until recently but pulled out support, claiming that offering a safety net only encouraged hazardous crossings of the sea, and actually exacerbated rather than alleviated human suffering.