What is it with socialists and free speech? 
Hundreds of people washed spit from their faces on Saturday evening after an ugly stand-off at Federation Square between supporters of Reclaim Australia, an anti-Islamic movement, and No Room For Racism, a coalition of trade union, community and left-wing groups…
Organiser Mel Gregson said No Room for Racism was formed with the express purpose of shutting down the 16 rallies across Australia planned by Reclaim Australia. 
Former One Nation leader Pauline Hanson tells crowd 'criticism is not racism' as nationwide protests and counterprotests trigger scuffles and police intervention
From the  extreme left Guardian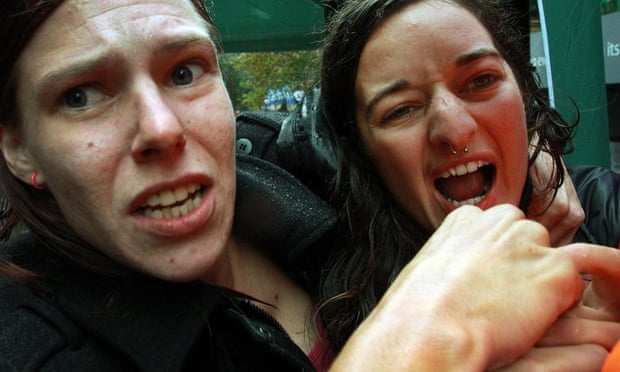 Mounted police were forced to separate the two sides in Melbourne as tensions soared and scuffles broke out across Federation Square, with paramedics called to treat several injured people.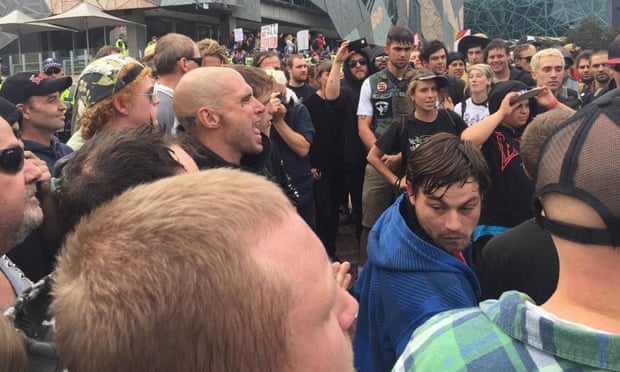 The group Reclaim Australia is holding nationwide rallies against "sharia law, halal tax and Islamisation". Around 200 marched on the square, a handful bearing swastika tattoos, others in T-shirts reading: "If you don't love it, leave".
They were met by several hundreds protesters carrying signs that read, "No room for racism", and promoting a variety of other causes.
Dozens of police stood several rows deep to separate the angry crowd but arguments and shoving broke out across the square.
In other news:
The police allowed these counter protesters to lock arms in front of their horses creating two barriers that stopped all the Reclaim Rally supporters from entering.
Here's the Herald Sun:
Reclaim Australia and No Room for Racism in competing rallies at Federation square
Reclaim Australia organised a number of protests in cities across the country opposing "sharia law, halal tax and Islamisation".
Socialist Party organiser Mel Gregson said its protest was a way of fighting Islamophobia in Australia.
"The only thing we agree with Reclaim Australia on is that there are problems in Australian society," Ms Gregson said.
Reclaim Australia supporter Scott Driscoll said: "I don't have a problem with Muslim people – my problem is with the doctrine of Islam.
"I see a human being and I can distinguish between that person and their ideology."
In Sydney, on either end of Martin Place and separated by a wall of police, anti-racist and anti-Islam protesters faced off near the scene of last year's Lindt cafe siege.
On the lower end were vocal supporters of Reclaim Australia.
Many of the flag-waving crowd, numbering in the hundreds, chanted "Aussie, Aussie, Aussie – Oi, Oi, Oi" and were carrying home-made banners denouncing sharia law.
But it was a proposition those at the other end of the plaza labelled absurd. "There is no possibility of sharia law in Australia, that is absolutely ridiculous," Tony Iltis said.
Iltis was part of a smaller but passionate crowd that slammed Reclaim Australia as racist.
Tensions almost erupted when a woman ran on stage at the Reclaim Australia camp, grabbed the microphone and told the crowd they should be ashamed.
Organisers denied any connection to a Twitter account in the group's name that appeared to have been hijacked before the rallies. Someone calling himself Jeremy took over the feed and appeared to be confused about the point of the protests.
At one stage he claimed his car had broken down and asked if anybody could lend him $20.
After Jeremy declared he was going to smoke cannabis in a park ("peace out"), the account appeared have been reclaimed.
The statement shortly after apologised for his tweets, which it said were "not consistent with out values".
"The person in charge of the account has had their access removed and will be disciplined appropriately," it read.
However, a spokeswoman for the group, Catherine Brennan, told Guardian Australia the account was "100% fake".
"I'm feeling wrapped about the rallies, but I think a lot of the media has portrayed us very badly," she said, adding that future rallies were being planned.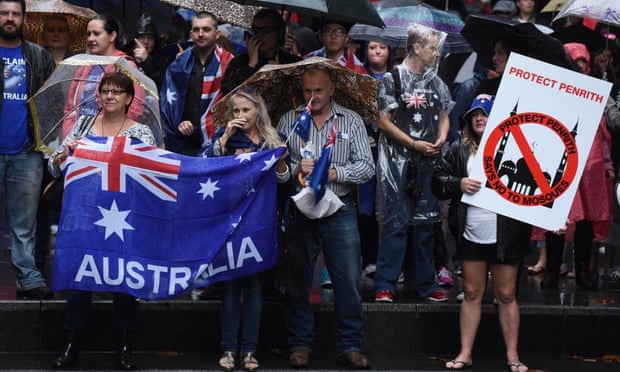 Among the Reclaim Australia crowd, many sporting Australiana memorabilia, was Greg and his homemade sign that compared sharia law to paedophilia.
"I'm just standing up for our freedom of speech and way of life," he said, wearing a green and gold shirt.
Rally organisers deny Reclaim Australia is racist, but say protesters have a problem with Islamic extremists who want to live by sharia law.
The leader of political party One Nation, Pauline Hanson, told a rally against Islam in Brisbane that she was not a racist.
Hanson, who narrowly lost her fight for a seat in the 2015 Queensland election, joined hundreds of protesters in King George Square.
Many were draped in the Australian flag and carried signs denouncing sharia law and halal certification for Australian products.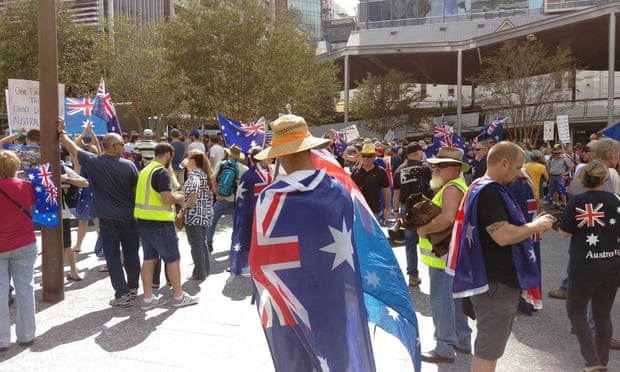 But the rally was not an exercise in racism, Hanson said. "We have people here today who stand against racism. Thank you for your support," she said. "So do I."
Hanson said she and her supporters had endured trial by media and those with hidden agendas.
"Let my fellow Australians judge me on what I say. Don't deny me the right to have our say," she said. "I am not a racist. Criticism is not racism."
Hanson said she was merely a proud Australian fighting for the country's democracy, culture and way of life.
Tempers flared as a counter-rally was held opposite the event and at least 30 police officers kept the two groups separate.
"Go home bigots, go home," members of the counter-rally chanted.
Reclaim Australia speaker David Truman said their opponents were using tired and untrue slogans.
"They hate free speech. They use fascist tactics to try and shut it down," he said. "I've got news for you and for them – we are not racists or supremacists of any kind."
Leftoids are scum. Down at The Melbourne Reclaim Australia rally they threw horse shit at the cops then burned an Aussie flag and badly bruised a 70 yr old lady when they attacked her and stole her Aussie flag.