Looks like al BeBeeCeera scribblers cannot wait to live under shari'a:
Freedom is dying in Britain, and the BBC is leading the charge to kill it. Real defenders of democracy and freedom are barred from the country, while jihad preacher Anjem Choudary is celebrated as a hero. –
"BBC under fire after Home Affairs Editor Mark Easton 'compares extremist preacher Anjem Choudary to Gandhi and Mandela,'" by Steph Cockroft, MailOnline, 14 May 2015:
The BBC is under fire after the Home Affairs Editor appeared to compare notorious hate preacher Anjem Choudary to Mahatma Gandhi and Nelson Mandela. | Pamela Geller, Atlas Shrugs:…
Just for the record: I'm no fan of Gandhi or Mandela….
If we don't call it Islamic terrorism, will it go away?
Unlike the French, who called the terror attack on Charlie Hebdo for what it was, we Americans were too scared, too politically correct, too narrow minded and blinded by tunnel vision to call Dalla…
OBSERVER.COM
WHAT GOOD IS FREE-SPEECH RIGHT IF YOU CAN'T USE IT?
 Jerry Newcombe defends Pamela Geller, others in their 'battle for freedom'
By now, gallons of ink have been spilled on the recent meeting (over the May 2-3 weekend) in the Dallas area where a contest was held for who could draw the best picture of Muhammad.
Pamela Geller, Geert Wilders and Robert Spencer are the proverbial canaries in the coal mine. They are fighting the West's battle for freedom. If they lose, so does freedom. As one pundit recently noted, if free-speech protections do not protect unpopular speech – at the height of its unpopularity – then they aren't really free-speech protections.
The German Approach:
The left portal is for resistance, the  right  leads to the beer….
Pakistan: Muslims tell Christian, "stop building churches or we will kill you" Islam: The War on Jihad 1 Comments This case is an exact parallel of our cartoon…
 | Pamela Geller,…
God's holy minister on climate. Pope Francis warned "the powerful" that it was their responsibility to feed the planet and that environmental sinners will face God's judgement. The Guardian reported: Pope Francis has warned "the powerful of the Earth" they…
Muslims In Bangladesh Free To Do What They Can't Do In Texas
Secular Bangladesh Blogger Hacked to Death in the Street
That is, kill those who "blaspheme" Islam in one way or another. A blog, a cartoon contest, you name it. A third secular Bengali blogger is hacked to death by a Muslim mob in the middle of a city, in the middle of the day, and there is no one to stop it.  (Hugh Fitzgerald)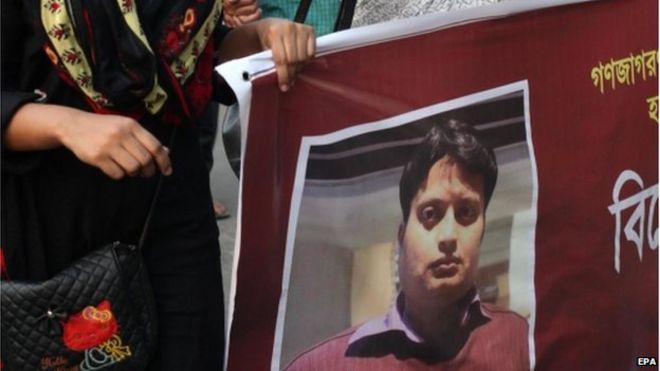 A secular blogger has been hacked to death in north-eastern Bangladesh in the country's third such deadly attack since the start of the year.
Ananta Bijoy Das was attacked by masked men with machetes in Sylhet, police say. He is said to have received death threats from Islamist extremists.
Picture of the week from the Religion of Peace:

Pam Geller and what's left of atheist blogger Ananta Bijoy Das
– or, as comedian Dean Obeidallah would say, the "Islamophobe"
that got away and the one that didn't.  Obeidallah is a Muslim who
makes fun of people that think his religion is dangerous even as
his co-religionists are hacking them to death in the name of Allah.