Tomorrows headlines today:
"Muslims fear backlash"
Police say that "at minimum, we have a domestic terror situation." The suspects came as if "on a mission." It appears less likely that this is a workplace shooting
.
Obama calls for gun control
Confirmed already:
1:50 p.m.: With bodies still warm, victims being rushed to hospital, and gunmen on the loose, President Barack Obama has renewed his calls for gun confiscation.
Nothing-to-do-with-Islam
Still waiting…..
The scanner  reports a "Middle Eastern male" with "long beard, tactical shorts and a backpack."
"Middle Eastern Males" Sought in #SanBernadino Mass Shooting at Christmas Party, 12 Confirmed DEAD ByPamela Geller on December 2, 2015 Jihad in…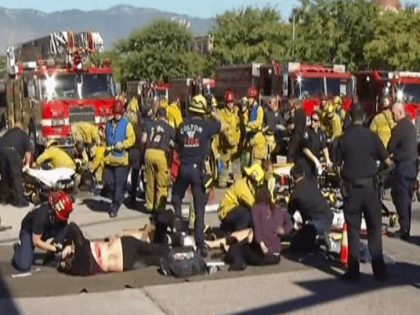 San Bernardino law enforcement authorities report a mass shooting involving at least 20 victims just before 11 a.m. Pacific time. Local news reports suggest that there are between one and three suspects, wearing masks and possibly body armor as well. (Breitbart)
Leftist loons media reports have indicated that the shooting is near a local Planned Parenthood clinic.
However, the clinic is over a mile away from the site of the shooting, according to Google Maps.
Puff Ho's Sam Stein and Arthur Delaney are mocking people tweeting prayers for the victims and those in the line of fire
1:10 p.m.: Fox News reports that the gunmen attacked a Christmas party being held in a rented conference room at the center, and were wearing "military-style" clothing. None of the suspected gunmen are in custody and all are presumed armed and dangerous. Speaking with local ABC News reporters, police have confirmed "fatalities" and "some type of function" at the center.