Trump is right: the Geneva Conventions do not apply to terrorists.

Malady, Malala, Malaise….
I curse the fools who saved her life and I curse the gullible Euro-Shimmies who showered her with money and prizes, because all she ever does is promote Islam. How the hell does that help us? 
.
THE teenage Nobel prize-winner Malala Yousafzai has urged people not to blame all Muslims for terrorism as it just helps terrorists recruit more jihadis.–EXPRESS.CO.UK
|
BY OLI SMITH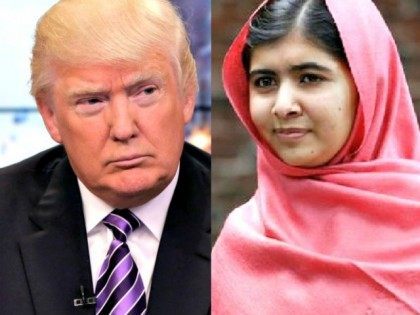 the insufferable little tart is doing the "do nothing" da'awa….
These are the people that just sold out Bendigo's future. Remember their legacy.
Stop the Mosque in Bendigo
Despite a relentless national media onslaught against Trump, his statements on Muslim immigration have made him more popular than ever. Bloomberg is reporting that two thirds of Republicans support a ban on Muslim immigration, and nearly 40% of Republicans say Trump's comments will make them more likely to vote for him in the primary. – (Moonbattery)
Are Bay area Muslims coffee phobic?
Bay Area Muslims feel rise in Islamophobia
We don't need any more Muslim cabdrivers
"An Australian war veteran has called for better understanding after he was refused a taxi by a driver because of his assistance dog, assigned to him because of his Post Traumatic Stress Disorder."
Two Afghanistan war veterans attempting to travel to hospital for treatment for Post-Traumatic Stress Disorder have been refused service by a Melbourne taxi driver,…9NEWS.COM.AU
There is no religion called "Abrahamism". The Mohammedan Ibrahim is as perverted as the Muslim Jesus (Isa) who will break the cross, abolish the jiziya and kill the swine (the Christians) when Muhammad returns. How did this halfwit ever get to be a tenured professor?
The evangelical higher education institution Wheaton College has suspended tenured political science professor Larycia Hawkins after she asserted in a Facebook post last week that Muslims and Christians "worship the same God."
.
Everywhere in the world Mohammedans destroy the graveyards of unbelievers. But only in Australia we call them "upstanding citizens"
.
"UPSTANDING CITIZEN" CHARGED WITH VANDALISING (INFIDEL) GRAVES AND SUPPLYING DRUGS.
The man accused of destroying more than 50 grave sites at Rookwood cemetery, Muhammad Ibrahim, is an upstanding citizen, says lawyer.
Among other charges he is ­accused of illegally entering the cemetery early on November 27 and damaging lights, flowers and headstones in the Ukrainian and Greek sections. He was granted bail by Magistrate Gary Still, ­despite a formal objection by police prosecutor…. See More
THE lawyer for a man accused of destroying more than 50 gravesites at Rookwood cemetery maintains his client would never commit such a vile act, describing him as an ­upstanding citizen who had helped retrieve the body of a "little girl" during the devastating Queensland floods.–DAILYTELEGRAPH.COM.AU
.
When freedom of speech comes to an end on the Internet, it will be under the guise of suppressing "hate speech" — which in practice means speech leftists hate.
Just in case you need a reminder: this comes straight from the propaganda kitchen of Mohammedan headchoppers who project their reign of terror on the Jews.