Update:
Police say the Munich gunman was an 18-year-old German Iranian who had been living in the city.
More follows…
I see #Munich is no longer trending now that we know it was Muslims.
This is a war against Western civilization. Leftists cowards who want to feel better about themselves call you racist. #Munich
Western Leftists absolutely heartbroken that #Munich was the work of Islamists and not the 'right-wing'. They prayed to Allah so hard.

Reports of three gunmen killing 9 people  and severely wounding 20 at a Munich shopping centre. Few details yet. No word on motivation.
Update:
Looks like the shooter was an Islamist born in Germany. This is another Islamic terror attack. #Munich
The situation is developing. There have also been reports that the gunman shouted "I am a German" and "f*** foreigners," in which case the shootings are a heralding of the coming civil war in Europe about which I have been warning, and which will be a result of the European elites' suicidal policies regarding Muslim migrants. No killings of any innocent people are ever justified. Those ultimately responsible, if this is an attack on migrants or motivated by hatred of migrants, are Angela Merkel and her cohorts.  (Jihad Watch)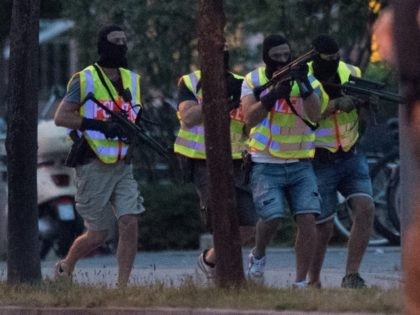 There have been multiple fatalities.
Images of Individuals Arrested Surface Getty Images has published photographs of three men under arrest
UPDATE
Munich police said they suspected it was a terrorist attack.
Authorities were evacuating people from the Olympia mall but many others were hiding inside. Munich's main railway station was also being evacuated.
A Munich police spokeswoman said multiple people were killed or wounded. No suspects had been arrested yet, she said.
UPDATE
It could be a different kind of killer to the usual suspect:
Witnesses said that the shopping centre gunman screamed 'I'm German' and 'f*** foreigners' before shooting
At Least 9 Dead…