Update:  there are some 850 'no-go' zones in France, which officially don't exist. They must not be talked about, probably in the hope they'll go away. They won't:
Police chiefs BLASTED for sending officers into gang ridden 'no-go zones' in France
FRENCH police chiefs have been heavily criticised for sending officers into gang-ridden "no-go zones" after two officers were seriously injured in a petrol bomb attack this weekend.
The officials were on patrol on the Grande Borne, a notorious housing estate in Paris, at the time of the sickening attack.
Eyewitnesses said they were "attacked from all sides" by the cowardly mob, who threw Molotov cocktails at the officers – who were badly burned and rushed to intensive care units in hospital.
The incident, in which around 15 people attacked a patrol car in broad daylight on Saturday, further highlighted a national debate on security as France prepares for next year's presidential election.
Now officers are calling for greater protecting when they enter so-called "no-go zones" plagued by tough gangs and violent warfare.
"Of course there are no-go zones in France where the police cannot intervene and do their jobs in safety "–Denis Jacob, a French police union member
French Minister: Britain Has a 'Moral Duty' to Take Our Migrants
The French and morals?  That's a new one.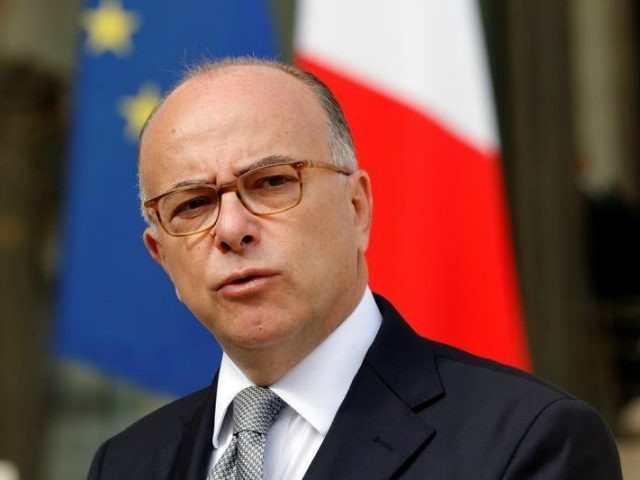 "I solemnly ask Britain to live up to its moral duty," Cazeneuve told RTL radio ahead of a visit to London.
"There are several hundred isolated minors with family in Britain," he said.
Thousands of migrants fleeing war and poverty, from Afghanistan to Syria, have converged on Calais over the past two years.
In other news:
France: 15,000 Muslims, including 2,000 children, on watch list
What do French authorities think this situation will look like in five years? Ten? Why are they continuing to import large numbers of Muslim migrants, among whom will be an unknown number of jihadis? "French terror police say 15,000 Islamic radicals including 2,000 CHILDREN on watch list," by Siobhan McFadyen, Express, October 9, 2016:  BY ROBERT SPENCER
Air France denies 'extremist staff sabotaged planes'
Airline chiefs hit back after a report in the satirical weekly Canard Enchainé newspaper claiming that French intelligence staff had raised the alarm following a series of incidents involving Air France passenger planes at Charles de Gaulle airport.
The most worrying were claims that radicalized staff had interfered with communication between the cockpit and the engines on several aircraft.
French intelligence sources told the Canard Enchaîné weekly newspaper that they are "confronted with a strategy of infiltration" by radical Islamists at Paris Charles de Gaulle Airport. Air France and the intelligence services are on high alert after the multiplication of incidents that could reveal the presence of many radicalized agents in the company.
The Local  Muslim Saboteurs have attempted to inhibit pilots' ability to monitor aircraft engines, and tried to disable emergency exit slides, according to media reports.
One suspect, a French convert to Islam whose wife runs a Koranic school near Orly airport, fled to Yemen when he realized he was under surveillance. Two other employees of the airline are suspected of having tampered several evacuation slides in their maintenance shop. (More here)