Germany: State sanctioned terror against family who refuses to let child go to "mandatory" mosque visit:
Parents of a German teenager may face a trial and fine for "truancy" after refusing to allow their son to go to a local mosque on a school field trip out of fear that it would lead to his "indoctrination" by Islamic radicals.
The Traitors Are Inside the Catholic Church
Heinrich Bedford-Strohm (second from left) and Munich's Archbishop Kardinal Reinhard Marx took their crosses off "out of respect" for their Mohammedan hosts, during a trip to Israel.
A couple of months ago these two traitors also allowed Mohammedans to desecrate a church when they invited and allowed Mohammedans to call upon 'allah' during a funeral service.
Jihadis planning Paris-style gun attacks on British streets, police say
My goodness, even the Grunard starts reporting on Islamic terrorism now? No such luck. You won't find words like 'Islam' or Muslims in this article, that  has nothing-to-do-with-Islam.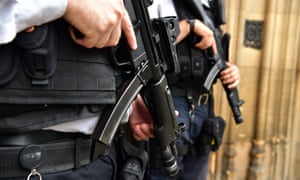 Terrorists tried to amass weapons to launch gun attacks on British streets in five extremist plots foiled in the last two years, police have revealed, as they admitted 800 legally-owned guns had gone missing.
In a rare joint appeal, the National Crime Agency and Scotland Yard's counter-terrorism command urged the public to report fears about lax gun security among legal owners as well as criminals handling firearms.
The intensified activity comes as British law enforcement, security and intelligence services try to prevent a marauding terrorist gun attack, such as the one that struck Paris in November 2015, happening in the UK.
They fear terrorists getting guns from criminals and are concerned by an apparent upsurge in guns on the streets in London and some other big urban areas. (More)