"I am very happy to meet the Pope because he is a man of dialogue and a man of peace," Adballah Zekri said.
In other words, this pope is ' a pushover and dhimmi '.
When you subordinate Jesus Christ to Karl Marx, as this disgrace of a Pope has done, it makes you insane. Leftism is a very severe mental disease.
At the present rate, they will soon be turning his churches into mosques. The Hagia Sophia used to be a church, Pope. Where are the Christians of Asia Minor now?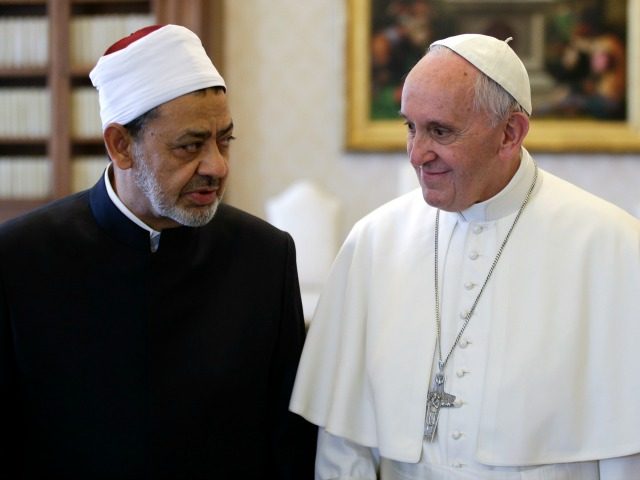 by THOMAS D. WILLIAMS, PH.D.
Pope Francis will receive a delegation from the French Council of the Muslim Faith (CFCM) in the Vatican on November 3, according to French media sources.
The five members representing the CFCM include President Anwar Kbibech, the three Vice-Presidents and the Secretary General of the organization, Abdallah Zekri. They will meet with the Pope in a private audience after meeting with the prelate in charge of relations with Islam, French Cardinal Jean-Louis Tauran.
"I am very happy to meet the Pope because he is a man of dialogue and a man of peace," Adballah Zekri said.
A national elected body, the CFCM is the official Islamic interlocutor with the French state in the regulation of Muslim activities, and the de facto representative of all French Muslims before the government.
This meeting was reportedly organized on behalf of the Vatican by the French cardinals to strengthen interreligious dialogue between the two faiths, especially in the aftermath of a number of Islamist terror attacks. The French cardinals told the CFCM that the Pope had particularly appreciated the institution's firm positions following the murder of Father Jacques Hamel on July 26 in Saint-Etienne-du-Rouvray by two terrorists belonging to the Islamic State.
The CFCM delegation will travel to Rome on November 2 for a reception at France's embassy in Rome. On November 3, they will meet with the Vatican Cardinal in charge of relations with Islam, followed by the private audience with Pope Francis.
France has been particularly hard hit by attacks from Islamic terrorists. Besides the execution of Father Hamel, militants of the Islamic State have carried out two major attacks in Paris, as well as the slaughter of 84 civilians in the south of France as they celebrated Bastille Day.
Follow Thomas D. Williams on Twitter