The racist, sexist elites now furiously vilifying the 'ignorant white male' may wish to consider the facts highlighted in the US exit polls.
These bigots sneering at 60 million Trump voters will find a substantial number of high-income earners, females, Latinos and Asians in this 'basket of deplorables' they so desperately seek to despise.
Once our activist-journalists can free themselves from their anti-Western bigotry and stop to put people in their little boxes, but treat everyone with respect, we can all move ahead. 
You can only bite the hand that feeds you for so long.
Update:
A dropkick named Shorty:
Labor leader Bill Shorten compared Mr Trump to extremists in Europe and from across the political spectrum, at one point calling him "barking mad". And in much-reported remarks, he told an economic conference Mr Trump was "entirely unsuitable" to be US President.
Unfortunately, his colleagues are just as dumb.
Those upset by Donald Trump's win have taken to social media
Sociologist Mudshark Susan Carland said 'many Muslims need a stiff drink'
Feminist Clementine Ford said the vote for Trump was one against women 
Australian Senator Derryn Hinch compared it to the 9/11 terror attacks  (Hynch is not the sharpest tool in the shed.)
 Prime Minister Malcolm Turnbull said Australia and US will remain allies 
Mr Trump was elected as the US president in a surprise win on Wednesday  /  More
CNN's Van Jones reaction to Donald Trump's victory last night :
"You have people putting children to bed tonight, and they're afraid of breakfast," Van Jones said as it became clear Hillary Clinton would not be the night's victor.
.
I know what I am going to tell my children. I'm going to tell them that Van Jones is a red hot commie bastard with a huge chip on his shoulders. He has massive inferior complexes and hatred of white people which he shares with vermin like Al Sharpton & Jesse Jackson.
Geert Wilders: Congratulations America!
"Yesterday, in the biggest democracy on earth, we witnessed a political revolution. The American people sent a powerful message to the world: Enough is enough, we want to be free again, we want to be great again!"
"Against the media, against the establishment, against the elites, against all the odds, Donald Trump won the American elections. And what a victory!"…See More
Yesterday, in the biggest democracy on earth, we witnessed a political revolution.
Thousands of New Yorkers took to the streets of Sixth Avenue in Manhattan Wednesday evening in protest, many of them chanting, "He is not our president" and other similar slogans.
Similar demonstrations occurred in Boston, Los Angeles, Washington D.C. and San Francisco Wednesday. The progressive organization MoveOn had organized hundreds of anti-Trump protests across the country in the hours after Tuesday's historic vote.
Thousands of students in Berkeley and Oakland took to the streets Wednesday to protest the results of the presidential election.
BREITBART.COM
#NotMyPresident has hit the top of the Twitter trending chart, as leftists have broken down over Donald Trump becoming the President-elect.–
Breitbart
.
ABC hack Television presenter Virginia Trioli  "Vitrioli" (pictured) was caught live on air saying Donald Trump supporters should be forced to take an 'IQ test' and referencing his wife's 'tits'
Wally Rubs It
Microdick WALEED ALY gives us his 2 cents and it's worth every penny.  Wally lives in a universe of his own. As long as he doesn't strap on a bomb we should and we can safely ignore him,
Trump was so repugnant because he violated our sense of identity politics.–SMH.COM.AU
|
BY WALEED ALY
.
Mick Jagger Hints at Playing Donald Trump Inauguration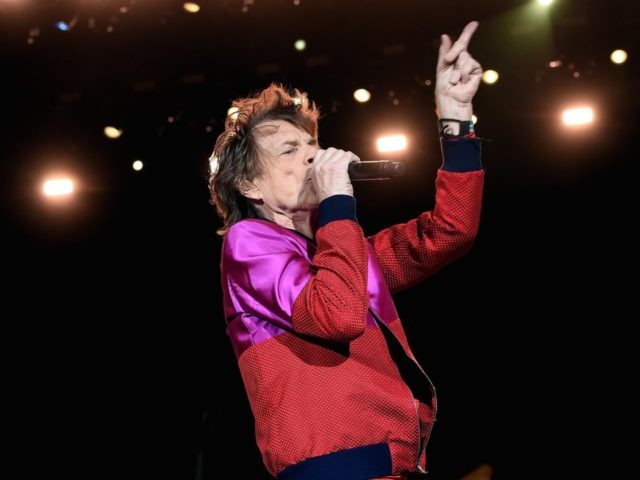 Mick Jagger, the legendary front man for the Rolling Stones, hinted Wednesday that he might perform at Donald Trump's inauguration, after Trump closed out his victory speech with the song: "You Can't Always Get What You Want."
The song was also played after Trump's acceptance speech at the Republican National Convention in Cleveland in July, and after every other Trump speech at campaign rallies across the nation.The chorus became a subliminal message arguing for Trump's candidacy: he may not be ideal, but he's the only one:
You can't always get what you want
You can't always get what you want
You can't always get what you want
But if you try sometimes you just might find
You get what you need
Trump's rallies also featured other Rolling Stones songs, as well. One of the most memorable is "Tell Me," a song about longing and return that begins with a small acoustic riff. It played at rallies while supporters waited for speakers to begin.
.Other artists featured in Trump's touring playlist were a live version of Elton John's "Funeral for a Friend (Love Lies Bleeding)," and the Backstreet Boys' "I Want It That Way."At hangar rallies, when Trump's airplane arrived, music played the theme to Air Force One — an uplifting song that also played during Trump's introduction at the victory party at the New York Midtown Hilton on Election Night. And at other rallies, Trump came onstage to Lee Greenwood's "God Bless the U.S.A."

But "You Can't Always Get What You Want" holds pride of place.

Joel B. Pollak is Senior Editor-at-Large at Breitbart News. His new book, See No Evil: 19 Hard Truths the Left Can't Handle, is available from Regnery through Amazon. Follow him on Twitter at @joelpollak.