Rapefugees Prefer Germany
Refugees subjected to the EU relocation plan are reluctant to move to countries other than Germany which can give them asylum. The situation has been described as "not acceptable" and "outrageous" by European Commission president Jean-Claude Juncker.
Some EU governments willing to take in refugees currently living in Greece and Italy have found themselves in a rather awkward position. The problem is that "there are very few refugees who agree to be relocated," EU Commission President Jean-Claude Juncker said Monday, according to AP.
"It's outrageous" and "not acceptable for refugees in Greece and Italy to refuse to take the plane for destinations other than Germany,"Juncker added.–Read more
Merkel orders EU to turn back boats full of Muslim migrants
EU countries cannot rely on Turkey and must seal their borders
Austria urges EU to stop refugee funding for Turkey
Austria's foreign minister has continued his anti-Turkey stance urging the EU to "get tough" after the Turkish crackdown on terrorists connected to the FETO group
Austria's foreign minister said Monday the EU should get tough on Turkey following its crackdown on the opposition and the media, and stop the flow of billions of euros in aid if Ankara fails to stick to its migrant deal with the bloc.
Sebastian Kurz said Turkey must "top the agenda" of a meeting of European Union foreign ministers next Monday that should agree a "different EU policy".
"Over recent years Turkey has moved further and further away from the EU, but our policy has remained the same. That can't work. What we need are clear consequences," Kurz told Oel radio.
Merkel's about-face has nothing to do with her learning a lesson (or two) about her responsibility or duty toward the German people who are enraged because of her recklessly lax immigration policy. Nor does it have to do with any embarrassment at being publicly (and justifiably) thrashed by public outrage.
Merkel has completely turned her back on the German people rather than consider their interests and order a meticulous screening of refugees to try to keep out jihadis while helping the genuinely needy and innocent. Merkel's only reason for her "extraordinary U-turn" is because – according to her interior ministry — she does not want to encourage migrants to take the risk of making the "perilous journey" to Europe.
As an elected official of the German people, Merkel remains iron-willed and resolute in her own policymaking rationale. She still has not demonstrated any willingness to take even the smallest amount of responsibility for the afflictions that have been visited upon German citizens due to her policies. She apparently does not care that in the first three months of 2016, migrants were linked to a staggering almost 70,000 attempted or actual crimes in Germany, or that as many as 2,000 men allegedly assaulted 1,200 German women on New Year's Eve in Cologne, or that the Muslim migrant rape crisis has already spiraled out of control, with ongoing coverups.
"'DON'T COME HERE!' Merkel migrant U-turn as Germany orders EU to SEND BACK boats to Africa", by Nick Gutteridge, UK Express, November 7, 2016:
Her interior ministry said Brussels should send out patrols to intercept smugglers' vessels and escort them back to north Africa, marking a massive shift in Germany's official migration policy.
At the moment the EU and member states operate search and rescue operations to save refugees crossing the Mediterranean in often unseaworthy ships, who are then brought to the European mainland to claim asylum.
But now Germany, which has taken in well over a million migrants in the last year, has said that policy should scrapped because it is simply encouraging more people to make the perilous journey.
More than 4,000 asylum seekers are believed to have drowned at sea this year alone, more than the 3,771 deaths reported for the whole of 2015.
The spike has been caused in part by more and more migrants attempting the risky sea crossing from Libya to Italy after the safer passage between Turkey and Greece was shut off by an EU deal.
On top of that, beleaguered Mrs Merkel has come under huge political pressure over her enormously unpopular open door asylum policy, which has seen a number of humiliating electoral defeats inflicted on her party in regional elections.
There has been talk in political circles of her one-time allies ousting her as leader of the country unless she agrees to significantly harden her stance on refugees and win back the confidence of voters.
And today she appeared to respond to that clamour as the interior ministry announced a significant sea-change in its stance towards mass immigration to Europe.
In a statement the ministry said: "The elimination of the prospect of reaching the European coast could convince migrants to avoid embarking on the life-threatening and costly journey in the first place."
It added that the EU should adopt a new policy of intercepting refugee boats at sea and returning them to Africa noting that this would "save migrants from the life-threatening journey" and "remove the basis for people-smuggling organisations."
Under the plan people would be returned to Brussels-sanctioned refugee camps in Tunisia, Egypt and other peaceful north African states, but not to war-torn Libya from where most journeys across the Mediterranean are attempted.
It is thought that the EU could persuade African countries to accept migrants back with a similar deal to the one offered to Turkey earlier this year, under which Ankara secured billions of euros in aid and visa-free access to the Schengen zone for its 80 million citizens.
As with the EU-Turkey deal, refugees returned back across the Mediterranean would be able to apply for asylum from the North African camps and, if successful, would be allocated a member state under the migrant quota system.
However the proposal – which closely echoes Australia's much-criticised border control system – was immediately blasted by opposition politicians in Germany.
Bernd Riexinger, head of the leftist opposition Die Linke party, branded the idea "a humanitarian scandal and a further step toward elimination of the right to asylum".
He added: "The asylum check must take place in Germany, because the right to asylum also means the right to legal resources, that is, to lawyers, counseling centers, etc. The handling of refugees in Australia is absolutely unacceptable, and Germany and the EU must not be guided by it."……
Related: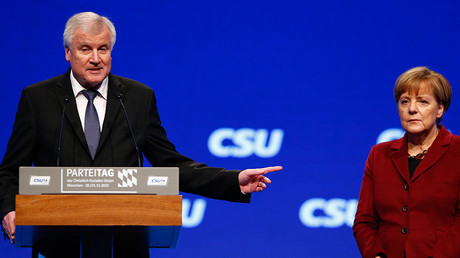 'Restrict refugee numbers; no place for Turkey in EU' – Bavarian conservative leader
Bavarian Prime Minister and head of the Christian Social Union (CSU) Horst Seehofer welcomes German Chancellor Angela Merkel to the Christian Social Union (CSU) party congress in Munich, Germany November 20, 2015 © Michael Dalder'Restrict refugee numbers; no place for Turkey in EU' – Bavarian conservative leader
"It's outrageous" and "not acceptable for refugees in Greece and Italy to refuse to take the plane for destinations other than Germany," Juncker added.