Women's March organiser Linda Sarsour wants to beat up genital mutilation survivor Ayaan Hirsi Ali and "take her vagina away". There's your feminist hero, anti-Trumpers.
Here's the Islamic marchy girl's view on Ali: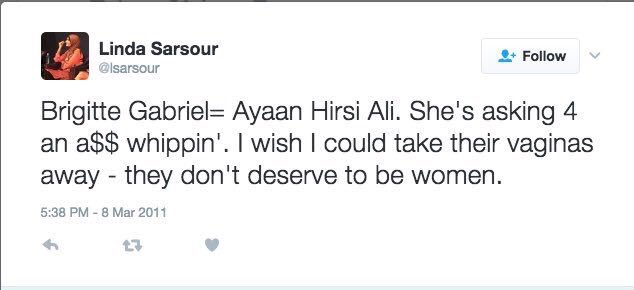 Sarsour's a few decades too late. Hirsi Ali endured genital mutilation in Somalia when she was just five years old.
What has Hirsi Ali got that Sarsour hasn't? A mutilated vagina, for a start, thanks to the enlightened culture of Sarsour's Islamic pals. Speaking of whom:
Linda Sarsour, one of the organizers behind Saturday's Women's March, being held in Washington, D.C., was recently spotted at a large Muslim convention in Chicago posing for pictures with an accused financier for Hamas, the terrorist group.
Women's March bosses were supportive of their Islamic sister: (More from Tim Blair/also below the fold)
 Get your head around that: Germany's extreme left, state run media is producing Mohammedan propaganda depicting Germans as rapists of Muslim women! Still don't believe Merkel has an agenda?
A popular crime drama on German state TV featured a storyline where a group of ethnic Germans molested a Muslim woman in the streets.–INFORMATIONLIBERATION.COM
.
Would be interesting to see the statistics and the police reports to see who rapes who.
.
Former Secretary of State Madeleine Albright claimed Wednesday she would register herself a Muslim as an act of defiance against President Donald Trump's immigration plans.
"I was raised Catholic, became Episcopalian & found out later my family was Jewish. I stand ready to register as Muslim in #solidarity," Albright tweeted.
She lies. She always lies. Just like the despicable Klintoons.
Ayaan against the pussy snatchers:
They will always have her back. Too bad about Hirsi Ali's front. Yet Sarsour isn't the most repellent among those involved in last week's demonstration. Not by a long shot:
The Women's March on Washington last week featured as a speaker convicted felon Donna Hylton who, along with several others, kidnapped a man and then tortured him to death …
Hylton, along with three men and three other women, kidnapped 62-year-old real-estate broker Thomas Vigliarolo and held him for ransom, before eventually killing him. As noted in a 1995 Psychology Today article, when asked about forcibly sodomizing the victim with a three foot steel pole, one of Hylton's accomplices replied: "He was a homo anyway."
And these people are worried about a "grabbing pussy" comment.