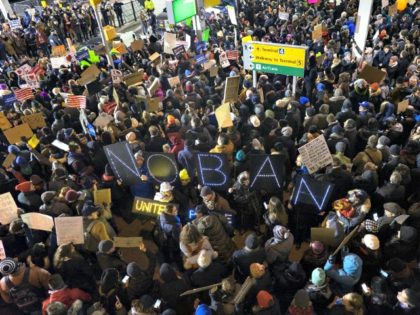 The Council on American-Islamic Relations, aka CAIR, has helped launch a series of protests across the country and plans lawsuits related to President Trump's recent executive orders on immigration.
George Soros-Financed Groups Scheme to Stop Trump's Temporary Refugee Halt Order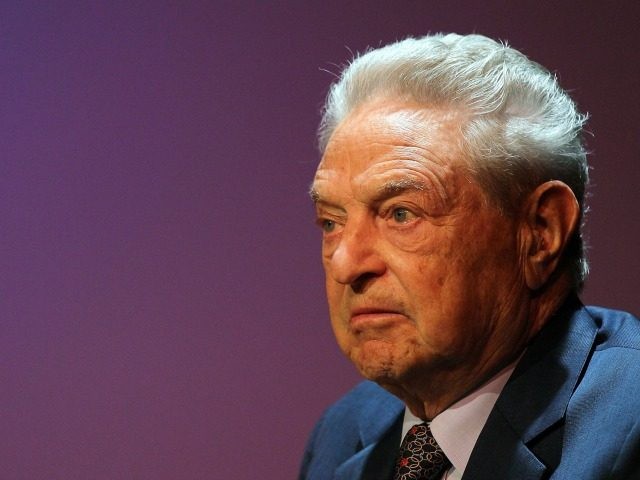 Spencer Platt/Getty
TEL AVIV — Immigration lawyers from groups financed by billionaire George Soros, a champion of open border policies, were signatories to a lawsuit filed Saturday to block President Donald Trump's executive order halting visas for 90 days for "immigrants and non-immigrants" from Syria, Somalia, Sudan, Libya, Yemen, Iran, and Iraq.
The executive order further suspended the entry of all refugees for 120 days, indefinitely blocks Syrian refugees from entering and lowers the ceiling to 50,000 for refugees allowed to enter the U.S. during Fiscal Year 2017 .
The New York Times first reported on the lawsuit:
At least one case quickly prompted a legal challenge as lawyers representing two Iraqi refugees held at Kennedy International Airport in New York filed a motion early Saturday seeking to have their clients released. They also filed a motion for class certification, in an effort to represent all refugees and other immigrants who they said were being unlawfully detained at ports of entry.
The suit was filed by lawyers from the International Refugee Assistance Project, the National Immigration Law Center, the Jerome N. Frank Legal Services Organization at Yale Law School, the American Civil Liberties Union (ACLU), and the International Refugee Assistance Project (formerly Iraqi Refugee Assistance Project) at the Urban Justice Center.
The ACLU is massively funded by Soros's Open Society Foundations, including with a $50 million grant in 2014.
The National Immigration Law Center has received numerous Open Society grantsearmarked for general support.
The Urban Justice Center is also the recipient of an Open Society grant. 
Taryn Higashi, executive director of the Center's International Refugee Assistance Project, which is listed on the Trump lawsuit, currently serves on the Advisory Board of the International Migration Initiative of Soros's Open Society Foundations.
Over the last decade, Soros has reportedly provided some $76 million for immigrant issues.
In 2014, the New York Times credited "immigrant rights groups" financed by Soros and a handful of other donors for influencing President Obama's immigration policy.
The newspaper reported:
When President Obama announces major changes to the nation's immigration enforcement system as early as next week, his decision will partly be a result of a yearslong campaign of pressure by immigrant rights groups, which have grown from a cluster of lobbying organizations into a national force.
A vital part of that expansion has involved money: major donations from some of the nation's wealthiest liberal foundations, including the Ford Foundation, the Carnegie Corporation of New York, the Open Society Foundations of the financier George Soros, and the Atlantic Philanthropies. Over the past decade those donors have invested more than $300 million in immigrant organizations, including many fighting for a pathway to citizenship for immigrants here illegally.
In August, Breitbart Jerusalem first reported hacked documents from Soros's Open Society Institute boasted that the billionaire and his foundation helped to successfully press the Obama administration into increasing to 100,000 the total number of refugees taken in by the U.S. annually.
The documents revealed that the billionaire personally sent President Obama a letter on the issue of accepting refugees.
Aaron Klein is Breitbart's Jerusalem bureau chief and senior investigative reporter. He is a New York Times bestselling author and hosts the popular weekend talk radio program, "Aaron Klein Investigative Radio." Follow him on Twitter @AaronKleinShow. Follow him on Facebook.