It would be interesting to know how many of the useful idiots donning "pussy hats" at Saturday's massive "Women's March on Washington" had any idea—or even cared to know—who the principal organizers of the event were. The answer is undoubtedly close to zero, since the purpose of the entire charade—like all leftist charades—was merely to give the participants an opportunity to publicly signal their own moral superiority while smearing—as racists and fascists—anyone who doesn't accept socialism, identity politics, and perpetual grievance mongering as the ultimate expressions of the American Dream. But for those who actually have an aversion to mindless indoctrination, the facts will be rather disturbing. (Continue reading)
Berlin: Anti-Trump non-Muslim feminists chant "Allah akbar" at Women's March
Not "Allahu akbar," but "Allah akbar," which was the indication that the one doing the chanting was non-Muslim.
These Leftist women think that by chanting "Allah akbar," they are standing in solidarity with Muslims, whom they think are oppressed in the U.S., or about to be oppressed by President Trump.
They either don't know or don't care about these elements of Islam:
Beating disobedient women, or actually, those "from whom you fear disobedience": "Men have authority over women because Allah has made the one superior to the other, and because they spend their wealth to maintain them. Good women are obedient. They guard their unseen parts because Allah has guarded them. As for those from whom you fear disobedience, admonish them and send them to beds apart and beat them." — Qur'an 4:34
Nowhere does the Qur'an teach that a woman can beat a man under any circumstances.
The Qur'an likens a woman to a field (tilth), to be used by a man as he wills: "Your women are a tilth for you, so go to your tilth as you will" (2:223).
It declares that a woman's testimony is worth half that of a man: "Get two witnesses, out of your own men, and if there are not two men, then a man and two women, such as you choose, for witnesses, so that if one of them errs, the other can remind her" (2:282).
It allows men to marry up to four wives, and have sex with slave girls also: "If you fear that you shall not be able to deal justly with the orphans, marry women of your choice, two or three or four; but if you fear that ye shall not be able to deal justly, then only one, or one that your right hands possess, that will be more suitable, to prevent you from doing injustice" (4:3).
It rules that a son's inheritance should be twice the size of that of a daughter: "Allah directs you as regards your children's inheritance: to the male, a portion equal to that of two females" (4:11).
It allows for marriage to pre-pubescent girls, stipulating that Islamic divorce procedures "shall apply to those who have not yet menstruated" (65:4).
Islamic law stipulates that a man's prayer is annulled if a dog or a woman passes in front of him as he is praying. "Narrated 'Aisha: The things which annul the prayers were mentioned before me. They said, "Prayer is annulled by a dog, a donkey and a woman (if they pass in front of the praying people)." I said, 'You have made us (i.e. women) dogs.' I saw the Prophet praying while I used to lie in my bed between him and the Qibla. Whenever I was in need of something, I would slip away. for I disliked to face him." (Sahih Bukhari 1.9.490)
Another hadith depicts Muhammad saying that the majority of the inhabitants of hell are women:
"I looked into Paradise and I saw that the majority of its people were the poor. And I looked into Hell and I saw that the majority of its people are women." Sahih Bukhari 3241; Sahih Muslim 2737)
When asked about this, he explained:
"I was shown Hell and I have never seen anything more terrifying than it. And I saw that the majority of its people are women." They said, "Why, O Messenger of Allah?" He said, "Because of their ingratitude (kufr)." It was said, "Are they ungrateful to Allah?" He said, "They are ungrateful to their companions (husbands) and ungrateful for good treatment. If you are kind to one of them for a lifetime then she sees one (undesirable) thing in you, she will say, 'I have never had anything good from you.'" (Sahih Bukhari 1052)
Continued below:
Here's something from the dumber-than-dirt department: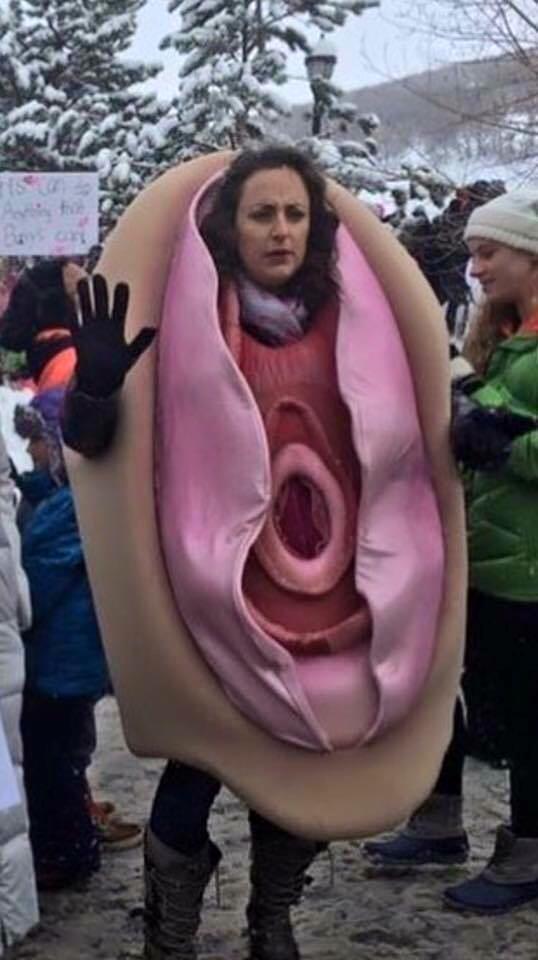 Soros paid whores for Islam  seem to believe the hijab is a fashion item:
In other news:
And in another hadith:
The Messenger of Allah (peace and blessings of Allah be upon him) went out to the musalla (prayer place) on the day of Eid al-Adha or Eid al-Fitr. He passed by the women and said, 'O women! Give charity, for I have seen that you form the majority of the people of Hell.' They asked, 'Why is that, O Messenger of Allah?' He replied, 'You curse frequently and are ungrateful to your husbands. I have not seen anyone more deficient in intelligence and religious commitment than you. A cautious sensible man could be led astray by some of you.' The women asked, 'O Messenger of Allah, what is deficient in our intelligence and religious commitment?' He said, 'Is not the testimony of two women equal to the testimony of one man?' They said, 'Yes.' He said, 'This is the deficiency in her intelligence. Is it not true that a woman can neither pray nor fast during her menses?' The women said, 'Yes.' He said, 'This is the deficiency in her religious commitment.'" (Sahih Bukhari 304)
SOROS'S WOMEN'S MARCH OF HATE
The Left's rage unleashed on the streets of Washington. 
On Saturday, the nation's capital was inundated with masses of loud, obnoxious, foul-mouthed Trump-hating women (there were also men) at what was billed the "Women's March on Washington." The Guardian called the event a "spontaneous" action for women's rights, while Vox spoke of a "huge, spontaneous groundswell" behind the march.
While the mainstream media bombarded news consumers with news stories claiming few Americans were interested in the inauguration festivities, television ratings for President Donald Trump's inauguration were the second-highest Nielsen has recorded in 36 years, drawing 30.6 million TV viewers across 12 networks. Factoring in live streams provided by the networks, YouTube, Facebook, Twitter, and other online portals adds millions more viewers to the total. But what happened Saturday at the "Women's March" was not spontaneous. No mass rallies are, especially on the Left.
This so-called "protest", like the violent attacks orchestrated by the DisruptJ20 coalition on pro-Trump events such as Friday's "DeploraBall" at the National Press Club, was not an organically generated demonstration.
The usual culprits were involved behind the scenes using the same fascistic tactics they used to shut down the massive Trump campaign rally at the University of Illinois at Chicago in March last year.
The groups that organized the Women's March on Washington on Saturday were underwritten by radical currency speculator George Soros, the same man who says Communist China's system of government is superior to our own and that the United States is the number one obstacle to world peace. (More)
Soros Has Links to 56 'Partners' of the Women's March on Washington