Source:
At Texas Christian University in Fort Worth, professor Yushau Sodiq is currently teaching a required course in the Department of Religion, entitled "Understanding Diverse Faith Communities."
 He has mandated a field trip to a mosque on Good Friday, a day that is granted off to students to allow them to observe the Christian religious holiday (which is especially important to observant students at a private university). Attending the trip – and therefore not worshiping Christ on Good Friday – is worth 10 percent of the entire course, or a whole letter grade. Academia is in bad shape everywhere, but this flagrant act of Islamic supremacist bullying is in a class by itself.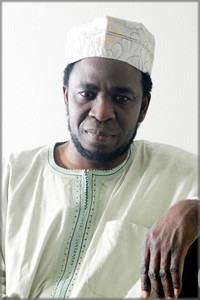 Yushau Sodiq's faculty page on the TCU website says that he "earned his B.A. degree in Islamic Studies in 1976 and his M.A degree in Islamic law in 1979 from the University of Medina, Saudi Arabia." After earning his Ph.D. in Islamic Studies from Temple University in Philadelphia, he "taught Islamic courses at the University of Sokoto, Nigeria from 1080 [sic]-1983."
Medina, Saudi Arabia, and Sokoto, Nigeria: two hotbeds of jihad terror recruitment and activity. Non-Muslims aren't even allowed to enter the Prophet's Mosque and other areas of central Medina. Did professor Sodiq pick up his Islamic supremacism and contempt for infidel religious observances there?
Related:
'Wow, there's obviously so many Muslims.' So, it's super comforting."
Benedictine, a Catholic institution in a suburban county that is 78 percent white and 86 percent Catholic or Protestant, may have the highest percentage of Muslim students of any Catholic university in the nation. 
Sodiq's syllabus for his "Understanding Diverse Faith Communities" states that the course is meant "to enable our students comprehend the meanings and nature of world religions" and "to interact with religious communities and try to understand why they are doing what they are doing. Our study in this class is not to validate any specific religion but to comprehend many of them." Yet while the class discusses Islam, Judaism, African traditional religions and Buddhism (apparently Sodiq assumes that students at Texas Christian University know all they need to know about Christianity already), Sodiq's syllabus plans for five sessions on Islam, plus two more on "The Kite Runner," a novel about Muslims in Afghanistan, and another for the mosque visit, for a total of eight on Islam and related themes. Meanwhile, only four class sessions are planned on Buddhism, three on Judaism and two on African traditional religions.
Regarding the mosque visit, the syllabus contains this information: "A visit to a Mosque (Muslim mosque) is on Friday, April 14, 2017, at 5:45 p.m. Mark your calendar. Our intention is to understand the ritual and tradition of other religions in their own context. We will visit the mosque in group. A quiz on the mosque visit will be on April 18, 2017. We will assemble at the back of Beasley Hall packing lot at 5:30 p.m. Every student is expected to attend this service. This visit is part of your participation in class. Many other students from our department will join us. It is a religious experience visit. No student is required to participate in mosque's service during our visit. If you will not be able to attend the mosque with the group, please let me know in advance by March 30, 2017."
In another section, Sodiq implies that the visit has a proselytizing intent as he writes: "You can also invite your friends to join in this visit" – and ominously, "If you do not attend the mosque, you will not be able to do the quiz and as you know, there is not make-up for quizzes. The visit will take only one and one-half hours. There we'll be addressed by the leader of the Muslim community and we'll watch the sunset prayer."
The syllabus does not explain why there is no visit to a synagogue, church, Buddhist temple, or any other house of worship – only to a mosque. Sodiq also requires that students complete a journal entry on "Islamophobia." He asks for no journal entry on anti-Semitism or prejudice or hatred against any other group.
What is most disturbing about all this is the threat that lies behind it. The people who passed this information on to me refused to be identified because they were certain there would be reprisals if their identities were known. Just as disturbing as that is the fact that in contemporary American academia, Yushau Sodiq's university class of thinly veiled Islamic proselytizing isn't unusual at all. It's all too common.