"Rotherham sex abusers shout 'Allahu Akbar' as gang is jailed for 81 years after 'vile' abuse of girls," by Anthony Bond, Mirror, February 23, 2017: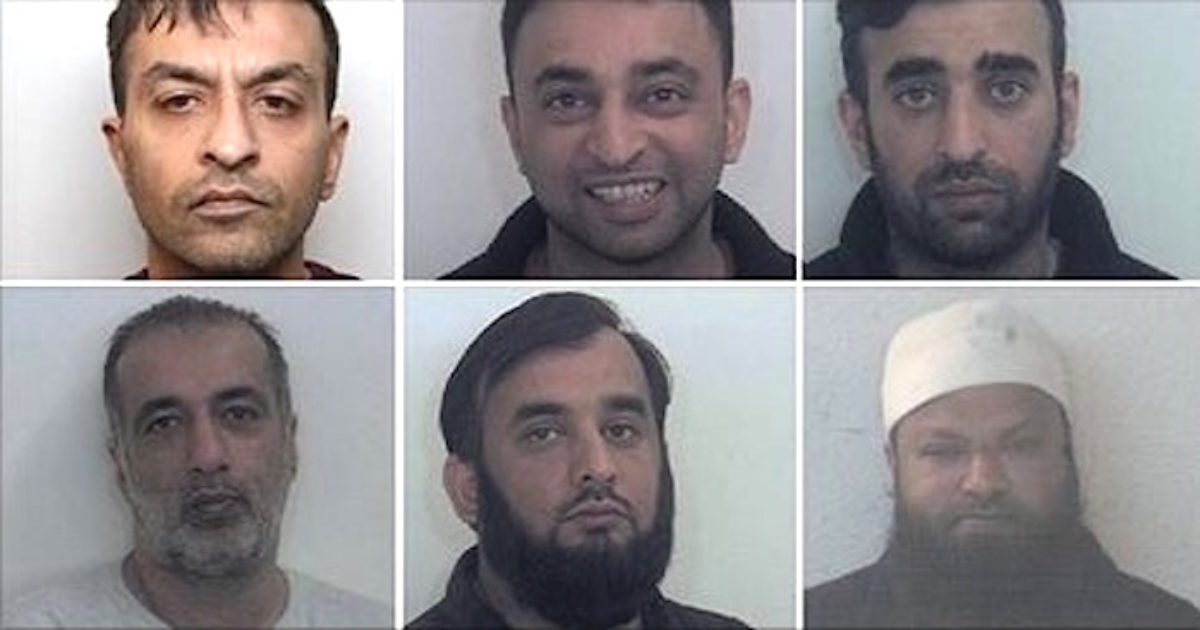 UK: Muslim sex abusers in Rotherham scream "Allahu akbar" as they're jailed for "vile" abuse of girls
The Rotherham sex scandal, in which 1,400 girls were sexually abused by Muslim rape gangs, was bad enough. Then came shocking news that up to a million British girls were sexually abused by Muslim "grooming" gangs. Now, it's Islamic supremacism expressed to the fullest: these same abusive men shout their "victory" cry of "Allahu akbar," celebrating their sickening violations of infidel girls — while feminists remain silent.  These Muslims remain proud and unrepentant about their vile abuse of innocent girls, perhaps because this behavior is sanctioned in the Qur'an.
JUSTICE IN ROTHERHAM
You remember Rotherham. It's the northern England town where at least 1400 children were sexually tortured during a 16-year crime wave largely led by Pakistani men.
For fear of seeming racist, authorities mostly ignored this vicious systematic abuse. Denis MacShane, Labour MP for Rotherham from 1994 to 2012, explained:
"There was a culture of not wanting to rock the multicultural community boat, if I may put it like that. Perhaps, yes, as a true Guardian reader and liberal Leftie, I suppose I didn't want to raise that too hard." 
Nearly twenty offenders have since been imprisoned, including the latest batch of six:
Three brothers and three other men were sentenced for 19 "vile" offences committed against two girls including rape and false imprisonment at Sheffield Crown Court today …
Brothers Basharat Dad (32) of Eldon Road, Eastwood, Nasar Dad (36) of Cranworth Road, Eastwood, and Tayab Dad (34) of St Lawrence Road, Tinsley, were convicted of 16 offences between them.
Basharat was jailed for 20 years after being convicted of six counts of rape, five of indecent assault and one of false imprisonment.
Nasar was jailed for 14-and-a-half years for one count of rape, inciting indecency with a child and false imprisonment and Tayab will spend 10 years behind bars for rape.
Then came the call:
When the sentences were passed down, there was a shout of "Justice" from one of the victims, while Ali and Tayab shouted the Muslim creed "Allahu Akbar".