Rotterdam Riots & Turkish Protest Videos & Photos
Conflict escalated into dramatic scenes on the streets of Rotterdam as the Netherlands banned Turkish ministers from speaking in that European city.
According to Reuters, the dispute prompted Turkish President Tayyip Erdogan to call the Netherlands a "Nazi remnant." The two countries are historically NATO allies.
.
TURKISH MINISTER BARRED FROM HOLLAND FOR INCITING IMMIGRANTS MOHAMMEDANS
Turkey's Prime Minister is an Islamic fascist trying to expand his reach through the huge Turkish minorities in Europe.
The Netherlands barred Turkey's foreign minister from landing in Rotterdam on Saturday in a row over Ankara's political campaigning among Turkish emigres…
Turkey has since sent another minister by car from Germany, and she has been stopped from reaching the consulate, too:
Turkish family minister's vehicle was intercepted by Dutch police while entering the country late Saturday, Turkish Consul-General in Rotterdam Sadin Ayyildiz said.
Minister of Family and Social Affairs, Fatma Betül Sayan Kaya has been blocked from entering the Turkish consulate in Rotterdam on Saturday…
Kaya said the Dutch police told her that as a Turkish minister, she was forbidden from entering the consulate building and they were allowed only 30 meters away from the building.
Hundreds of Turks in Rotterdam are now protesting outside the consulate in support of President Erdogan:
youtube
This a frightening misuse of the Turkish diaspora that raises questions about the security risk in having large, under-assimilated minorities:
The Netherlands barred Turkey's foreign minister from landing in Rotterdam on Saturday in a row over Ankara's political campaigning among Turkish emigres, leading President Tayyip Erdogan to brand the fellow NATO member a "Nazi remnant".
The extraordinary incident came hours after Mevlut Cavusoglu said he would fly to Rotterdam despite being banned from a rally there to marshal support for sweeping new powers Erdogan seeks. Europe, he said, must be rid of its "boss-like attitude".
Cavusoglu, who was barred from a similar meeting in Hamburg last week but spoke instead from the Turkish consulate, accused the Dutch of treating the many Turkish citizens in the country like "hostages", cutting them off from Ankara.,,
Cavusoglu threatened harsh economic and political sanctions if the Dutch refused him entry, a threat that proved decisive for the Netherlands government.
It cited public order and security concerns in withdrawing landing rights for Cavusoglu's flight. But it said the sanctions threat made the search for a reasonable solution impossible.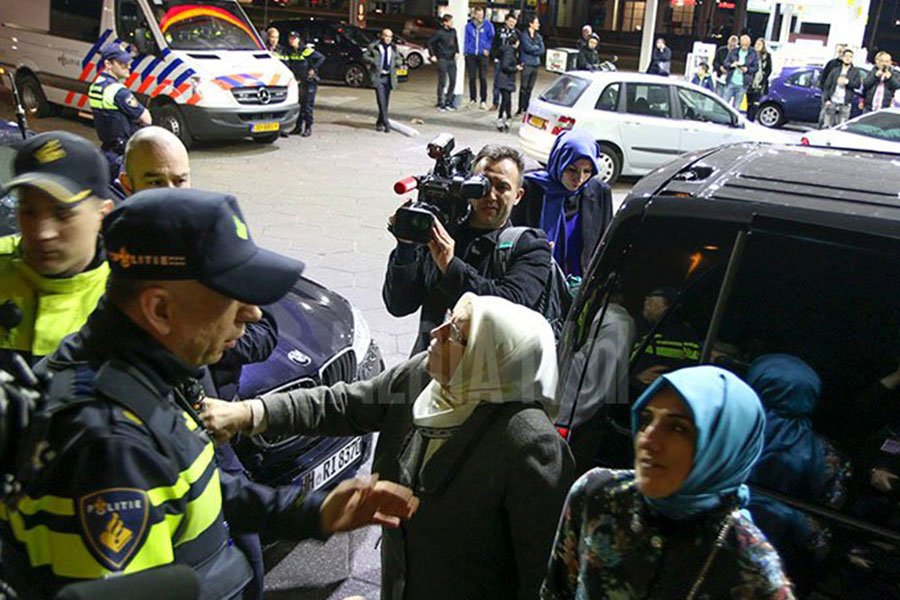 Turkish authorities have sealed off the Dutch embassy and consulate, sources at Turkey's foreign ministry have said, in the latest incident in a tit-for-tat row between the two countries over Turkish campaigning in Europe.
Turkey also closed off the residences of the Dutch ambassador, charge d'affaires and consul general as tensions between the Nato partners escalated after the Dutch government barred Turkey's foreign minister from flying to Rotterdam.
SKY News reported that the protest involved "more than 1,000 supporters of Turkish President Tayyip Erdogan." The Turkish president has been seeking support from Turks throughout Europe "to help clinch victory in the 16 April referendum that could give him sweeping new powers," SKY News reported. However, according to SKY News, Dutch leaders believe the measure is undemocratic.
"Turkey's family minister was prevented by police from entering the Turkish consulate in Rotterdam. Hundreds of protesters waving Turkish flags gathered outside, demanding to see the minister," Reuters reported.
Latest update:
Dutch Riot Police Clash With Turkish Protesters in Rotterdam 
Dutch riot police on horseback clashed early Sunday with hundreds of Turkish government supporters in Rotterdam who were protesting after the Netherlands refused to allow a Turkish minister into the country and expelled another one.
Before clashes broke out, about 2,000 protesters had gathered outside the Turkish consulate in Rotterdam, the country's second largest city, to show their support for the Ankara government of President Recep Tayyip Erdogan, who is trying to push through a referendum next month to expand his powers.
Shortly after midnight, police began forcing demonstrators away from the area near the consulate. Riot police, on foot and on horseback, used force to push back the crowd, the French news agency reported.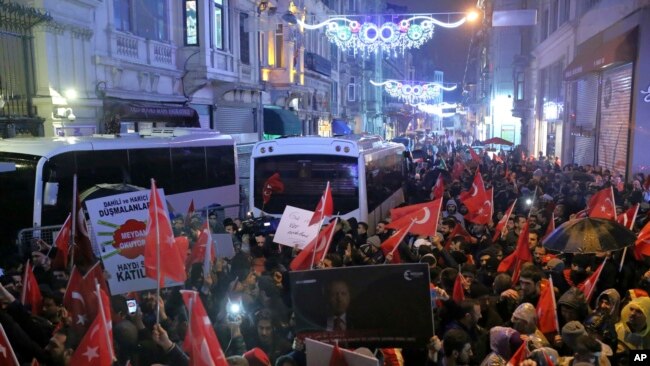 ​Erdogan's angry reaction
Turkish Foreign Minister Mevlut Cavusoglu was barred from landing in the Netherlands Saturday because of growing opposition to Turkey's referendum campaigning throughout the European Union. Erdogan condemned the action and denounced the Netherlands, which is Turkey's partner in the NATO alliance, as a "Nazi remnant."
After his rebuff by the Dutch, Cavusoglu said Turkey would "take all necessary measures" against the Netherlands. Earlier, he had threatened harsh economic and political sanctions.
After Cavusoglu was turned away and Erdogan's angry reaction, Turkey's state-run Anadolu news agency said that another member of the government, Family Minister Fatma Betul Sayan Kaya had entered the Netherlands from Germany, even though the events at which she intended to speak had been canceled.
Turkish minister unable to enter consulate
The dispute escalated late Saturday when police barred Kaya from entering the Turkish consulate in Rotterdam in the midst of hundreds of protesters waving Turkish flags and demanding to see her.
"We have been stopped 30 meters from our Rotterdam consulate and we are not allowed to enter," Kaya wrote on Twitter.
Dutch officials escorted the minister back to the German border. The French news agency quotes Rotterdam Mayor Ahmed Aboutaleb saying Kaya "has been expelled back to the country she came from."
After being denied entry to the Netherlands, Turkey's Foreign Minister Cavusoglu headed to France, where he is scheduled to speak Sunday to Turkish emigres in the northeastern city of Metz. French officials said Saturday they had no plans to prevent his appearance.
Many European Union member states object to visits by Turkish ministers calling for Turkish nationals to vote for the upcoming referendum to change Turkey's constitution, because of domestic tensions the campaigning has caused. Ankara wants to drum up support among millions of Turks who live and work in Europe to give Erdogan more power, which could see him remain in office until 2029.
Dutch right-winger speaks out
Dutch far-right leader Geert Wilders waded into the debate this week ahead of a planned rally in The Hague, the Dutch capital.
"We are in Holland here, not in Turkey, and a Turkish minister has no room here to lobby for somebody like Erdogan, who is a mere dictator," Wilders said.
On Saturday, Wilders said in a tweet: "To all Turks in the Netherlands who agree with Erdogan: Go to Turkey and NEVER come back!!"
Ankara contends there is growing fascism in Europe, and that Europe leaders are trying to influence the outcome of its April 16 referendum.
Analyst Kamran Matin of the University of Sussex in England says Turkey has sought to exploit the rift.
"It was really stemming from the German authorities' concern for the German-Kurdish relation within Germany, because a large number of Turkish citizens living there are of Kurdish origin," Matin said. "But I think the Turkish government and Recep Tayyip Erdogan especially, they very quickly seized on this and rechanneled it toward their campaign for changing the structure of the state."
Analyst: 'Europe needs Turkey'
Europe has made clear its concerns over the path of the Turkish government, which has detained more than 40,000 people since a failed coup attempt last July against Erdogan. A German journalist based in Turkey was among those arrested last month.
As for the Turkish referendum, the EU fears giving Erdogan even more sweeping powers would further undermine democracy. Matin, however, says Europe — and especially Germany — needs to keep Turkey on their side.
"The refugee deal [the Turks] have with the EU, and especially with respect to Germany, is crucial leverage," he said. If the refugee agreement with Turkey is upset and a vast tide of immigrants once again begins heading into Western Europe, he adds, such developments "would have an immediate impact in German domestic politics."
The British-based analyst said, "Turkey is such a geopolitically important state and actor, for not only European countries, but the entire Western bloc, especially facing the resurgence of Russia."
Berlin has voiced hope that diplomatic relations with Turkey will improve after the referendum.
Henry Ridgwell in London contributed to this report.