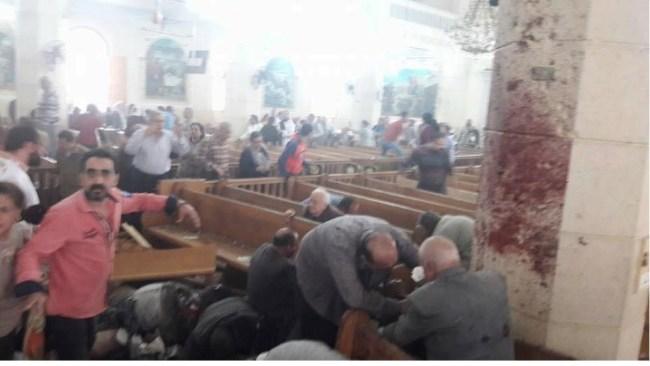 Copts bombed
ISLAMIC STATE MURDERS 40 COPTS IN EGYPT
The Islamic State claims responsibility:
The Islamic State group claimed responsibility for both attacks in a statement via its Aamaq news agency, having recently signaled its intention to escalate a campaign of violence against Egyptian Christians.
The first explosion occurred about 9:30 at St. George's Church in the Nile Delta city of Tanta, 50 miles north of Cairo, during a Palm Sunday Mass. Security officials and a witness said that a suicide bomber had barged past security measures and detonated his explosives in the front pews, near the altar.
At least 27 people were killed and 71 others injured, officials said.
Hours later, a second explosion occurred at the gates of St. Mark's Cathedral in the coastal city of Alexandria. That blast killed 13 people and wounded 21 others, the Health Ministry said.
One of the suicide bombers blowing up the church in Alexandria:
youtube
Bomb kills 26, injures 70 outside St George Tanta, a second bomb kills 6, injures 30 outside St Mark Alexandria. 32 Copts dead, 100+ injured
Egypt is where Waleed Aly, born in Australia, had his Muslim identity confirmed:
ANDREW DENTON: Well cause you went there as an adult when you were 20. What was your experience of Egypt?
WALEED ALY: … It's phenomenal and it's incredibly crowded and so but amidst this chaos is this kind of serenity. It was at that moment really that I kind of flick, I kind of arrived at a new level of religious consciousness in a way because as a Muslim growing up in Australia you know your religious identity is not it's something you can avoid if you want to, and there were parts of my life where I had.
Given his ties to Egypt, will Aly now stop his notorious evasions and apologetics and discuss frankly the links between Islam and terrorism? Will he now lead the calls for the reform of his faith, rather than lead the attacks of the critics?
UPDATE
One Greek community leader, Rev George Capsis, has gone so far as to warn Christians not to wear overt religious symbols when they are travelling though Muslim enclaves of southwestern Sydney.
But last Tuesday afternoon, 30-year-old Greek Orthodox Christian, Mike, discovered too late the risks of wearing a large cross outside his clothing while travelling on the train from Campsie to Bankstown with his girlfriend.
He says he was minding his own business talking on his mobile phone, when four young men of Middle Eastern appearance allegedly violently ripped the crucifix off his neck, and stomped on it while swearing "F*** Jesus" and referring to "Allah".
He says they punched him and kicked him in his face, back and shoulders during the attack which began about 3pm, just after the train left Belmore station.
When his girlfriend tried to defend him, two Arabic-speaking women also allegedly hit and kicked her.