Update:
Why make a celebrity token Muslim with  such views a member of the Federal ANZAC Centenary Commemoration Youth Working Group?
Why also make her a member of the Australian Multicultural Council? Why use government funds to promote her autobiography in the Middle East?
And why make her a presenter on the ABC, fronting a show telling us stories about Australia and the things that "unite us"?
There are many here among us  who believe ABC Presenter Yassmin Abdel-Magied doesn't have the qualifications to hold her current position.
ABC presenter Yassmin Abdel-Magied forced to delete Anzac Day post asking Australians to think about Manus Island and Palestine
ABC presenter Yassmin Abdel-Magied has been forced to delete a social media post in which she suggested Australians should be thinking about Manus Island, Nauru, Syria and Palestine today instead of the Anzacs.
The 26-year-old took to Facebook this morning to write "Lest We Forget (Manus. Nauru. Syria. Palestine), but deleted the post after being slammed by her followers.
The host of ABC 24's Saturday morning Australia Wide quickly amended the post to simply say "Lest. We. Forget" and issued an apology.
"It was brought to my attention that my last post was disrespectful, and for that I unreservedly apologise," she wrote.
Comments flooded in from followers disgusted by Abdel-Magied's disrespect for Anzac Day:
"Absolutely disrespectful. This day isn't for those people it's for the brave service men and woman who have served/serving our great country so we can try and live a normal, safe life," wrote Wilson Sam.
Update:
That'll do: she is not ignorant. Her insult is deliberate: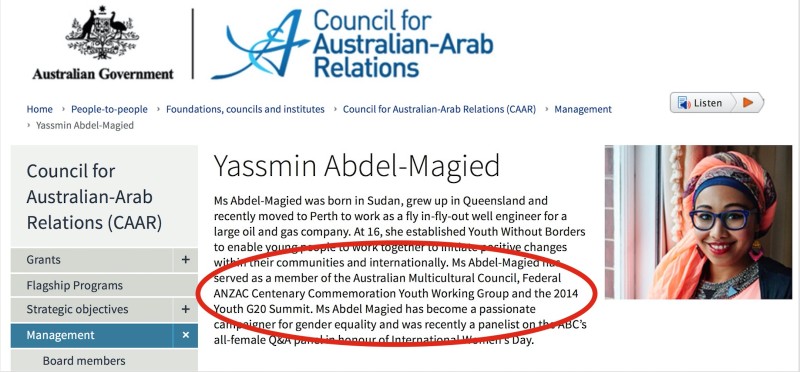 Scroll down for more.
"Your previous post has completely discredited you. I'm ashamed that you are Australian because you clearly don't share Australian values. Not only have you disrespected those who gave their lives so you can enjoy Australian freedoms and speak your mind, you have very clearly voiced your real agenda here," wrote Libby Colubski.
Abdel-Magied came under fire in February after declaring on national TV that Islam was the "most feminist religion".
Lest We Forget: ANZAC DAY 2017
She sparked a heated row on the ABC's Q&A program with Senator Jacqui Lambie, accused Abdel-Magied of "playing victim".
Ms Lambie at the time said anyone who supports sharia law should be deported, to which Abdel-Magied responded that she was frustrated by people talking about Islam without knowing anything about it.
Immigration Minister Peter Dutton slammed Ms Abdel-Magied's comments, which were partly aimed at Australia's asylum seeker detention arrangements on Manus Island and Nauru.
"It is a disgrace that on our most significant national day to mark the passing of people who have defended this country, this advocate seeks to make political mileage," Mr Dutton told the Daily Telegraph.
Tasmanian senator Eric Abetz said the post was "unfortunate", "disrespectful" and "deeply reprehensible".
"Tens of thousands of Australians, from all walks of life, have gone to war and paid the ultimate sacrifice," Senator Abetz said.
 "Today we pay tribute to them, not seek to use their sacrifice for cheap political point scoring as Ms Abdel Magied has done."
.
MORE ANZAC DAY COVERAGE:
RSL chief defies Anzac Day ban to lay wreath
Anzac heckler: 'I just got out of jail'
Update:
.
Anzac Insult Muslim Abdel-Magied WAS ON THE GOVT's ANZAC Centenary working group
Yassmin is one big liar with her not knowing the significance of the words "Lest We Forget". From the Dept of Foreign Affairs website re Council for Australian-Arab Relations – "Ms Abdel-Magied has served as a member of the Australian Multicultural Council, Federal ANZAC Centenary Commemoration Youth Working Group and the 2014 Youth G20 Summit" http://dfat.gov.au/people-to-people/foundations-councils-institutes/caar/management/Pages/yassmin-abdel-magied.aspx So she has worked as a member of the Federal ANZAC Centenary Youth Working Group and she doesn't know the significance of the words "Lest We Forget". Pull the other one, Yassmin. She uses it in her bio when promoting herself for speaking engagements. The fact that she was on this ANZAC Centenary Youth Working Group is everywhere with Google searches. She deserves the chop from the ABC and any paid government job. What a low life, especially with her denial.
ENDS
UPDATE – COMMENT FROM SENATOR ERIC ABETZ
From: Abetz Media [mailto:media@abetz.com.au]
The following comments can be attributed to Senator the Hon. Eric Abetz:
"Yassmin Abdel Magied's unfortunate and disrespectful Facebook post today, of all days, is deeply reprehensible."
"Tens of thousands of Australians, from all walks of life, have gone to war and paid the ultimate sacrifice. Today, we pay tribute to them – not seek to use their sacrifice for cheap political point scoring as Ms Abdel Magied has done."
"The freedom she enjoys to make such disrespectful comments is what the people whom we commemorate today fought and died for. But that is where self-discipline, respect and decency need to be added into the equation, something Ms Abdel Magied has displayed she lacks."